Summer Sausages: The Most Exciting Word Combo Since "Free Donuts"
BY: Melanie Faetz |
Aug 6, 2013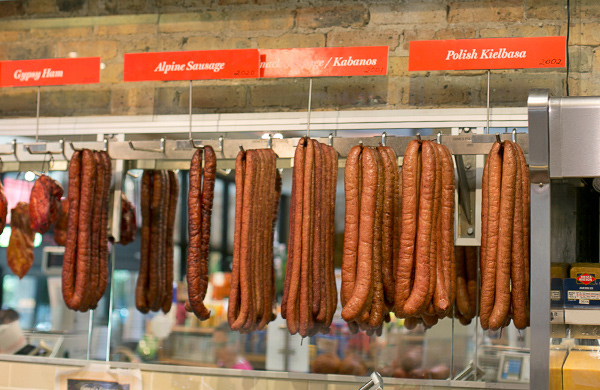 Portable, easy to grill, and enjoyable at room temperature, sausages are made for summer. These eight spots keep the season's go-to meal exciting.
If you see the good in every person, the hot dog in every menu:
Big Star
(Wicker Park | 1531 N. Damen Ave.) Wrapped in bacon, topped with pinto beans, drizzled with lime mayo, dashed with hot sauce, sprinkled with onions, and served on a bolillo roll, the sonoran hot dog offers a mighty reward to anyone who looks beyond Big Star's famous tacos.
Grange Hall Burger Bar
(West Loop | 844 W. Randolph St.) It's no surprise that Grange Hall Burger Bar has some great burgers, but it also has one gourmet hot dog on the menu at all times. As I write this, it's the reuben dog: a sausage made with jumbo tall-grass beef and piled with cider-beer sauerkraut, thousand island dressing, and swiss cheese.
If your least favorite cookbook genre is mystery:
Saturday Sausage Shop
(Logan Square | 2657 N. Kedzie Ave.) If you haven't yet been to this weekly pop-up sausage window, which launched in April, definitely stop by this summer. Tucked behind
Longman & Eagle
and helmed by that restaurant's sous chef, the window features a new selection of gourmet handmade links each Saturday. Think duck sausage with onion jam, fried flageolet, and mushroom ketchup.
Allium
(Gold Coast | 120 E. Delaware Pl.) Located in the
Four Seasons Hotel
, Allium serves a Chicago-style hot dog that's less simplistic than its name implies. Every component of the classically dressed hot dog is made from scratch, from its bun to its pickle.
If "gourmand" is embroidered on your grilling apron:
Gene's Sausage Shop & Delicatessen
(Lincoln Square | 4750 N. Lincoln Ave.) This quaint, two-story market boasts an impressive array of fresh-baked breads, ripe produce, and imported European snacks, but the real draw is its butcher's counter. More than 40 varieties of handmade, house-smoked sausages ensure that backyard barbecues are anything but standard. If you don't feel like grilling, there's also a rooftop garden where you can enjoy a polish-sausage plate with a glass of beer or wine.
Bobak's Sausage
(Garfield Ridge | 5275 S. Archer Ave.) Providing Chicagoans with locally made links since 1967, Bobak's is run by a crew of self-proclaimed
sausageologists
, or, as its website states, people who have "perfected the art and science of sausage making." Though the company's goods can now be found in some grocery stores, its specialty retail store is where to go if you want to peruse the entire inventory of polish sausages, bratwursts, veal frankfurters, and other encased meats—plus some ready-to-eat hot foods.
If you want some stamps on your Chicago passport:
Hot Doug's
(Avondale | 3324 N. California Ave.) A roundup of great Chicago links would not be complete without mentioning Hot Doug's, where people are willing to wait in line for hours to snag creative dogs such as the "mighty, mighty, mighty hot" Brigitte Bardot. Duck-fat fries accompany dogs on Fridays and Saturdays; regular and cheese fries are available daily.
Vienna Beef Factory Store & Cafe
(Bucktown | 2501 N. Damen Ave.) Vienna Beef has been supplying Chicagoans—and many of Chicago's most beloved hot-dog stands—with snappy, 100% beef franks for more than a century. Stop by the large, red-brick factory building and enjoy a fresh-made dog in the onsite cafeteria, or grab a package of sausages to cook up at home.
Photo: © Stephanie Bassos, Groupon
BY: Melanie Faetz
Guide Staff Writer
Friendly but generally nervous 20-something who prefers to be holding a cold beer so that she can blame her sweaty palms on the condensation.