Summer Solstice in Chicagoland
BY: Tyler Clark |
Jun 18, 2013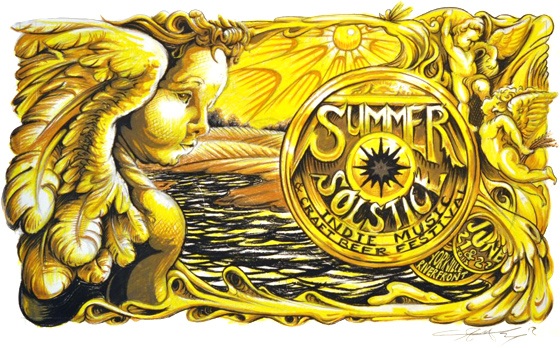 On June 21, the sun will be closer to America than on any other day of the year, stretching day into the night with extra hours of maximal light. Known as midsummer to some and the summer solstice to others, the solar apex has historically signified the liveliest point of the year. It's also a great excuse to explore Chicagoland in search of out-of-the-ordinary ways to celebrate.
Adler After Dark
When: Thursday, June 20, 6:30 p.m. to 10:30 p.m. Where:
Adler Planetarium
| 1300 South Lake Shore Drive, Chicago Cost: Advance tickets are $9 for members and $12 for nonmembers; at-the-door tickets are $12 for members and $17 for nonmembers Tip: Although
Doane Observatory
tours must be reserved in advance, the observatory is open without reservations from 6:30 p.m. to 7:45 p.m. The night before the solstice, the Adler Planetarium keeps its doors open for its monthly Adler After Dark series. This month's theme is Moonshine; in addition to hearing barn-stomping tunes from musical guests
Antony & the Tramps
, guests can learn about the science of spirits from the experts at Koval Distillery or head to the Doane Observatory for a glimpse of the moon.
Purchase tickets here.
Solstice Sensations
When: Friday, June 21, 7 p.m. to 9:30 p.m. Where:
Morton Arboretum
| 4100 Illinois Route 53, Lisle Cost: $34 for members, $40 general admission Tip: This event is held entirely outdoors, so dress accordingly. As the shadows dapple the grounds of the Morton Arboretum's tree-filled sanctuary, visitors trundle along on an open-air tram affectionately named the Acorn Express, identifying passing flowers and shrubs. After completing their journey, they'll join other merrymakers for a feast of s'mores, sliders, and summer ale around a roaring campfire held at the Thornhill Shelter.
Purchase tickets here.
Annual Sweet Summer Solstice Potluck
When: Friday, June 21, 6 p.m. to 9 p.m. Where:
Christy Webber Landscapes
| 2900 West Ferdinand Street, Chicago Cost: $10 for members, $15 general admission Tip: For an additional $5 donation, guests can sponsor a delegate for Slow Food's 2014
Terra Madre
conference. A collaboration between
Slow Food Chicago
, the
Chicago Honey Co-op
, and Christy Webber Landscapes, the Sweet Summer Solstice Potluck gathers foodies together for a community picnic held in the spirit of healthy, sustainable eating. After handing over their side dish, salad, or dessert, guests can wait for the main course's arrival in the confines of Christy Webber Landscaping's LEED-certified headquarters or examine the urban beehives that reside on the green rooftop.
Purchase tickets here.
Summer Solstice Backyard Square Dance Celebration
When: Friday, June 21, 6 p.m. to 11 p.m. Where:
Garfield Park Conservatory
| 300 North Central Park Avenue, Chicago Cost: $25 for adults, $10 for kids 14 and younger Tip: All-ages dances run from 6 p.m. to 7:45 p.m.; after that, adults-only dances continue until 11 p.m. Nothing says midsummer like a light-hearted dance around the garden. Fortunately, square caller Annie Coleman agrees. As the sun dips below the horizon, she leads group circle dances, square dances, and virginia reels atop the grassy surface of the Garfield Park Conservatory's Bluestone Terrace. Golden Horse Ranch Band will lay down danceable rhythms throughout the night. In case feet need extra motivation, beer and spirits will be available for purchase.
Purchase tickets here.
Summer Solstice Indie Music and Craft Beer Festival
When: Friday, June 21, 6 p.m. to 11:45 p.m.; Saturday, June 22, 11:30 a.m. to 11:55 p.m. Where: Yorkville Riverfront | Corner of South Main Street and West Hydraulic Street, Yorkville Cost: Friday: free; Saturday: $20–$90 Tip: The canoe flotilla departs at 10:30 a.m. on Saturday, and requires registration. Spurred on by a Saturday morning canoe flotilla departing from Oswego's Saw Wee Kee Park, festival-goers gather at the banks of the Fox River in Yorkville for two days of
laid-back tunes
, including the rustic Americana of
the Giving Tree Band
, the no-frills rock of
the Heavy Guilt
, and the smoke-tinged soul of
Cory Chisel and the Wandering Sons
.
Beers
from notable craft brewers such as Kentucky Ale, Goose Island, and Brewery Ommegang complete the picture, helping guests chill out and celebrate another spin around the sun.
Purchase tickets here.
BY: Tyler Clark
Tyler is a writer, storyteller, and musician from Chicago. His stories have appeared on stage at shows including Mortified, Story Club, and Lethal Poetry.