Survive a Rainy Commute Without Wearing Trash Bags
BY: Michelle Schuman |
Apr 30, 2014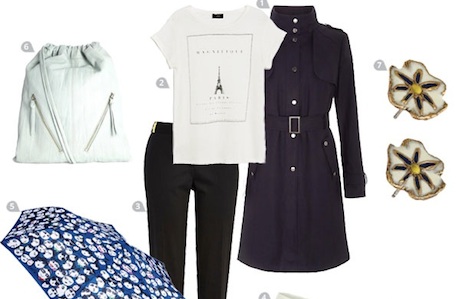 Covering up doesn't have to mean dressing down. Update your rain gear with playful umbrellas and waterproof footwear less clunky than rain boots.
The umbrella: spring's most functional accessory. And thanks to trailblazing designers such as Lanvin and Marc Jacobs, it's now one of the season's most fashionable. Below, we've put together looks built around two of this year's most charming designs, complete with equally original waterproof coats and footwear. Just don't forget your umbrella in the back of a cab.
Look 1: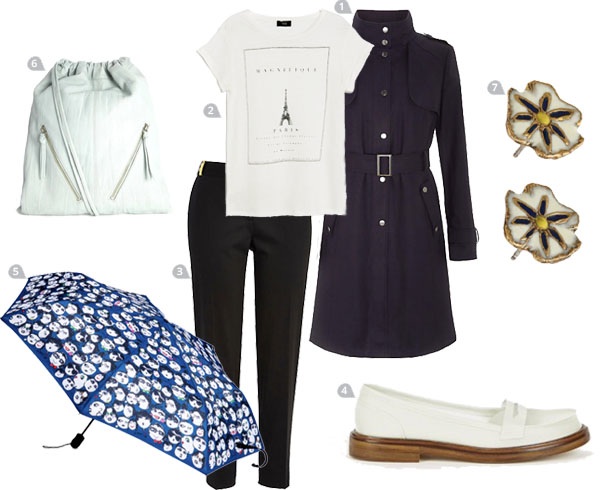 With a hem grazing just above the knee, this rain coat protects most of your clothing from the rain. These cropped trousers are less likely to get wet as you leap over puddles, and waterproof penny loafers keep feet dry in a more summer-friendly way than clunky rain boots. The leather backpack will withstand the rain nicely so long as you treat it, and it leaves your hands free to tote this quirky umbrella. 1.
Waterproof trench coat
; John Lewis ($220) 2.
Linen T-shirt
; Mango ($29.99) 3.
Cropped trousers
; River Island ($60) 4.
Waterproof rain penny loafers
; La Garçonne ($565) 5.
Folding umbrella
; Lanvin ($135) 6.
Backpack
; ASOS ($52.68) 7.
Flora earrings
; Dream Collective ($110)
Look 2: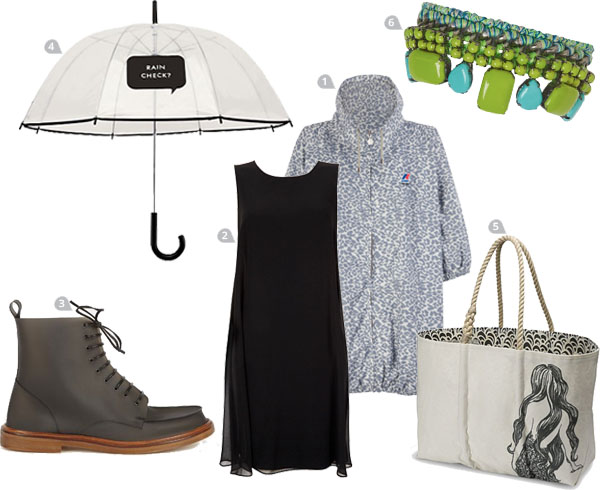 This leopard-print anorak (made by iconic French sportswear brand K-Way) protects the draped LBD without detracting from the outfit's contemporary look. The matte, slightly transparent combat boots update the ensemble in a similar way, replacing shapeless wellies with a lace-up design. This puntastic, see-through umbrella, in turn, makes it easier to move through crowded streets without impairing your vision or getting your hair wet. 1.
Leopard-print waterproof anorak
; Selfridges & Co. ($277.96) 2.
Draped dress
; Wallis ($54) 3.
Waterproof combat boots
; La Garçonne ($595) 4.
Umbrella
; Kate Spade ($38) 5.
Mermaid tote
; Sperry Top-Sider ($190) 6.
Sea Breeze bracelet
; Liberty London ($280)
For more fashionable rain gear, check out these rain boots at Goods.
BY: Michelle Schuman
Michelle is a freelance fashion designer and dancer from Detroit. She has traveled the US extensively (and loves it!), but her biggest goal is to travel abroad.