Sweat in Style: Five Fun Additions to Workout Wardrobes
BY: Michelle Algeo |
Aug 1, 2013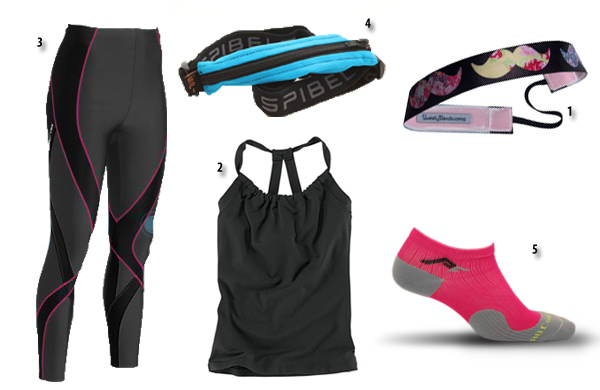 Wearing a full face of makeup at the gym might be impractical, but that doesn't mean you have to abandon all fashion sense in the locker room. Perk up a tired tank-and-sweats gym uniform with these five fashionable—yet functional—pieces of workout gear. 1.
Sweaty Bands I Mustache You a Question Headband
($15) This headband, which is encircled with handlebar mustaches in colorful floral prints, does more than just introduce a touch of whimsy to your workout: the adjustable, no-slip design also keeps hair out of your face, whether your routine involves yoga inversions or the steady bounce of a morning run. Not into mustaches? You can also commission a headband with a custom design. 2.
Title Nine Black Un-Halter Top
($45 on sale) With a built-in bra, this spin on the traditional halter top integrates function and fashion, all while showing off toned back and shoulder muscles. Its two straps extend down the back from a closed loop around the neck, which keeps the inlaid bra supportive without encumbering yoga poses or crunches with a bulky knot. 3.
Women's Pro Tights in Black and Raspberry
($99.99–$109.99 depending on retailer) Though the pink and black lines that swirl down the length of these tights may seem decorative, the fun design actually plays an important role in supporting muscles. The material helps realign hips, knees, and ankles, lessening impact on legs during linear exercises such as running or skiing. It also supports the hamstrings and quads, and compresses the legs at certain points to boost blood flow and ease recovery. 4.
Turquoise SPIBelt with a Black Zipper
($29.99) For items you can't comfortably stow in pockets, the SPIbelt stretches to fit whatever you need to squeeze inside—a smartphone, cash, or a shrunken personal trainer. The adjustable band fits 25- to 50-inch waists, a bounce-proof design keeps the belt in place, and thanks to waterproof lining, it'll keep belongings safe and dry even during a rainy workout. 5.
PRO Compression Pink Trainer Low Compression Socks
($25) Since this line of compression socks was devised by a runner and golfer, athletes can rest assured that their toes are better protected than they would be by regular socks. The hot-pink hue of the lightweight Trainer Low socks will barely peek out from your sneakers, but they're sturdy and specially designed to boost blood flow and comfort. This means feet recover faster after a long run, especially if you wear the socks before, during, and after exercise.