Tallgrass Brewing on Buffalo Sweat and Staying Close to Their Homebrewing Roots
BY: Shannon Jewitt |
Apr 10, 2014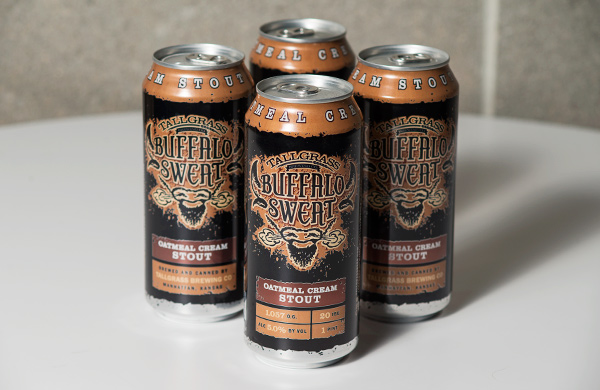 There are almost 3,000 craft breweries in the United States. In this edition of Beer Stalker, we investigate Tallgrass Brewing Company's Buffalo Sweat and its associations with homebrewers, cheesecake, and ruminant mammals.
The beer:
Tallgrass Brewing Company
's Buffalo Sweat
Malts:
Two-row barley, roasted barley, black malt, Victory, Vienna, oats
Style:
Oatmeal cream stout with chocolate and coffee notes
Hops:
Glacier
Color:
Very dark brown, like the most valuable gemstones
Where did the name Buffalo Sweat come from?
"It was just so dark that it just kind of reminded me of buffalos just from the color of it," said Jeff Gill, the president and founder of Tallgrass Brewing Company. "I guess I have a little bit of a twisted sense of humor and thought that could be like what buffalo sweat would look like."
What's Tallgrass's connection to homebrewing?
Gill got his start as a homebrewer, so it's no surprise he encouraged his second employee to homebrew. The employee enjoyed stouts, so he homebrewed a batch. The first round wasn't nearly robust enough, so Gill worked with him to improve the stout by doubling up on the dark malts and lactose in the beer. "And that ended up being the formula for what became Buffalo Sweat," Gill said. Gill's homebrewing history is also why he's happy to share many of
Tallgrass's recipes
, including Buffalo Sweat, with homebrewers.
Vanilla Bean Buffalo Sweat is one of Tallgrass's seasonal beers. Does the brewery have any other variations of the beer?
Gill and his brewing staff love brewing in casks, and Vanilla Bean Buffalo Sweat was one result of that. They placed Buffalo Sweat and vanilla beans in a closet for two months. When they tapped the cask, the combination was "magical"—the vanilla's richness blended seamlessly with the beer's chocolate and coffee flavors. However, "Buffalo Sweat is a beer that matches well with all sorts of flavors," Gill said. The brewery has produced small cask-brewed batches of it with ancho chilies, as well as an irish cream version around St. Patrick's Day.
What food pairs well with this beer?
Gill recommends pairing Buffalo Sweat with beef dishes, such as roast beef and roasted short ribs. He, however, prefers to integrate the beer into recipes. He likes to make marinades and reduction sauces for those beef dishes with the beer. And, because of its coffee and chocolate notes and sweetness, the stout serves as an excellent dessert ingredient. He even has a friend who makes Buffalo Sweat cheesecake.
Photo by Tim, Burkhart, Groupon
BY: Shannon Jewitt
Resident Beer Stalker Shannon has an insatiable thirst for craft beer. Despite being a vegetarian, she always makes an exception for fries cooked in duck fat.