GROUPON GUIDE TO WASHINGTON-DC
Top Tanning Questions, Answered
BY: Mae Rice |
Jan 21, 2015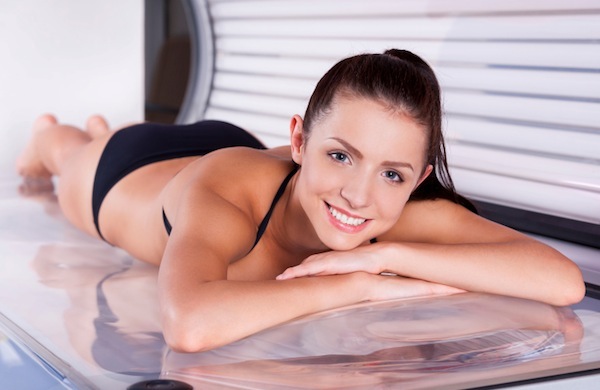 So … should I get naked?
It's something any tanning newbie might wonder before their first salon visit. The answer? "We don't care." At least that's according to Matthew Turner, owner of Chicago's Halsted Street Beach Tanning. His salon offers UV tanning beds and airbrush spray tans, and going in the buff is fine for both styles.
That's not to say you have to be naked, of course. "Whatever tan lines you want are fine," he said. "But if you want to be naked, go for it."
So that's one mystery out of the way. Below, Matthew answers some other etiquette questions pertaining to his salon's two signature tanning styles.
How freshly showered should you be?
"[Showering] like an hour before is the best," Matthew said. As long as there's a shower stored somewhere in your short-term memory, though, you're probably good to recline in a bed or stand at the ready for an airbrush tan.
Is there anything you should avoid saying in an airbrush-tanning consultation?
Skip any references to Oompa Loompas.
"I understand you don't [want to look like an Oompa Loompa]," Matthew said. Specifying that might imply that you think the technician doesn't know how to do their job. "Personally, I take offense to it sometimes."
You can say almost anything else, though. Some questions Matthew called out as totally reasonable: Is your airbrush-tanning spray organic? and How long have you been doing this? (Halsted Street's spray is organic, and Matthew's been airbrush tanning for 10 years.)
Can you tan for the full time listed on the bed during your first visit?
No. First off, that would be against Illinois law. More generally, "you need to be skin-typed. You don't know the beds. … You don't know how they're lamped. You should always err on the side of caution."
Is "I have to burn before before I tan" a good mantra?
Matthew gave that "a big no with lots of exclamation points. … You do not have to burn to tan. In fact, you should never burn. Just tan!"
Can you wear sunscreen in a tanning bed?
No. "It's not good for the acrylics in the bed." If you're worried about overexposure, shorten your tanning time instead.
Can you tan with non-contagious skin conditions, like eczema?
"Not even a problem," Matthew said. This goes for bed tans and airbrush tans.
Fun fact about bed tans, though: a lot of dermatologists actually recommend tanning (or, at least, UV radiation in a medical setting) to treat eczema. Who knew?
After a bed tan, do you need to clean the bed?
Not unless it's visibly sweaty. "That's not your job. We have to clean everything, and there's electronic components that we need to clean in a correct manner. I mean, if you left a pool of sweat, take the towel and dab that up. … I would consider that a common courtesy."
How long can you spend in your private room during a bed tan?
At Halsted Street, you get five minutes to undress for a bed tan and up to seven minutes to dress afterward. "There's usually somebody waiting for that bed," Matthew explained.
That's why his salon doesn't have mirrors in its rooms—to prevent makeup touchups and other types of primping. Save that for the bathroom or the hallway mirrors.
Should you tip when you get an airbrush tan?
Yes. "Usually 20% of the full price is standard. … We are basically artists in spray tanning, because we are doing cosmetics. You're getting a cosmetic applied to you."
Should you tip when you get a bed tan?
No. "[Some people] leave a couple dollars [for] cleaning the bed," Matthew said. "It's nice, but it's not something expected or even anywhere remotely required."
Check out our other etiquette guides: