GROUPON GUIDE TO WASHINGTON-DC
America's Top Cities for Tattoos—and Tattoo Removal
BY: Mel Kassel |
Oct 16, 2014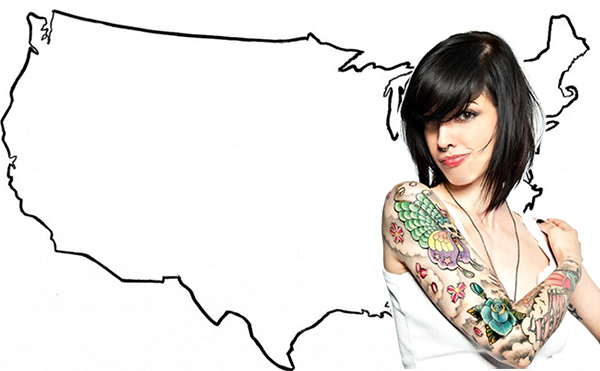 Getting a tattoo is one of the biggest commitments a person can make, aside from marrying someone or signing up for an email newsletter. For many people, it requires a large amount of soul-searching. For others, it's a fun, spontaneous errand. So in honor of National Evaluate Your Life Day, we asked: which city in America is least afraid of being inked?
To find the place that craves body art the most, we crunched a year's worth of data, ranking cities based on how much their Groupon subscribers spent on tattoos. The winner bubbled up from way down south: Shreveport, Louisiana.
But what if you're looking for the opposite experience and want to make a potentially embarrassing tat disappear? If that's your goal, Groupon intel says head to Lincoln, Nebraska, our champion city for tattoo removal.
To make further sense of the tat stats, we spoke to businesses in both of the winning locales.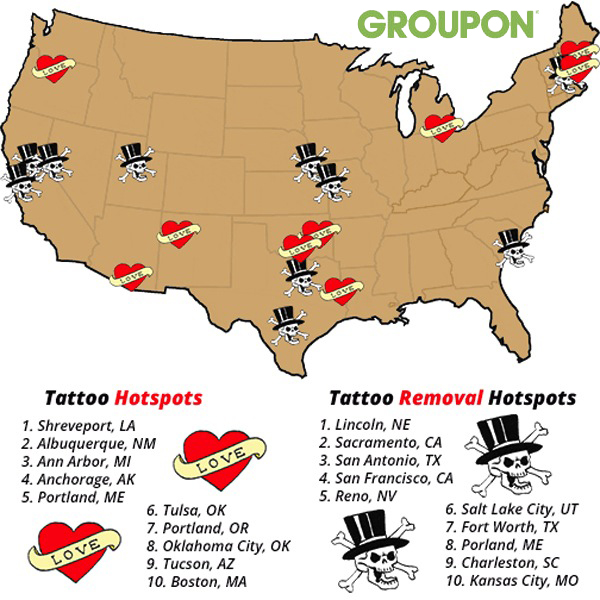 Tattoos
Nolan Nesbit of Pens and Needles (technically located in Bossier City, right next to Shreveport) confirmed that the locals "really, really do" love tattoos.
"I have an artist who has people lined up outside the door, literally," he said.
Why might ink be so prevalent in Shreveport? Perhaps the biggest reason is the surrounding job market. "There are a lot of professions in this area that are medical or oil-field- and gas-related, where you're allowed to show off your tattoos," Nesbit said. Although many employers frown on visible ink, Shreveport's seem hip to the scene. As a result, "[People are] seeing that it's becoming a lot more accepted [and thinking], 'The world isn't gonna judge me for it. My superior has tattoos!'"

The nearby Barksdale Air Force Base, too, is home to a lot of big spenders. "One guy got a full Looney Tunes leg sleeve that later went viral," Nesbit said. "His command didn't mind at all."
When asked about which designs were requested the most, Nesbit said there's one tattoo that the shop is asked to do so often, he'd like to start charging a premium for it: the infinity sign. Apparently, the symbol has been in vogue for about two years, beating out other popular pieces such as "feathers that explode into, like, a thousand birds."
Nesbit has also noticed certain trends in tattoo placement. "With females, it seems to be foot, or ribs, or ankle. With males, it seems to be more of an arm thing." This fact is especially impressive when you consider that the ribs are what Nesbit calls a "red area"—that is, a body part that is extremely painful to get tattooed.
"That's somewhere I won't go yet," he said. "I've seen too many full-grown men scream in agony." But the women? "They won't make a sound, or they'll squint a little bit. … I think it's because they give birth."
Tattoo Removal
To learn more about the tats that people want to get rid of, we chatted with Heather Swenson of Revitalift Aesthetic Center in Lincoln. She said that most of her customers simply regret their tattoos, which might not look as good as they did in the past. However, Lincoln has another big incentive for residents to lose their ink, and it's the same story as Shreveport in reverse.

"At our local police and fire department, [they're saying,] 'You're not allowed to have visible tattoos, or you won't be promoted," Swenson said. Some businesses even take matters into their own hands: "We have a national chain restaurant that's paying for a few of their employees to have their tattoos removed."
It makes sense, then, that the hands and arms are the most common areas where people are getting their ink removed, according to Swenson. Because these body parts tend to be the most visible, employers have the biggest problem with them being tattooed.
Job security isn't the only motivation behind tattoo removals, though. When asked what kinds of tattoos she removes the most, Swenson said, "Names, usually of exes. And … memorable dates from exes."
Illustration by Jen Jackson, Groupon
Read more about tattoo art on the The Guide:
| | |
| --- | --- |
| | |
| People with Tattoos Are Just Copying Ötzi the Iceman | Everything You've Ever Wanted to Know About Permanent Eyeliner |