That 1 Guy: Just a Man and His Pipe-Bass-Instrument-Thing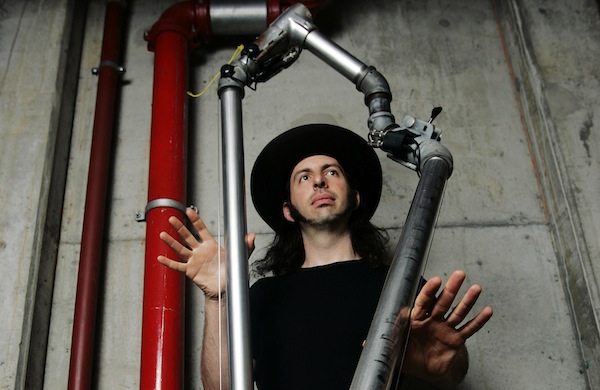 Mike Silverman wasn't satisfied with a simple upright bass. So he made his own instrument, formed his own band…and now he's his own light show.
As if one invention wasn't enough. Mike Silverman, known to his fans simply as That 1 Guy, embarked on his current tour armed with not one, but two one-of-a-kind creations. The latest is a rig built to display live video projections, which Silverman will have to operate himself. This might sound impressive, if not all that difficult. But that's before you take into account the other invention he'll have to control—the Magic Pipe—and the fact that he'll be the only guy up there onstage. The addition of the video rig allows Silverman to give his remarkable one-man audio performance a visual component as well. His current tour in support of new album
Poseidon's Deep Water Adventure Friends
finds him using the Magic Pipe to create otherworldly sounds while simultaneously controlling the video-light show. The result is a display of sonic trickery, musical daring, mechanical invention, and magic—yes, like rabbit-out-of-a-hat magic—that can't easily be compared to, well, anything. Bobby Darin meets Frank Zappa, maybe? Nikola Tesla guesting with Parliament Funkadelic? A supergroup of Rush, David Blaine, and Charles Mingus? Now, about that Magic Pipe. It was born out of Silverman's frustrations with the limitations of the upright bass. "I pushed the boundaries of the instrument itself," he recently confessed to the
Phoenix New Times
, "but I wasn't satisfied with the sonic range I was getting out of it." His solution was to wander the aisles of hardware stores, buy bits of pipe and tools, then spirit them away like Frankenstein hoarding extra limbs. After much experimentation, Silverman created an instrument that AllMusic describes as "surprisingly tuneful, despite resembling a cross between a harp, a bass, a set of bathroom pipes, and drug paraphernalia." Here's how it works: two strings—one grounded and one moveable—interact with the pipes, trigger points unleash prerecorded samples, a cowboy boot triggers a kickdrum, and an electric saw wails. Got all that? If not, suffice it to say that watching Silverman play his Magic Pipe is a heady, dizzying experience. When I first read about That 1 Guy, I had what I thought was a brilliant idea. Someone needed to introduce this man to Tom Waits, pronto. If there were ever two kindred spirits, it was this pair of musical mad scientists, both ready to transform whatever's nearby to create the sounds they desire. It was a doozy of a plan. Of course, someone had already beat me to the punch. Superstar engineer Karl Derfler, who recorded the second That 1 Guy album (
The Moon is Disgusting
), brought Silverman in to play on Waits's album
Orphans
. Oh, to be a fly on the wall.
That 1 Guy plays at the Beat Kitchen on Sunday, March 9, at 8 p.m. Get tickets here.
Check out more on Silverman and his Magic Pipe:
Photo courtesy of the artist.
BY: Allison Shoemaker
Allison Shoemaker