The Best Chicago Baklava Ranked by a Greek Pastry Chef Mom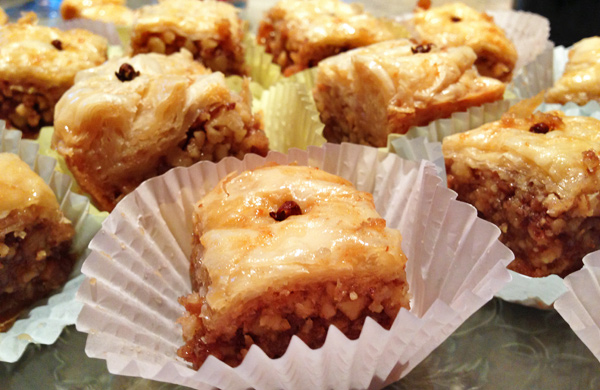 This summer, the perfection of my mother's baklava was called into question. My Chicago friends claimed that their city boasted the best of the delicate Greek pastry, famous for its layer upon layer of phyllo dough. How could my New Hampshire mother, they asked, make a better baklava than the entire city of Chicago? Now, my family is very Greek. I mean 100% Greek. So of course my mother makes baklava. It's a small way of honoring our ancestors, the inventors of democracy, theater, and yelling indoors. Greek baklava stresses loads of honey, butter, and walnuts. Each time my mother and I make our family's recipe, brushing every sheet of phyllo dough with butter, pouring cups of organic honey seasoned with cinnamon and lemon over layers of walnuts blended with a secret ingredient (you'll never guess it in a million years), I can't help but think:
This is the greatest baklava in the world. It
has
to be.
So when my friends claimed my mother's baklava might
not
be the best in the world, words were exchanged, accusations were leveled, and friendships were nearly shattered forever. To repair the damage, I had to see if Chicago's baklava could stand up to my family's recipe. I bought baklava at the five reputedly best baklava bakeries in Chicago. Then, I packed them into separate, airtight containers, snuck them past O'Hare security, got onto a plane, and ultimately set them down in my mom's kitchen. All within one day. We would have to have a taste test. Below are the results, including our honest tasting reactions and our rankings in descending order. The tasting panel included me, my mom, and our unnamed, non-Greek companion. (IMPORTANT NOTE: All of the pieces tasted were walnut baklava, because that's the only kind that counts. Oh, and there was a Red Sox game blasting in the living room, to give the taste test an authentic New England setting.)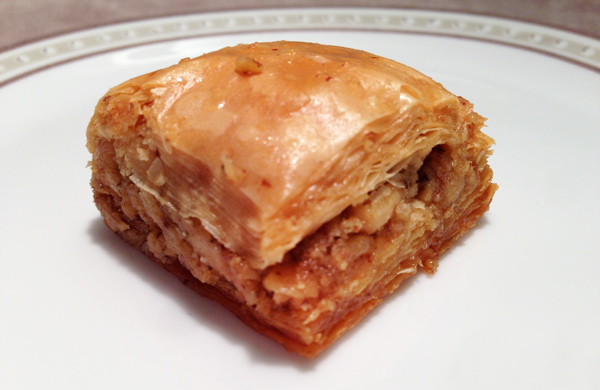 5.
Jaafer Sweets
| 4825 N. Kedzie Ave.
Summary:
Finely grounded walnuts and a great presentation
Group comments:
"could be sweeter," "very finely grounded walnuts," "Great appearance," "a little bit dry," "needs more honey," "very crispy and it looks really good"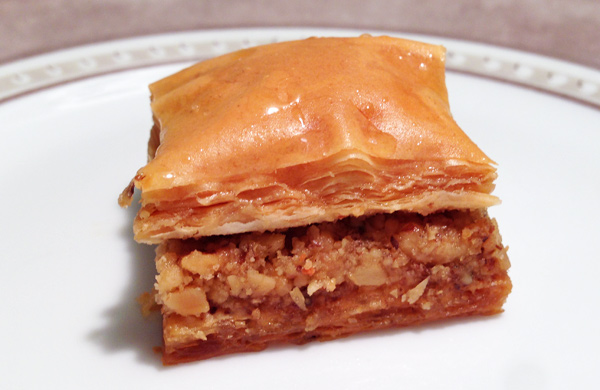 4.
Taza Café
| 176 N. Franklin St.
Summary:
A light, interesting filling, not too sweet
Group comments:
"I like its appearance," "light filling," "not too sweet," "distinct filling with an almost peanut flavoring," "they could have let it brown a bit more," "might be using a non-traditional, nutty butter"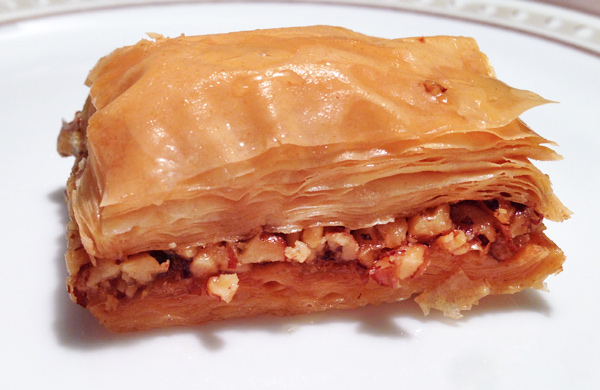 3.
Nazareth Sweets
| 4638 N. Kedzie Ave.
Summary:
Chunkier walnuts and a nice crispiness
Group comments:
"A hint of honey," "nice consistency," "definitely has a sweetness to it, not a harsh or overwhelming sweetness," "not mushy," "it's crispy," "good amount of walnuts," "could use some more honey"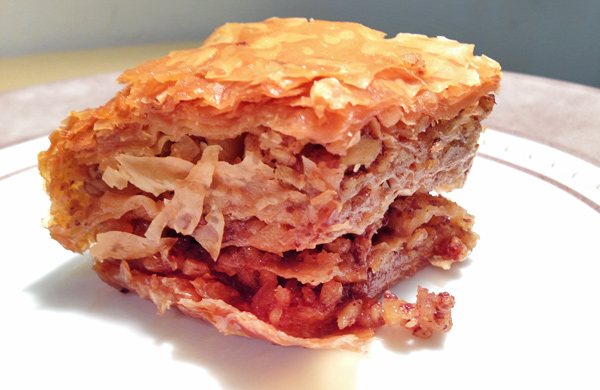 2.
Treasure Island Foods
| Multiple Locations
Summary:
Bold spices and a moist, almost pie-crust texture
Group comments:
"powerful spices," "you can taste the honey," "really thick," "smells nice," "almost has a ginger taste," "has a pie-crust texture," "could use more butter," "good spices," "very moist"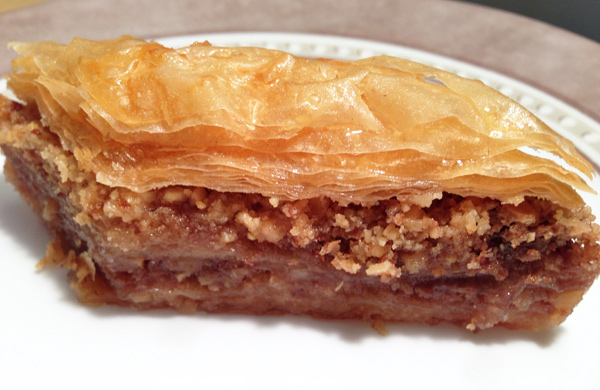 1.
Pan Hellenic Pastry Shop
| 322 S. Halsted St.
Summary:
A nice blend of spices, lots of honey and butter, and a generous walnut filling
Group comments:
"crispy," "you can taste the butter," "nice spice blend, very flavorful," "not as good as [my mom's], but the best one of the bunch," "unique flavor, very good, could be from a different type of honey," "melts in your mouth," "that's a good one, seriously, you can taste the butter," "yeah the honey is good like this one [rushes to a cabinet and produces a jar of honey], see, right here, pure, raw honey from New York, this is from New York, it has a little story here on the back," "the filling is very good" [
Read more about the family behind Pan Hellenic.
]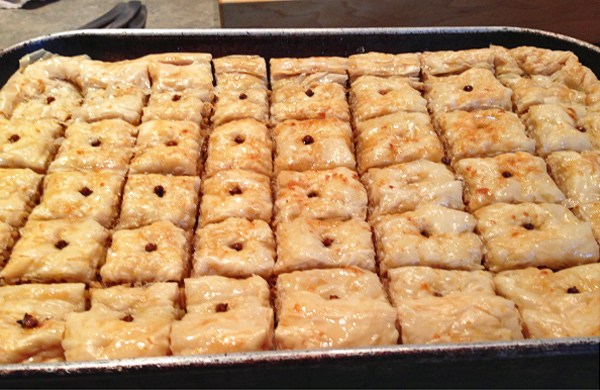 My Mom's Baklava | New Hampshire
Summary:
THE BEST
Group comments:
THE BEST So there you have it. Some great pieces of baklava in the bunch, but we all agreed that none of them could beat my family's recipe. Somehow, I wasn't surprised. The next pastries up for a taste test: kulurakia and kourabiedes. Chicago, the Papachronopouli are giving you another chance.
Photo: © Peter Papachronopoulous, Groupon