The Best Gourmet Salad Bars
BY: Susie Lemmer |
Jan 8, 2015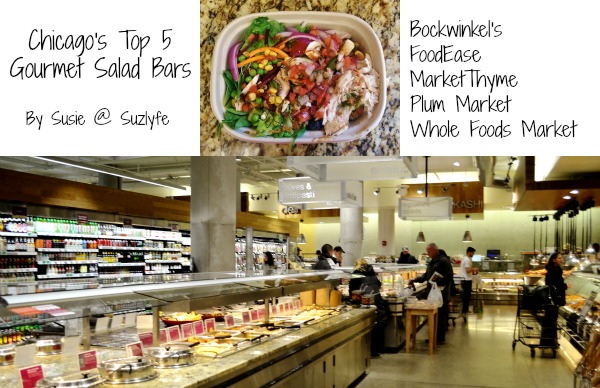 Chicagoans are some of the most active and busiest in the country. However, balancing the pressures of being in the lunch-hour time crunch, leading a health- and fitness-focused lifestyle, as well as avoiding meal monotony (and bankruptcy) can be a tall order.
Consequently, for me, a good salad bar truly is golden, particularly when you have been sitting all day and feel like a slob. I love salads and the endless variety that you can discover with each bite, and the serve-yourself atmosphere allows me to get just what I want and the amount of it that I want. I can then head back to my work filled with high quality, healthy ingredients like veggies and lean proteins, and a high does of flavor and good bang for my buck.
Considerations
But finding a good salad bar? That is a pretty tough task. For me, the criteria of a good salad bar (and by "good," I mean excellent) are as follows:
Clean environment and high hygienic standards with staff that monitors, cleans, and replenishes the product as necessary.
High quality offerings that are fresh and prime for consumption, not several days old.
Ingredients kept in water, not in oil or a solution.
A substantial variety of ingredients. This includes:
A substantial variety of ingredients. This includes:Multiple lettuces--I like to mix my options--romaine, spinach, spring greens, even kale. A variety of dressings, but also balsamic vinegar and olive oil. House made dressings are a major plus.Prepared salads--I do not typically utilize them myself, but a fresh taboulleh or corn salad can be an excellent addition to your every day salad. Lean, plain proteins. I don't do well with a lot of oils and heavy additions, so I prefer my proteins plain. I do not, however, want them straight from a bag. A salad bar that goes through the trouble of offering you freshly grilled or roasted chicken breast that they themselves have cut? That tells you the type of care that they are going to put into everything else. Some standards, some rotated items. I like to know what I am going to be presented with, but I also love to try something new! Great for you mind and your palette.
Good accompaniments. Yes I am getting over a pound of salad, but I still want a good drink and perhaps some chips or nuts to go with it or for later!
Soups
Compostable, reuseable, or washable containers (same for utensils)Paragraph
Extra Credit: Local ingredients (with labels) or organic ingredients. I love pickles, pepperocinis, and pickled ginger Fresh herbs. One of my favorite additions is fresh basil Lemon wedges Real bacon pieces (nice and crispy) and real croutons!
And obviously, all at a good price. This city is expensive enough as it is!
I have takem upon myself the arduous task of searching out what are, in my experience, 5 of the top gourmet salad bars in the downtown of Chicago. These venues comply with all of the above criteria, plus make their own mark that separates them from the competition in some way, from local purveyors to ethnic delicacies. But any way you look at it, these aren't your average cafeteria lines.
Top Chicago Gourmet Salad Bars
(In no particular order)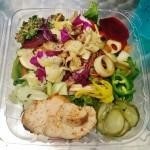 Bockwinkel's Grocery and Deli (The Loop/Lakeshore East)
A hidden gem in the midst of the northeastern Loop, Bockwinkel's fulfills all your needs, from lunch to dinner. A great variety of offerings that rotate in accordance with the deli and what they are making--from balsamic turkey to cajun chicken breast, various pasta salads, and fun ingredients to make sure that your lunch is anything but boring. Grab a soup of any size from the counter next to the bar, maybe some snacks or a Boar's Head Sandwich, and any number of other things to make your day better!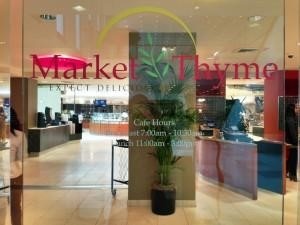 Market Thyme (Aon Center/Pedway, The Loop/Lakeshore East)
Market Thyme is truly a one-stop shop without being a store. Though the cold salad bar itself is not the largest, it is in the midst of a melting pot of fresh (prepared in front of you) options: sushi, pasta, bimibap, burgers, sandwiches, and more. The food selection rotates in the hot line in accordance with the season and what people are craving, and expect mini deserts as well! Eat there or take it to go!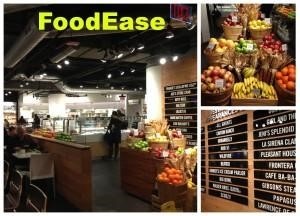 Foodease Market (Mezzanine Food Court, Water Tower Center, Gold Coast/Streeterville) Perhaps the best salad bar in the city. Much of the product at Foodease is local, made in house, or delivered directly from restaurants (Foodease is part of the Lettuce Entertain You Entertainment empire). Lots of extras, from fresh herbs to infused oils and vinegars, to rotating hot bars from local chefs to a "chocolate closet." Buy a bottle of wine from the wine cellar, or sidle up to the wine bar itself. Don't feel like imbibing? Grab a Coke Freestyle beverage and make your own trail mix, or sit down and eat on a real plate with real cutlery. A salad bar for foodies, indeed!
Plum Market (1233 N Wells Street, Old Town)
Plum Market's salad bar and offerings are, without a doubt, the best in the central Old Town area. A mixture of a Whole Foods and a local market, Plum Market bridges the gap with its variety and ingenuity--pickled vegetables, different coleslaws, and toppings. Anything that the salad bar doesn't have you can turn around and ask for from the prepared foods counters behind you! And then take your lunch and sit down in a sunny, lovely atmosphere, or grab an Intelligentsia coffee and work in their cafe.
Whole Foods Market (Multiple Locations, but particularly Lincoln Park/Old Town, 1550 N Kingsbury Street) **SOON TO STREETERVILLE**
One of the biggest Whole Foods Markets in the country, this is not your typical lunch place. Rather, the salad bar is but one of many stations to grab a bite--from pizza to sandwiches. Or sit at the bar and get bar bites and local brew! My only advice would be to go with a game plan, or you will be changing your mind over and over again! This is a place that can be overwhelming if you let it. If you are just focusing on the salad, you will find what you have come to expect from Whole Foods: prepared hot and cold salads, organic ingredients, rotating offerings at the end of the bar. Eat in any number of places--family style near the entrance, on stools at a counter, or upstairs, looking down on everyone below!
Honorable Mention: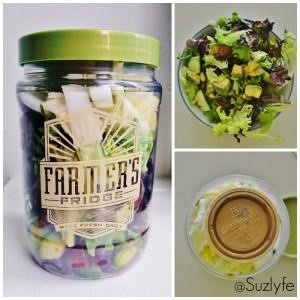 Farmer's Fridge (Vending, Certain 7-11 locations and Nordstrom)
Farmer's Fridge is a hyper local, small batch food company that is rethinking the vending machine lunch. Each fridge is supplied daily, all product is local and prepared by hand, and all ingredients are treated with respect and a focus on health. The salads are, themselves, vegetarian, but you can also purchase proteins to combine with them. New options are soon to be included with a variety of sauces, so that you can tailor your meal to exactly what you want! If you like their products, the company even offers a cleanse and delivery service!
You will find salad bars at the majority of grocery stores throughout Chicago, from Treasure Island, to Mariano's, to Mrs. Greens. However, the places that I listed above are more destinations for a meal--complete with proteins, outstanding selection, and more than just your typical offerings. Jason's Deli in the Loop also has a good salad bar, but no accompanying proteins.

How do you stay healthy while traveling and working?