The Blogger Behind the Blog: Coffee Companion's Kevin Sinnott
BY: Halley Lawrence |
Apr 5, 2013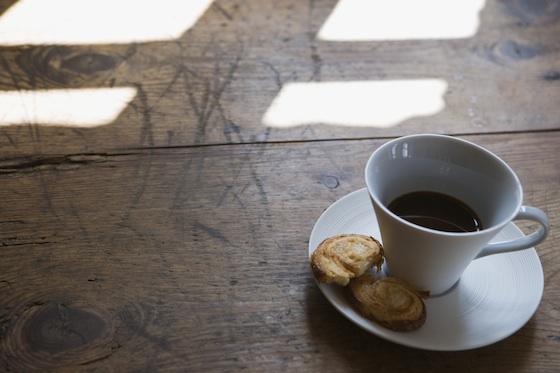 Kevin Sinnott
has been chasing perfection for 20 years. Perfection, that is, in the form of coffee beans that have been roasted just enough, freshly ground, and steeped into a fragrant, dark brew. He's sipped varietals across the world, penned two books on the subject, and even shared his knowledge with Oprah Winfrey and her legion of viewers. Since he's known in the coffee industry as an unbiased expert, companies such as Cuisinart and Hamilton Beach ship brewing equipment to his Warrenville home, hoping to receive a review on his blog,
Coffee Companion
. This can produce a bit of clutter. "I'm allowed 20 coffeemakers in my kitchen, thanks to a very appreciative and loving wife," Kevin says. "She secretly moves some of them to the attic without my noticing." Kevin is also deeply involved with the local coffee scene: in 2012, he launched
CoffeeCon
, a social and educational event with brewing classes and tastings. Below, Kevin shares the cafés he frequents when he's not brewing java himself.
Best Ambience: Bridgeport Coffee Company, Bridgeport
Kevin likes "the neighborhood feel" of this coffee shop, where warm hues, wood accents, and a passionate staff create a stay-all-day vibe.
Best Espresso: Passion House Coffee Roasters, West Loop
Try the Warehouse espresso, which barista Shannon describes as having "a sugar-cane sweetness that hugs the sides of my tongue," or the Bassline espresso blend, which has hints of nuts and chocolate.
Best Light-Roasted Coffee: Ipsento, Bucktown
Kevin recommends the Panama roast, which he says has "a gorgeous note of honey." The roast hails from
Elida Estate
, a farm in Boquete, Panama, owned by the Lamastus family since 1918. The beans are processed three different ways—washed, natural, and honey—producing three distinct flavors.
Best Coffee Chain: Dunkin' Donuts
"They have a nice blend," Kevin says. "It's sort of like the experience of beer: I have friends who sometimes say, 'I don't want a yuppie beer, I want a PBR.'"
BY: Halley Lawrence
Guide Staff Writer
Halley is a Chicago writer with southern roots. When she isn't typing, she enjoys cooking without recipes and designing garments for her upcoming clothing line, Ambidestre.