The Chicago Fizz at Watershed in River North
BY: Lisa Ladehoff |
Oct 24, 2013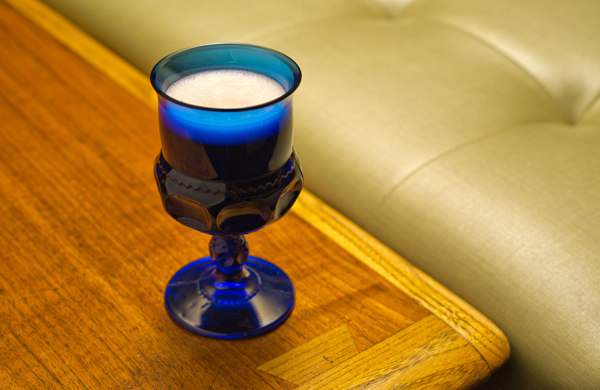 The Chicago Fizz isn't an easy drink to find. After more or less stumbling upon it on the impressive
cocktail menu
at
Watershed
(601 N. State St.), I wandered down the stairs tucked away in a corner of
Pops for Champagne
into the cozy basement bar to try the elusive midwestern cocktail. Once there, I settle into the single unoccupied armchair at the center of the small, wooden bar. The bartender (whose name I never learn because I am drinking alone, and sometimes that means "I do not wish to speak to anyone") asks me what I'm having, and I give him my order. He combines the rum, tawny port, lemon, and egg white in a shaker—which he shakes the hell out of. The couple sitting next to me remarks on the shaking. Egg whites take a lot of agitation to really get them going. Next thing I know, the bartender has disappeared, and I'm wondering about my drink. The important detail I forgot about making a drink with egg whites is that you've got to let it separate. After you've shaken the egg (first dry—before adding the ice—followed by even more vigorous shaking), strained the drink, and it's all frothy and lovely and mingly, it has to shimmy up to the surface to create the ideal creamy, airy,
heavenly
little eggy cloud that lingers above the booze. Otherwise, the drink is shot all to hell. My nameless bartender has perfectly executed this miracle of egg science, and the first sip out of the blue chalice he places before me is sort of akin to drinking an ultrasmooth, port-spritzed puff. On the second sip, the warmth of the rum and the sweet fortified wine curl up underneath, mellowed by the lemon and club soda. I could drink many of these. And it's such a simple drink! It's terrifically simple. The decor, however, is a bit confused albeit endearing. Behind my right shoulder there's a midcentury couch along a stone wall, then three tall wooden booths adjacent to that. A cluster of more armchairs are gathered around a table in the center of this side of the room, next to an out-of-place red- and white-striped couch, which stands out among the other shy, earth-toned furnishings. The other half of the room is populated by little café tables and a large old map of the Great Lakes, dramatically lit and recessed behind glass. I think I've managed to find the best seat in the house. It's hard to believe that Watershed is the little sister of
Pops
. More like a stepsister, really, as the two don't seem related in any way—which, for me, is a good thing, having found Pops a bit pretentious during previous visits. Although it certainly isn't a bad place for drinking with others, Watershed is low-key enough that you can avoid feeling like a dateless freak when sitting solo at the bar. The couple next to me mention to the bartender that they came here on their first date. Watershed is good for a little bit of everything, it appears. For whatever reason, drinking alone is regarded by many as a bizarre, worrying behavior. Especially if you're a woman. But in the Age of the iPhone, we're never
really
alone, nor do we ever have to be. Thankfully, some watering holes provide a sense of ease in untethering ourselves from constant interaction—whether it's face to face, text messaging, or surfing social media. Some places are
good
places to drink alone. I think Watershed is one of those places. If and when you do embark upon that solo boozing journey, you had better hope you're drinking something great, because unless you've brought a book along, there's not much else to focus on other than eavesdropping and gazing. Lots of gazing. Although there isn't much to look at inside Watershed, I've lucked out with my drink, so I embrace the low-slung armchair and just focus on drinking.
Photo: © Andrew Nawrocki, Groupon