The Coathangers' New Video Features Mastodon in Drag, So Basically Anything Is Possible
BY: Collin Brennan |
Mar 27, 2014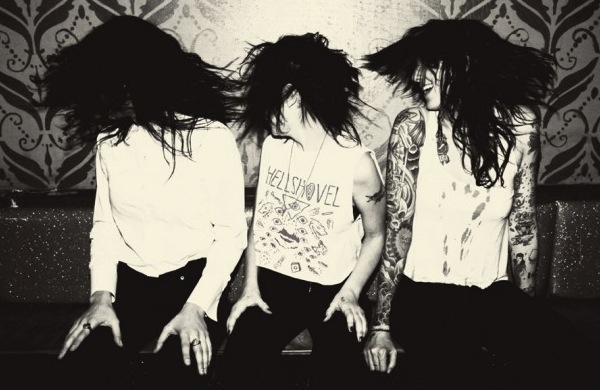 The all-female punk band got heavy-metal stalwarts Mastodon to dress up like them for their "Follow Me" video. Which got us thinking …
Atlanta's
The Coathangers
have been a band for all of three years. But they haven't wasted any time, spitting out a slew of 7-inch singles between their four proper studio albums. The ladies also seem to be quickly acclimating to the rock-star lifestyle. Their latest album, Suck My Shirt (
Suicide Squeeze Records
, 2014), was named after an incident in the studio that involved literally sucking spilled tequila off a T-shirt. To put the band's brief career into perspective, fellow Atlantans
Mastodon
have more than a decade of sludgy heavy metal under their studded belts. The two groups have almost nothing in common besides their hometown, but that didn't stop Mastodon from stepping up to the plate and dressing in drag for The Coathangers' "Follow Me" video. It's perhaps the most glorious four-and-a-half minutes in the history of Atlanta rock and at least the best four-and-a-half minutes you'll spend today: It also got us thinking about which Chicago bands we'd most like to see dress up as one another. Here are our five best suggestions, in case any of those bands (or their fans) are reading:
1. California Wives as Summer Girlfriends
Contrary to what their name suggests, California Wives are a bunch of dudes from the Midwest. Dressing up to play the breezy surf rock of Summer Girlfriends would do wonders for their West Coast cred.
2. The Orwells as Twin Peaks
Both of these bands are underaged, and both are at the top of Chicago's garage-punk scene. In any case, they should be used to posing as other people. You have to get into those 21+ bar shows somehow.
3. Mucca Pazza as Girl Group Chicago
Mucca Pazza is the only band that could pass for Girl Group Chicago, if only because they're the only band with enough numbers to pass for Girl Group Chicago. They'd have to tone down the crazy, however, and use their horns to nail the harmonies of "Be My Baby."
4. Archie Powell and the Exports as Cheap Trick
With their long hair and slick power pop, Archie Powell and the Exports are already halfway to Cheap Trick. Kind of like how Cheap Trick's real home, Rockford, is halfway to Wisconsin. Whatever. We'll claim them anyway.
5. The Lawrence Arms as Anybody
The rough-and-tumble punk band has already shown that they have a knack for dressing up. In their new video for "
Seventeener (17th and 37th)
," the guys pose as everyone from Guns N' Roses to Insane Clown Posse. Good luck getting them to stay in one outfit for long.
See The Coathangers—yes, the
actual
Coathangers—at the Empty Bottle (1035 N. Western Ave.) on Friday, April 11, at 9:30 p.m. Audacity and Tim Larson open. Tickets are $10 and can be purchased here.
BY: Collin Brennan
Guide Staff Writer
Collin is a senior editor and a staff writer for Consequence of Sound. He self-publishes zines and moderates writing workshops for The Chicago Publishers Resource Center (CHI PRC).