The Culinary Consulate: How to Celebrate a Danish Holiday
BY: Andy Seifert |
Jun 4, 2013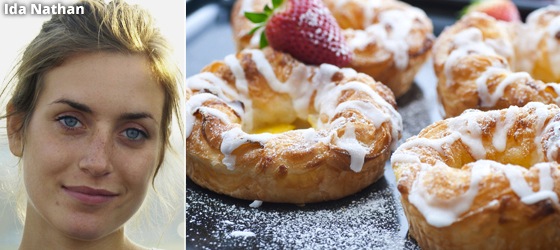 There are 52 consulates in Chicago, along with a number of centers, associations, and museums focusing on the cultures of nations from six continents. In Culinary Consulate, we talk to these ambassadors to Chicago about how to celebrate their country's holidays in the city. Today's edition: Denmark.
Name and country:
Ida Nathan from Chicago's
Danish consulate
Upcoming holiday:
Constitution Day (Wednesday, June 5), known in Denmark as
Grundlovsdag
, which celebrates the Danish constitution of 1849.
What to eat on Constitution Day:
"A lot of people eat the berry porridge,
rødgrød med fløde
. A fun anecdote on that dessert is, when we want to illustrate how difficult it is to speak Danish, we ask people to say a certain sentence, and that is 'rødgrød med fløde.' In Danish, this means 'red porridge.' It's a symbol of summer arriving. It's the first strawberries of the season that we eat, the ones arriving in June. It's something everybody loves. … It's fresh and light and sweet, and it's also very beautiful. When you put cream on it, then it almost looks like the Danish flag." (
See the recipe below.
)
What to eat on other holidays:
"Broiled pork is a very Danish thing. You have to eat it with parsley sauce. … I'm not that fond of it. I couldn't find an American word for it, but it's actually just the most fat part of the pork that you broil. There's not a lot of meat on it, it's mainly fat. It's an old Danish dish from the countryside. It's a cheap dish."
How about danishes (the pastry)?:
"In Denmark, we don't call them danishes. It's surprising when you go abroad and find out that it's called a danish. We don't eat it a lot, but apparently it was invented in Copenhagen. It's something we eat during the weekends, or if we want to treat someone, we might buy a danish for breakfast. It's something you take to work—as [Americans] eat donuts, that's how we eat danishes. ... We have a cinnamon-swirl danish, that's my favorite."
What to drink:
"Carlsberg [beer]. … Another brewery we have is Tuborg. They are the two big ones. ... We drink a whole lot of beer all the time. In November we have this Christmas beer that we call 'Christmas brew.' [For holidays,] we also have what we call 'snaps' on the side, which is a very strong little alcoholic drink. And it tastes awful and everybody hates it, but you have to do it."
Where to eat out in Chicago:
"I really haven't found any [Danish restaurants]. I guess there are some Polish restaurants, there are some big Polish communities out in the west, and Polish food is pretty much like Danish." (
Editor's note: Afterward, Ida emailed to say her colleagues knew about a traditional Danish bakery in Chicagoland, Kirsten's Danish Bakery in Burr Ridge.
)
How to act during dinner:
"A part of Danish culture is to just sit around the table for hours. Just continue sitting and eating a bit more. There was an American guy who wrote about the Danish traditions and what struck him coming from the States. And one thing he said is he was amazed at how Danish people can sit at a table for hours. (
Groupon: About how many hours?
) "Like two, three hours. Just keep eating. You don't have to do other stuff. Just sit, talk, eat."(
Groupon: What do you usually talk about?
) "We have a very Danish word, that I'm not sure how to translate. It's called
hygge
. It means like coziness, the feeling of candles, and tea, and having a good time with your friends."
What do you miss most from Denmark?:
"One thing that you miss—something all Danish people talk about—we need rye bread. You can find [a kind of the Danish rye bread] here, it's called Fitness Bread. If I was to try rye bread for the first time, and it was Fitness Bread, I would be really disappointed. ... One thing my colleagues do is go to Ikea and buy a mix of rye bread that you can make at home. It's a better version of the rye bread than the Fitness Bread. ... People should go buy that and try it.
Rødgrød Med Fløde
Makes four servings
What You Need:
1 pound of red berries (black currant, red currant, raspberry, and strawberry—the more varieties, the more complex the taste) 5 cups of water and later a 1/2 cup of water 1 big cup of sugar 2 spoons of potato flour Cream
What You Do:
Clean the berries and boil them in the water for two minutes. Strain the liquid through a fine meshed sieve or a cloth. Bring the liquid back to boiling and add sugar. Mix potato flour with the 1/2 cup of water. Take the juicy liquid off the heat and add the potato-flour mix. After this step the mixture must not boil. Taste the mixture and add more sugar if needed. Cool it down and serve it with ice cream, whipped cream, or milk.