The Discerning BYOBer: Chilapan's Chef on Dealing with Spice
BY: Will Landon |
Jun 26, 2013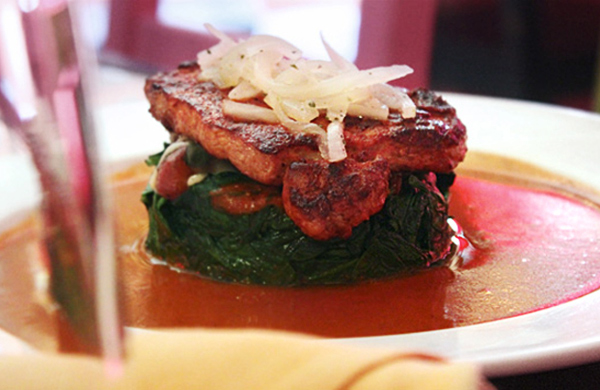 Chef Jorge Miranda insists that his food "has to be different" from what his parents and grandparents made. He isn't really too much of a rebel, though—his dishes are clearly informed by some serious respect for Mexican culinary tradition. Half of his extended family lives in the Mexican state of Michoacán, but it is the side settled in Guerrero that might have instilled that worship of food in him. In Guerrero, Jorge spent many of his formative years at his family's street-side carts, helping make tortillas, enchiladas, and tacos from scratch. As he and I sit at a table in a secluded corner of
Chilapan
, across from paintings of the Virgin Mary and mustachioed revolutionaries, the roar of the L train overhead seemingly far away, he recalls how as a child he would watch one of his grandmothers, crouched beside her kitchenware, roasting seeds and cooking for up to three days to make mole for him and the other children.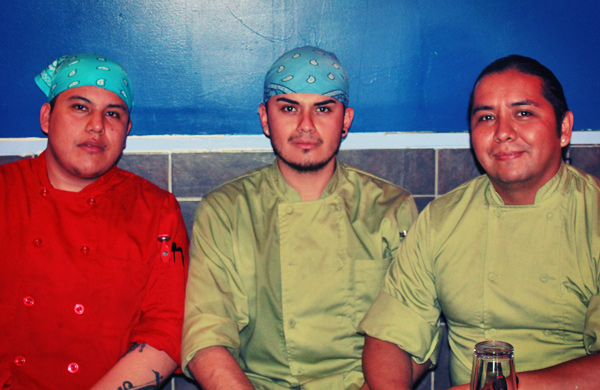 To get where he is now, chatting in the dining room of his own restaurant, Jorge moved to Chicago and spent nearly two decades working his way up from dishwasher to executive chef. Along the way, he's pulled from the culinary techniques and flavors of other cultures to make those old family recipes feel like his own.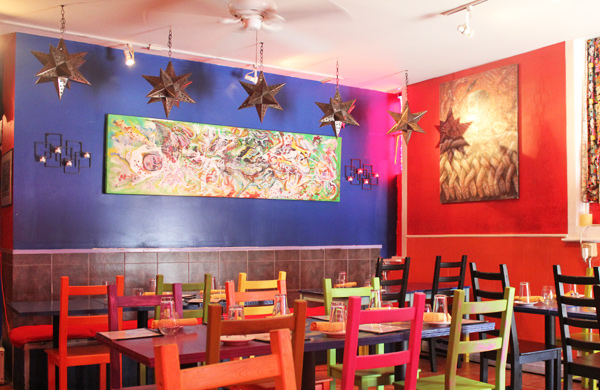 What Makes a Mole?
In mole, Jorge's tendency to be a perfectionist like his grandmother shows. The exact makeup of these moles varies by region, and the flavor depends on the combinations of chilies, herbs, and fruits or vegetables used in the sauce. "To create a [mole] recipe ... you need to know consistency, you need to know how mole has to taste," he says. "I've seen my grandmothers doing it, my mother, my tías, everyone." He's tasted a lot over the years. Jorge laughs at how much time he spends working on projects like that in the restaurant: "more than my own house." He and his wife, Olga, do just about everything around here; as we speak, he shows me his hands, still stained with blue paint—he had just applied a fresh coat to the sidewalk patio. Although he's thankful that he gets to run his own operation, this chef is at his happiest when he's perfecting a mole in the kitchen, even when it doesn't come together the first time. During one attempt to create a traditional Guerrero mole, he had to mix three batches and demolish several pounds of tomatoes before he was satisfied with the end result. One of the most rewarding parts of the process, Jorge says, is the experimentation—being willing to taste and rethink the recipe again and again, making sure  "it's not too spicy, not too acidic, not too sweet. ... I mix a lot of sauces to get the one I want." Due to chef Jorge's emphasis on spice—his menu has featured regional moles, a guajillo-pepper sauce, and a vibrant salsa roja infused with cumin, pepper, and allspice—it's important that customers make sure the beverages they bring can stand up to the food's bold flavors. Jorge shares some thoughts on how to do that.
The Beverages You'll Want to Bring 
"If you get something that is not full-bodied or [that is] light in any way, it's going to get lost right away," Jorge says. When it comes to wine, he prefers shiraz and cabernet, though he says most full-bodied reds and dry whites will do. Most importantly, the wine needs to strike a balance. The best pairing is "something that is not that sweet, so it can go with fish, shrimp, and sauce," and yet strong enough to complement heartier dishes such as spice-crusted pork, chicken, and steak. Sometimes, customers bring him new bottles to try. One couple travels often and once gifted him a strong red they purchased on a visit to France. During my visit, Jorge has me sample a new dish: adobo-seasoned pork tenderloin over cheesy potatoes, with a rich red mole sauce (he had actually just demonstrated this recipe to his cooks for the first time earlier that day). Though the sauce itself is good enough to drink, Jorge says this type of hearty, spicy dish would pair well with a beer—specifically, heavy and full-bodied brews such as IPAs and dark ales. For those who prefer their beers more refreshing, lighter in color, and mild in flavor, Jorge would recommend "any Mexican beer," especially his personal favorites, Negra Modelo and Tecate.
Where to Pick Up Your Booze
Chilapan is located at 2459 W. Armitage Ave. Depending on whether beer or wine is your beverage of choice, visit one of these three nearby locations before your visit.
Vas Foremost Liquors | 2300 N. Milwaukee Ave.
This unassuming shop, runner-up for the
Chicago Reader
's
2013 Best Liquor Store
, has operated at the same spot since 1957. The staff categorizes the wines by country and curates a daunting selection of hard-to-find European imports and craft beers from Chicago and the Midwest.
Red & White Wines | 1861 N. Milwaukee Ave.
This small store's rustic brick and concrete interiors house a range of naturally produced wines from around the world and craft beers from 15 countries.
Evolution Wines and Spirits | 1704 N. Milwaukee Ave.
For those who may be stymied by the sheer range of wines to choose from, the knowledgeable staff at this boutique store provide lists of their personal favorites under $20.
BY: Will Landon
Will Landon is a Chicago-based writer who sings punk rock songs with the Blue Ribbon Glee Club and occasionally works for free as an assistant stage director.