The Dumpling Directive
BY: NAOMI BISHOP | 1.16.2014 |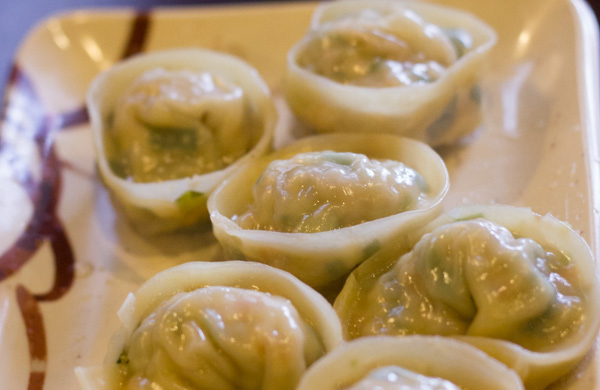 From Turkish manti to Korean mandoo, Polish pierogi to any number of Italian stuffed pastas, dumplings are basically just meat or vegetables plopped into a pocket of dough. But Seattle's diverse restaurant scene offers plenty of opportunities to learn the difference between your xiao long bao and your bánh bột lọc chay.
Dom Polski
On Friday nights, Seattle's Polish Home Association opens the basement of their Capitol Hill building to the public, inviting all comers to experience authentic Polish cuisine. Pickle soup and steak tartar are specialties, but the heart of the meal is the pierogies; a thick egg dough with a choice of filling: meat, saurkraut and mushroom, or potato and cheese. Don't be fooled into thinking this is a light or vegetarian meal, though, as they arrive sautéed in bacon with sour cream to plop on top.
Traditional Korean Beef Soup
The menu has only a few items that are not variations of the namesake soup—simplicity is the name of the game here. But the mandoo are one of them, and are worth ordering. Watch for the tub of filling and giant ball of dough on a table in the back, where someone folds each dumpling, one by one, until a tray is full, lined up with what appear to be a Korean version of oversized tortellini.
Din Tai Fung
A Taiwanese chain with outlets around the world, Din Tai Fung has taken the art of xiao long bao, or soup dumplings, to the masses, including two outlets in Seattle. These are difficult to make, requiring exactly 18 folds, traditionally, of the delicate wrappers. With piping hot soup encased along with meat filling, they can be equally difficult to eat. To do so like an expert: gently pick up a dumpling, being careful not to rip the wrapper, and place it in a soup spoon, then bite a small hole in it, allowing steam to escape. Pour a little of the vinegar and ginger sauce into the hole, adding flavor and cooling the dumpling off, before proceeding very carefully to either take a bite or suck the soup out before eating it all.
Turkuaz
Turkey straddles the border between Europe and Asia, and it's only appropriate that the dumplings that hail from there straddle the line between ravioli and Chinese jaozi. The spiced ground meat of an Asian potsticker is pressed into a ravioli-like wrapper, and sauced with garlic yogurt sauce and hot butter, then sprinkled with red pepper and mint.
Anchovies and Olives
With Italian stuffed pastas (ravioli, tortellini, etc.) being among the best known and most widely served in the U.S., it's surprising how few restaurants bother to make them by hand. Anchovies and Olives knows better, stuffing their agnolotti (tiny ravioli) with butternut squash, sage, and walnuts, before sautéing in brown butter.
Ba Bar
A completely different texture of dumpling from the traditional wheat flour dough, the Hue dumpling (bánh bột lọc chay) at Ba Bar takes many diners by surprise. The tapioca starch and rice flour outside is stretchy and chewy, enclosing a dried mung bean paste. Without the spicy soy vinaigrette and caramelized shallots, they can come off as dry, but a proper saucing makes each one a soft, savory pillow of flavor.
BY: Naomi Bishop
The GastroGnome
In need of an outlet for her effervescent enthusiasm for all things edible, Naomi Bishop started sharing her thoughts on food at her blog, TheGastroGnome, in 2006. Her lack of fear—she'll eat anything and go anywhere—lead her to discover restaurants hidden in plain sight or find the most delicious needle in the haystack of a menu. Her writing appears on Serious Eats, Eat Your World, and in the Seattle Weekly. Download her app, Unique Eats of the Northwest to find the best restaurants you've never tried.