The Family That Explores Together: Chicago's Kid-Friendly Summer Festivals
BY: Will Landon |
Jun 20, 2013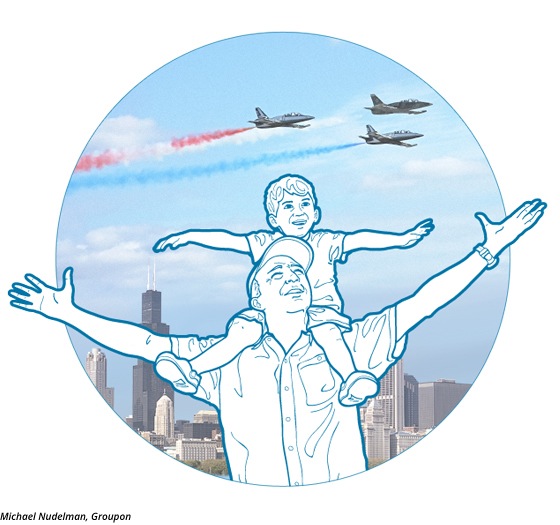 With so much happening in Chicago during the summertime, it can be tough to pinpoint the best things to see and do as a family. But beyond the gates of the Lincoln Park Zoo and far away from the rides at Navy Pier, the Windy City has plenty of summer festivals to keep families occupied when the sun is at its peak. Every weekend, different neighborhoods host gatherings of food, arts, music, and culture that have something for all ages.
Green Music Fest | June 22–23
As its name suggests, Green Music Fest aims to "teach kids about good bugs and how to help keep gardens green." Throughout the weekend, local pest experts educate children on the best ways to have a positive impact on their ecosystem. The Wicker Park Parents' Association has also organized a children's area filled with craft activities using recycled materials, DIY musical projects, clowning and puppetry, and live kids' music. The tunes continue across two stages hosting a slew of indie rock bands such as
Manchester Orchestra
(Saturday at 8:45 p.m.),
Snowden
(Sunday at 6:30 p.m.), and
Joe Pug
(Sunday at 7:30 p.m.). Proceeds from the festival go toward scholarships and special programs for neighborhood youth.
Randolph Street Market | June 29–30
"No matter what the weather is—it's got the best of both worlds," says media coordinator Melissa Lagowski. She's referring to Randolph Street Market's indoor-outdoor layout. Kids get to explore this environment during a scavenger hunt among the vendors, using a treasure map as their guide. The festival organizers "want children to start finding things and training their eyes" by looking for items such as marbles, teddy bears, and other toys. Merchants sign off for each found item, and children who produce a finished list get to hunt for prizes in the festival treasure chest. But the kid-friendly activities don't end there: the market also has live music, a face painter, and carnival games.
Bucktown Tree and GardenWalk | July 13–14
Nearly 100 privately owned side-yard, backyard, and patio gardens make for a quiet stroll. But things get a little more rambunctious at the petting zoo at 1925 W. Cortland St. (open from 1 p.m. to 5 p.m. on both days of the event). Here, visitors get to pet and feed several small animals not native to the surrounding gardens. At the Garden Oasis main stage, seven local and national bands jam throughout the day.
BenFest | July 19–21
Normally held on the lawn of St. Benedict's parish and school, this year's all-ages festival pours into the street in front of the historical grounds. In an all-new marketplace on Leavitt Street, local vendors offer art, jewelry, and clothing, while in the children's area, kids can zoom down a water slide, ride on a train, and get their faces painted. A wide range of acts grace the family-entertainment stage throughout the weekend, from the kid-friendly Hogwash improv troupe to the
Trinity Irish Dancers
and live Mad Science experiments.
Evanston Ethnic Arts Festival | July 20–21
Held in Chicago's vibrant northern suburb, this festival represents the cultures and flags of more than 100 nations. Visitors can explore multiethnic food, music, and art as they navigate the labyrinth of vendors and attend performances ranging from Mexican folk dance to roots reggae. Smaller visitors join in on workshops that teach them how to make friendship flags and Native American cornhusk dolls.
Fiesta del Sol | July 25–28
Self-described as the "Largest Latino Festival in the Midwest," this Pilsen celebration bursts with color, pageantry, and music from live guitarists and violinists. Amid the vendors, you can strap into several light-up carnival rides or attend a soccer game and the Señorita Fiesta del Sol contest. A separate children's area hosts activities such as group storytime and a range of games. Event proceeds go to fund scholarships for local youth.
Wicker Park Fest | July 27–28
One of the star attractions at this Milwaukee Avenue jubilee is Wicker Park Fest Arts, a street gallery dedicated to work from local artists. Local company
Redmoon Theater
 will also make an appearance with its Ladder Machine—a multiplatform, battery-powered lift on which actors perform acrobatics and pantomimes. At the children's area, train rides, mini golf, a bounce house, and a live reptile show turn the Walgreen's parking lot into a playland. While kids dance to the likes of
The Boogers
and
Mary Macaroni
, adult audiences soak in the main stages' indie acts, which include the experimental
Man Man
and cowpunk legends
The Meat Puppets
. Proceeds from this festival benefit Jonathan Burr Elementary School.
Retro on Roscoe | August 10–11
Occupying one of Roscoe Village's historical streets, this festival celebrates all things retro—from 1980s music to 1950s cars. This year, the auto show assembles more than 50 classic vehicles and muscle cars. Other activities and bands are still being announced, but in the past, the children's area has erected a miniature ferris wheel and featured nationally recognized musicians such as Ralph's World.
Chicago Air & Water Show | August 17–18 
The massive free show—the largest of its kind in the country—runs along the lakeshore from Fullerton Avenue to Oak Street. Many of the participating pilots fly in from outside the city and plan their entry into the show area down to the minute, ensuring safe and precisely coordinated performances. The flocks of colorful military and civilian aircraft fly solo or in formation as they execute stunts such as barrel rolls and nosedives in a designated area over Lake Michigan. In addition to thrilling onlookers with aerial acrobatics, the event also shows off parachuting and paragliding demonstrations.
BY: Will Landon
Will Landon is a Chicago-based writer who sings punk rock songs with the Blue Ribbon Glee Club and occasionally works for free as an assistant stage director.