The Fat Kid Burger Recipe from "The Meat Hook Meat Book"
BY: Nathalie Lagerfeld |
May 13, 2014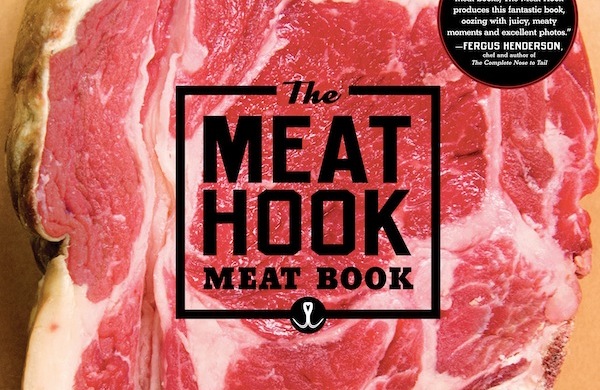 Tom Mylan, a co-owner at Brooklyn butcher shop The Meat Hook,
told us that he appreciates a simple burger
made from quality meat. But he's not against mixing it up with some add-ins, as evident from this recipe for Funyun-topped patties from his new cookbook, 
The Meat Hook Meat Book
.
Fat Kid Burger
Makes 2 burgers
This is a deadly simple recipe that almost needs no explanation. It's gross, indulgent, and shameful. Have fun secretly eating this beast of a burger.
1 pound Fat Kid Classic Blend (recipe below) Kosher salt and freshly ground black pepper (optional) 4 slices American cheese 2 potato rolls (not toasted) 4 Funyuns or similar fried onion snack food (in a pinch, canned french-fried onions will work)
Optional Equipment
Burger press 1. Start by heating up your skillet over medium heat or your grill to medium heat. 2. Next, form your Fat Kid Classic Blend into 2 burgers (8 ounces each), by hand or using a burger press. If doing it by hand, make sure to make the patties thinner in the middle so they won't hump up as they cook. Yes, you can add salt and pepper to these burgers, but if you ground enough bacon bits into the blend, you shouldn't have to. 3. Plop these guys in the pan or onto the grill. (If in the pan, no oil is necessary, as they will quickly start to produce more than enough of their own rendered fat.) Start flipping them after 1 to 2 minutes and flip them every minute thereafter. Make sure to move them as necessary to keep them from being scorched by flare-ups if using a grill—there will be a lot of them! 4. Once the patties have shrunk by about 20 percent, 5 to 7 minutes, place 2 slices of the cheese on each of them, cover them, and allow 45 seconds to 1 minute to melt the cheese. 5. Once the cheese has melted, immediately place the burgers on the potato rolls, top with 2 Funyuns each, and serve. You disgust me.
Fat Kid Blend
Fat Kid Classic: Lean leg or chuck meat ground with bacon bits made from the ends of our house bacon. Meaty, smoky, and slightly sweet—perfect for bachelor parties or chili mac. We normally grind a ratio of about 4:1 lean beef to bacon bits, but if you feel like more bacon, who are we to say no?
Excerpted from
The Meat Hook Meat Book
by Tom Mylan (Artisan Books). Copyright © 2014. Photo by Michael Harlan Turkell.
BY: Nathalie Lagerfeld
Guide Staff Writer
Nathalie is a writer and editor on the Guide's food team. Originally from Virginia, she now lives in Chicago, where she regularly indulges her love of tortas, bibimbap, and Cheez-Its. Follow her on Twitter @maviswillsaveus.