The Five Best Bars in Chicago to Hear Female DJs
BY: Courtney Ryan |
May 23, 2013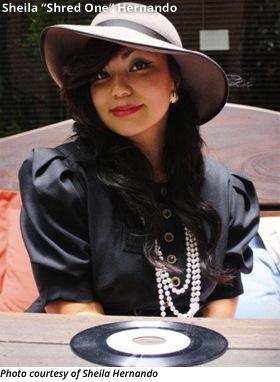 In an industry that sometimes requires connections as much as it does talent, it's still challenging for ladies to land great DJ gigs. However, many talented Chicago women have managed to carve out a niche for themselves and their peers. "I don't really feel like there's much of a difference between being a female or male DJ," says Jocelyn Brown, otherwise known as Clerical Error, a regular fixture at
The Charleston
in Bucktown. She says that while women face certain challenges that men usually don't, they, like any good DJ, are entirely about the music. Still, preconceived notions often become a problem—an issue affirmed by Sheila "Shred One" Hernando, who runs
Cherries Records
and DJ's monthly at
The Whistler
in Logan Square and
Murasaki Lounge
in River East. "The most challenging thing for a female DJ is that we are often judged by our looks rather than our skill. That can be a blessing and a curse depending on the type of person or DJ you are." Other women agree. Lani Nguyen, aka Lani Love, who spins regularly at the
Paris Club
in Near North Side and
The Bedford
in Wicker Park, doesn't mind when a "girl DJ" is requested if it's for a fashion event. But when "it becomes strictly about aesthetics (body, cleavage, etc.) rather than the quality of our music and mixing skills," she says, "it doesn't feel right." Chanel Pease, who hosts Guilty Pleasures, another Charleston fixture, sees a benefit to hiring more female DJs because they often play what both men and women want to hear. "The girls get to have fun and dance, the boys get to be in a bar that's not just full of dudes, and the owners are happy because business is thriving." As for deciding where to play records, the requirements are simple for many female DJs. According to Hernando, a place merely needs "supportive management, open crowds, and, most importantly, a bangin' sound system." The following five bars were mentioned again and again when female DJs were asked where they felt most welcome to spin.
The Charleston | Bucktown
The sleepy corner of Charleston and Hoyne reveals almost no hint that a neighborhood bar sits among the residential brownstones shading the intersection. But upon entering the Charleston, sounds spanning soul and R&B to garage and New Orleans bounce drown out the outdoor silence. Not only are female DJs welcome here, they seem to dominate. Sara Voden, who also tends bar, joins Clerical Error, Pease, Rissa Tolentino, Lisa Nguyen, and
Gloria Vanderbilt
(Meghan Brozanic), among other women, in lending their ears and diverse tastes to the bar's soundscapes. "I like to play anything that will reminisce of high school and a lot of throwback jams from the '70s and '80s," says Pease of her Guilty Pleasures night, which occurs every third Saturday. "Maybe not stuff that people have in their current collection … more like what you were listening to when you first started noticing the opposite sex." The sentimental vibe comes naturally in a bar that pours strong drinks, makes gourmet Jell-O shots, and remembers its regulars. Brown sums up why women are drawn to the turntables at the Charleston: "Having that sense of community and support has been huge for me and a lot of other ladies. That's a large part of why I like to play."
Danny's | Bucktown
"What makes Danny's so great is the large dance floor and the great sound system. Every DJ wants to DJ there," says Kate Ruggeri of
Reckless Records
, who plays anything from soul and disco to rock and reggae two Sundays a month. Ruggeri also hosts Reckless Women—a Monday-night party of electronic, disco, and world tracks—with coworkers Beth Klacko and Brook Sinkinson Withrow. And they're hardly the only female DJs commanding the dimly lit, living room–style dance floor. Kevin, the manager, constantly strives to book the best and most eclectic talent in the city, which has naturally pushed him toward contacting both men and women. It's "the all-time tops of record-listening drinking holes," Pease adds.
Simone's Bar | Pilsen
This three-star certified green restaurant is known as much for its dedication to promoting local art and culture as it is for its inventive decor, creative pub menu, and extensive craft-beer selection. The front room houses an elevated DJ booth, and a back room, referred to as the Lab, has a second set of turntables and a live performance space next to a bar. Both spaces frequently double as galleries showcasing local artists' work, and the staff takes the same interest in the community when selecting DJs. "They were good about recruiting lady DJs from the very beginning and gave lots of people a shot," Brown says.
The Whistler | Logan Square
"Sheila 'Shred One' Hernando DJ's here, and she is incredible," Ruggeri says. It's a statement echoed by nearly every woman when asked about the famed mixology bar. Hernando's mastery of the turntables has landed her a residence here on the first Thursday of every month. Her set is known as
MAXX TRAXX
, where she jostles the crowds with boogie and funk. "I don't compromise my style or my skills for anybody," she says. "I am a DJ because I love music and love to mix records, and I do it regardless if anybody is listening or not." She's not the only woman who has found a home asserting herself at the Whistler. Claire Arctander and Latham Zearfoss welcome people of all genders to their monthly Thursday gig,
Crimson Glow
. During each set, they play women-made music from a vast array of genres and decades and often invite guests from like-minded groups such as the
Chicago Dyke March Collective
or
Nightingale Cinema
.
The Burlington | Logan Square
The lights at the Burlington are so dim that the DJ's gender might be indecipherable. But that's not why women such as '70s rock guru Danielle Mikos like to play here. The bar has a strict "no requests" policy, which is a boon for any DJ—especially women. Many DJs complain of "the usual drunk guys doing drunk-guy things like requesting music that you don't have and then thinking it's cute or flirty to badger you," Pease says. Ruggeri agrees: "Guys will ask stupid questions like, 'Are those your boyfriend's records?'" Joins Brown, "If a patron gets aggressive or overly pushy about having a song played, it starts to feel like we're being told how to do our jobs, and it makes us far less likely to play that song." The Burlington's vibe and setup allows its DJs, female or male, to focus on keeping the crowd happy without obnoxious distractions.