The Five Best Beauty Tricks I Discovered in February
BY: Favin the Maven |
Mar 11, 2014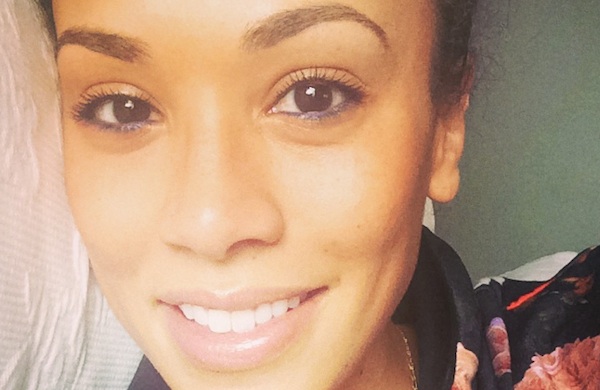 Purple eyeliner. A funky bun. A YouTube ab workout with 17 million views. It was a busy month.
Even when I'm not trying beauty treatments for a blog post, I'm always experimenting with little tweaks to my beauty routine and sharing the results on my
Facebook page
. In February, I tried out some stuff I really loved—including nail polish straight out of a sci-fi movie, and a workout video set in a slightly creepy field. Below are my five favorite discoveries of last month.
1. Purple eyeliner (pictured above)
I bought 
Jordana Easyliner
 in Purple Fusion ($1.99) by accident—I didn't realize it wasn't black until I got home. But I tried it out anyway. To put it on, I held the point next to a lighter flame to soften it a little, then applied it to my bottom lash line only. I then set the liner with powder, and brushed some 
MAC eye shadow
 in Parfait Amour ($15) on my lids. Besides that, I kept the look pretty simple (just a swipe of Chapstick). The overall effect was subtle enough to wear anywhere, but you could also vamp it up for a night out.
2.  Reaction Polish manicure
This no-chip polish by Gel II changes colors with the temperature. As you can see 
in this video
, it switched
 instantly
 from blue to pink when I dunked my hand in hot water. In normal life, though, it was a more gradual process. Usually, the pink would appear at the base of my fingernails and edge up from there—although once, when I was driving, only the fingers near the heating vents changed colors! I can't recommend this manicure enough, really. The application process is the same as regular no-chip, but then you have an awesome party trick in your back pocket. Every time I showed someone the hot water thing, it was like I was Bill Nye and they were my amazed 10-year-old assistant.
(Your homework: Find nail salons near you and call ahead to see if they have Reaction Polish.)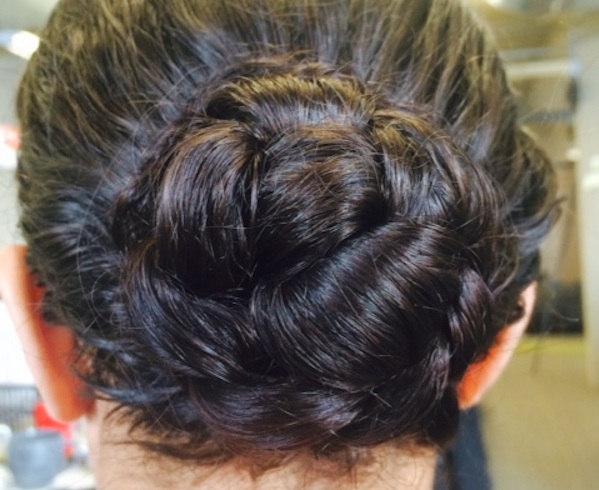 3. Braided bun
I like to let my hair air dry in the morning, but during a brutal winter like this, I can't leave it wet and down—I'll freeze. So usually, I put it into a bun, a crazy-high ponytail, or a low braid. I was getting bored rotating between those three, though, so my friend Mahreen helped me try something new: a braided bun. It started with a basic low braid, but she didn't tie it off with an elastic. Instead, she grabbed the base of the braid in one hand, picked up the tail in the other, and pulled it straight upward. Then she wrapped the tail around the braid's base, tucked the very end into one side of the bun, and anchored it with four bobby pins. Voila! Simple, but not stuffy—the braid gives it bohemian flair.
4. Vitamin E for under-eye bags
I've been reading a lot about how vitamin E can help with under-eye circles, so I decided to test it out. Every night before bed, I poke open a gel capsule with a needle or safety pin and squeeze a dollop onto each ring finger (you should always use this finger when applying under-eye cream—it's the weakest and won't rub away product). I pat the gel into my skin and let it soak in overnight. I haven't been using it long…I
feel
like it's working? At the very least, the oil feels good on my face.
5. Eight-Minute Abs Video
This video is super chintzy. It was made in 1994, but when I watch it, I feel like it was made in 1901, and the instructor guy is wearing the first spandex onesie (or full-body man swimsuit?) ever made. Who cares though? Not the 17 million people who have already watched it! Because this ab workout is for
real
. The intensity builds, and there are no breaks—by the end, I'm always exhausted, even though I only worked out for eight minutes. My favorite part is the main guy's chitchat. At the end of the workout, he says "I'll see you in 24 hours," and I always find myself saying, "Okay, see you in 24 hours." I can't help talking to him! He's so friendly!
BY: Favin the Maven
For me, both beauty and fashion need to be accessible and not intimidating. I love a great deal and a good DIY beauty treatment. I pride myself on trying new trends, being open minded and getting a great treatment without breaking the bank. In the name of beauty I will try anything once.