The Five Hardest People to Shop For (and Where to Shop for Them)
BY: MAE RICE | 12.6.2013 |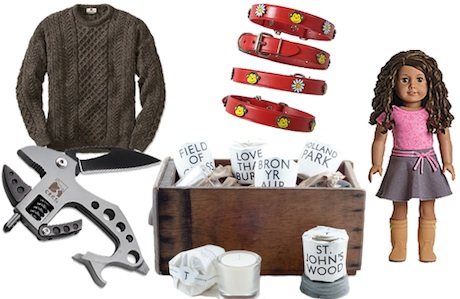 The holiday season is the only time of year when a man you've never met might scoot down your chimney and give you an Xbox. However, it also comes with unique stresses, like shopping for people who are, by nature, impossible to shop for—the guy you've only gone on three dates with, for example.
To ease the pain, we talked with Jancy Walker, founder and owner of local concierge service Chicago's Girl on the Go. She does pretty much anything to make her clients' lives easier, from party planning and home organization to hand-addressing 450 holiday cards ("I took it in stride, and it only took me 15 hours," she notes).
Jancy also runs errands for her clients, and in December, that means holiday shopping. Here's her professional advice on what to buy for human ciphers, such as…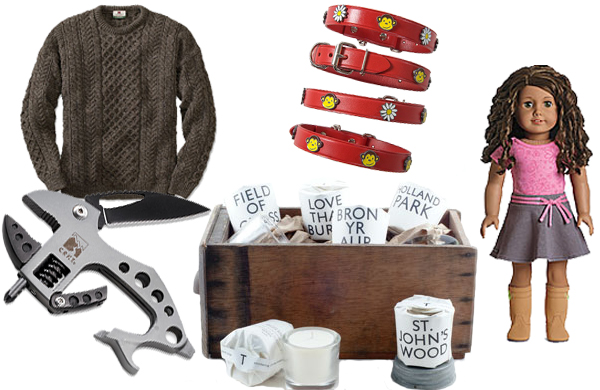 Your Dad
Our first impulse: A briefcase? But, like, full of steaks?
For better results, Jancy recommends browsing: Orvis (142 E. Ontario St.), a store stocked with menswear, fly-fishing gear, and hunting equipment. In the Knife Shop, you can also browse an incredible variety of blades, including this versatile all-in-one fishing tool that functions as a knife, a wrench, a screwdriver, and a lifelike guppy friend ($34.99).
Spotlighted gift idea: The Black Sheep Irish fisherman's sweater ($109), a classic gray cable-knit sweater, whose mix of textures prevents it from veering into boring territory.
The Guy You Just Started Dating
Our first impulse: Make him a pillow. Cross-stitch your face onto it. It will spruce up his couch.
For better results, Jancy recommends browsing: Isle of Man (3856 N. Lincoln Ave.). "It's where James Dean and Marlon Brando would have shopped," Jancy says. The menswear boutique—which literally has a motorcycle on one of its shelves—stocks gear from Alden, Woolrich, and Barbour, among others.
Spotlighted gift idea: To keep it low-key, try an accessory—a beanie, maybe, or a pocket square, like this American flag one ($45).
The Friend Who Works 80-Hour Weeks
Our first impulse: A donation to time-travel research, made in their name.
For better results, Jancy recommends browsing: Jayson Home (1885 N. Clybourn Ave.), whose housewares make a workaholic's rare time at home that much more special. Peruse new and gently refurbished vintage furniture, along with accessories from pillows and throws to framed vintage matchbooks ($85 each).
Spotlighted gift idea: These soy-wax candles by Tatine ($18, 2 ounces). Stop by and smell them all, from the crisply scented Field of Grass one to the (hopefully!) more abstract Swarm of Bees.
Your 8-Year-Old Niece from Out of Town
Our first impulse: A horse. Eight horses.
For better results, Jancy recommends browsing: American Girl Place (835 N. Michigan Ave.). "Hands down. The name says it all."
Spotlighted gift idea(s): If you want to splurge, you can create a custom doll ($110) that looks just like your niece. If she already has a doll, you can take it to get its ears pierced ($14)—or, if you feel that any doll could be Chuckie in disguise, you can opt for a subscription to American Girl magazine ($37 for six issues over one year).
The Friend Who Is Obsessed with His Iguana, Pete
Our first impulse: An iguana chair, AKA the cleanest rock in your yard.
For better results, Jancy recommends browsing: Barker & Meowksy (1003 W. Armitage Ave.). Per its name, it's a pet supply store that specializes in gear for dogs and cats, such as a catnip cigars ($6.99) and the Chuckit! ($12.95), a tennis-ball launcher ideal for high-intensity games of fetch. Bear with us until the next item, iguana lovers.
Spotlighted gift idea: An extra-small collar and leash, like this charm-studded extra-small puppy collar ($18). "Depending on the size of the iguana, it might be perfect for Pete to go on walks outside with," Jancy says. "My brother actually had an iguana that he took on walks. He's exactly the guy you have described!"
BY: Mae Rice
Guide Staff Writer
Mae Rice is a Groupon Guide staff writer who writes about eyelash extensions, French food, what "business casual" even means, and other style and food topics.