The Four Best Beauty Treatments I Tried in March
BY: Favin the Maven |
Apr 2, 2014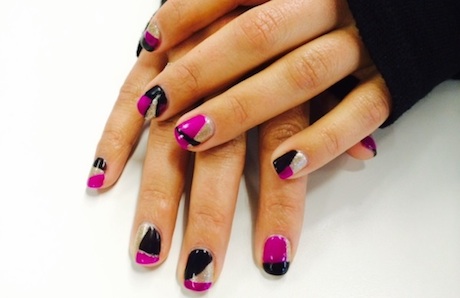 I never wanted to put snail secretions on my face…until suddenly, I did.
Last month, I switched up my beauty routine with four new treatments. One involved fearlessly applying snail secretions to my face. Another one involved a fun new salon manicure. (Guys, I can't reinvent the wheel four times in one month. The manicure is cute, though!) Read on for my breakdown of each treatment.
1. I made a face mask with some clay.
Clay masks are nothing new, but it was nice to treat myself to one at home instead of shelling out for a spa visit. They've been used for thousands of years as a way to detoxify the skin, and I had some blemishes I was hoping to conquer. I used
the Bentonite clay powder from Mountain Rose Herbs
, mixing it with water (and a splash of rose water) until it made a paste. Next, I spread it on my face—it hardens fast, so don't get distracted while you're putting it on!—and let it sit for 25 minutes. It took some scrubbing to get it off, which made my skin a little red. The next morning, though, the redness was gone, and my acne looked less inflamed.
2. …and then I made a drink with it.
Yup. Apparently drinking this clay—the same kind I used for the face mask—can have similar detoxifying effects internally. And because it's indigestible, the entire serving will pass normally during your next trip to the bathroom. (If you don't trust me, trust Shailene Woodley. The
Divergent
star told
Into the Gloss
that she drinks it, too.) It's pretty simple, really: I just mixed a teaspoon of clay powder into about 8 ounces of water, and it coagulated into what reminded me of a flavorless, slightly slimy bubble tea. I drank it every morning for a week—too much longer might have started to strip my system of good bacteria—and I definitely felt healthier, although it's hard to know for sure that it's working.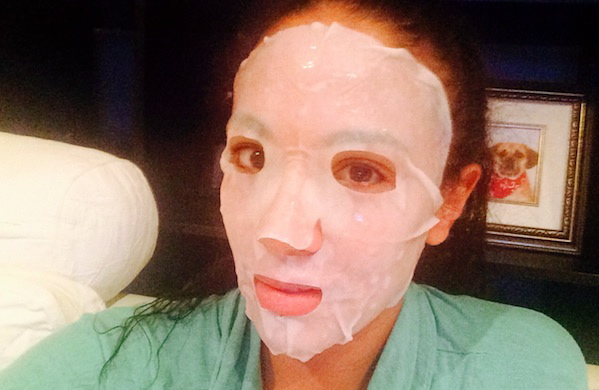 3. I also masked with snail secretions.
What can I say, I like masks. Even when they involve smearing snail secretions on my face. My product of choice was the
Martinni Beauty snail collagen mask
. Supposedly, the secretions (I promise never to say secretions this many times in one post again) are packed with antioxidants that help generate new skin cells. My face definitely felt tighter after 30 minutes of masking, although I think for long-lasting effects I would need to do it more regularly. P.S.—If you're worried this is going to reek of snails, don't. It smelled fresh and floral. Probably because snails don't smell! (I Googled it.)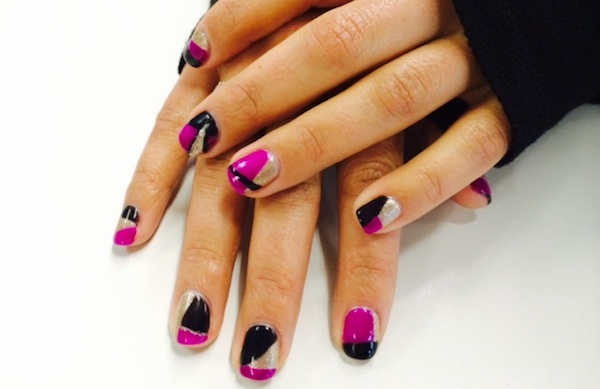 4. The artsy no-chip manicure
As I've shared before
, I
love
no-chip manicures, and this month I took mine to the next level. Or at least, my nail artist did. She picked out three colors (I'm way too indecisive to pick one, forget about three), then used washi tape and a brush to make this funky geometric design. Each finger is different! I love it, although it has chipped a little faster than a one-color manicure.
(Shop for deals at nail salons near you.)
Photo: Mahreen Younus, Groupon
BY: Favin the Maven
For me, both beauty and fashion need to be accessible and not intimidating. I love a great deal and a good DIY beauty treatment. I pride myself on trying new trends, being open minded and getting a great treatment without breaking the bank. In the name of beauty I will try anything once.