THE G-LIST: DJ Gloria Vanderbilt
BY: Hawley Shoffner |
Apr 8, 2013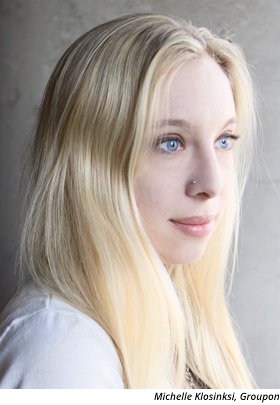 By day, Meghan Brozanic works as a social media and production coordinator for the National Association of Realtors. By night, she sheds her chrysalis and transforms into DJ Gloria Vanderbilt, spinner of pure vinyl. In this form, Brozanic has manned the turntables at such West Town and North Side establishments as
Beauty Bar
,
The Whistler
, and most regularly,
The Charleston
, a historical corner bar tucked away in Bucktown. It's there that she co-hosts Champale Nights—a '70s and '80s themed set featuring smooth R&B, yacht rock, and songs by Laurel Canyon singer-songwriters—every second Saturday. Although Brozanic enjoys spinning records of the '70s and '80s, her true passion is '90s hip-hop and dance, which she spins occasionally during solo sets at The Whistler and Phyllis' Musical Inn.
DJ Gloria Vanderbilt's Top Five 
1. Book currently on her nightstand:
Stand and Deliver
, the autobiography of Adam Ant
2. Film currently flashing across her eyelids every time she closes them:
Paris is Burning
, a documentary about the golden age of drag
3. Favorite new or newly discovered restaurant:
Carriage House
in Wicker Park, for its cornbread, low-country boil, and bourbon cocktails
4. Favorite local bartender, where to find them, and favorite thing they make:
Danny Shapiro of
Scofflaw
and his buttered rum cocktail
5. Record store at which she's most likely to spend an entire paycheck:
Reckless Records
in Wicker Park
BY: Hawley Shoffner
Hawley Shoffner is a Chicago-based writer and musician. She spends most of her time playing ukulele, drinking Hamm's, and listening to Thin Lizzy.