The G-List: Photographer Lucy Hewett: Coffee Shops, Craft Cocktails, and King Con
BY: Hawley Shoffner |
Mar 29, 2013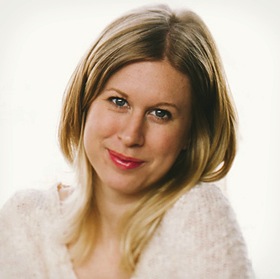 In 2009,
Lucy Hewett
picked up her first camera—a Nikon D40—and started staging evening and weekend shoots with friends in Chicago's arts community. Her portraits of writers, musicians, and designers caught the eye of big-name
clients and publications
such as
Rolling Stone
magazine and Vanguard Records, allowing her to leave her day job and pursue photography full time. Inspired by storytelling photographers such as Brian Finke, she now snaps fashion photographs for
Refinery29
, band portraits for
pop 'stache
, and food shots for
Dinner Was Delicious
. Lucy is currently booking
wedding shoots
for the summer and working on a long-term portrait series about women's body image.
Lucy Hewett's Top Five
Favorite new album or artist she's listening to on repeat:
Pop music such as Alex Winston's
King Con
and Tegan and Sara's
Heartthrob
to get her through the tedious task of doing her taxes
Book currently on her nightstand:
The Marriage Plot
by Jeffrey Eugenides and
On Film-making
by Alexander Mackendrick
Favorite new or newly discovered restaurant:
Yusho
in Logan Square for its small plates and service
Top local bartender, where to find her, and favorite thing she makes:
Chief mixologist Lynn House at
Blackbird
for her Blackbird Orange cocktail. In the spring and summer, she uses fresh ingredients from her garden to craft cocktails.
Favorite coffee shop to perch with a laptop:
On "email days" she hits up
Gaslight Coffee Roasters
for the morning snacks and
Cafe Mustache
for the good tunes