The Hideout: A Well-Known Secret
BY: ROY IVY | 4.24.2013 |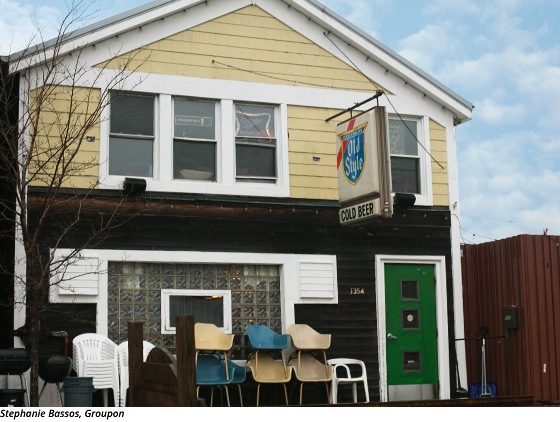 From outside, it looks like grandpa's house, with grandpa's wooden patio furniture and grandpa's swinging Old Style beer sign. Inside, it resembles a homecoming party for a marlin fisherman thrown by a bunch of Girl Scouts. Stuffed animal heads peer down from the walls, their grim stares rendered silly amid whimsical accents such as curtains of tinsel and strings of Christmas lights. Doors separate the bar from the music stage, quarantining chatter to its proper quarters, where on any given night, there may be rock 'n' roll royalty, a radio show, a play, a standup set, or a notable orator speaker behind the mic.
The friendly staff at the bar is an equal part of the woodwork, and they aren't putting on an act. They're happy to be there, usually only leaving when one of their own bands goes on tour (past alums include Kelly Hogan and Andrew Bird, who shot the video for "Fitz and the Dizzyspells" there). No TGI-forced insincerity, Coyote Homely theatrics, or "you're lucky I didn't spit in this" scowling.
Some people go to concerts to hear themselves talk, but if any such specimens were going to overrun The Hideout, they would have done so a long time ago. It's a wide range of old-timers, cool kids, dweebs, outcasts, and insiders—all treated just the same. The packed Saturday-night dance parties are there for those who just want to dance. Your ex might be there, but for one night, you couldn't care less, because everybody shares The Hideout in the custody battle. It's been an entire century since the storied venue first attracted its cast of rebels, roustabouts, and real people. Perhaps a magic spell was cast in the old foundation, keeping the affable in steady rotation and keeping the louts at bay.
The Hideout has the air of a best-kept secret, even if it's not. The indie cred is out the wazoo, but it's an effortless cool that would never call itself "cool." Local legends such as Jeff Tweedy and Billy Corgan spot-test their latest stuff there, the mayor drops in to meet his Twitter imposter, and a flu-riddled Jack White yuks up his guts then barnstorms the stage to a raving crowd. Then there's its annual block party, which sells out every single year. That's hardly anonymous. Yet loose lips have only fortified the ship since it first set sail as a Prohibition speakeasy, and that word of mouth has turned the former shanty into a nonstop family-reunion site for artists and fans.
This Spring at The Hideout
Bubbly Creek: "Pickin' on the Kids" Fourth Annual Bluegrass Benefit for Intonation Music Workshop | Saturday, April 27, at 9 p.m. 
Bluegrass groups pick 'n' grin in benefit for children's musical education.
Jen Kirkman: I Can Barely Take Care of Myself Book Tour | Saturday, May 4, at 7 p.m.
The lauded LA comic, Chelsea Lately roundtable regular, and narrator of Funny or Die's hit "Drunk History" performs a caustic standup set and signs her debut memoir about the joys of non-parenthood.
Kelly Hogan | Sunday, May 5, at 7 p.m.
The Georgia native and Chicago treasure shares heartbreakers and honky-tonkers from her latest album I Like to Keep Myself in Pain.
Shame That Tune | Friday, May 10, at 6:30 p.m. 
The popular monthly comedy game show turns embarrassing high-school or junior-high diary entries and anecdotes into spontaneously composed songs.
White Mystery | Friday, May 10, at 10 p.m.
Redheaded hydra of siblings Alex and Francis White return from a whirlwind world tour to treat fans to ferocious scuzzy garage rock from their new album Blood and Venom.
BY: Roy Ivy
Guide Staff Writer
Roy left The Polyphonic Spree choir and his punk band The Tah-Dahs to become a balding Chicago writer and folksinger. Find him on Twitter @RoyIvy.