The Kickback Covers Randy Newman's "Baltimore"
BY: Dan Caffrey |
Oct 10, 2013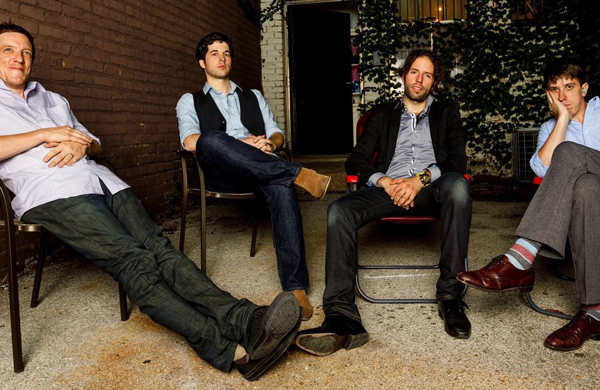 Plenty of musicians throw another artist's song into their sets, if only to win over the crowd or put an unconventional spin on a well-worn tune. But two members of
The Kickback—
frontman Billy Yost and his brother Danny, who plays drums—have been paying tribute to
Randy Newman
's "
Baltimore
" ever since they were kids. "Wanting to cover that song dates back to a farmhouse in Vermillion, South Dakota," remembers Billy. "I had this crappy keyboard on my knees, [and I was] trying to play along. I taught myself part of it, but trying to do that and sing at the same time was some sort of impossible for me." Luckily, Billy and his bandmates met keyboardist Tommy Trafton after moving to Chicago. Although Trafton's permanent artistic home is with his own group,
Santah
, he's happily joined The Kickback several times onstage to help the Yosts play one of their favorite songs. Trafton can't make it to their show on Friday, October 11, at
Township
in Logan Square (2202 N. Milwaukee Ave.), but the band plans on playing
their version of "Baltimore"
plenty of times in the future. As Billy puts it, "I think the rule is going to be that any time we have a keyboardist, that song magically appears on the setlist."
Why He Loves It
Billy acknowledges that the song has received its share of criticism from the citizens of Charm City, both for its vagueness and its grim portrayal of their hometown. The words are powered by images such as a "beat up little seagull on a marble stair" and a "hooker on the corner waitin' for a train." "[Newman] took a lot of flak from people in Baltimore because the song's not very specific," Billy explains. "It doesn't reference any geographic landmarks." But all of that doesn't bother him in the slightest. "For me, that song could not have words at all. It's the piano part. It just keeps ratcheting up the tension, [and] that immediately speaks to me for some reason. The piano talks as much as he does."
How The Kickback's Version Is Different
Although Newman's version is one of his darker songs, the drums and guitars are dialed down in the mix, preventing the final product from achieving maximum dread. The Kickback's version cranks up the distortion and adds more heft to the drums, which causes the tension, as Billy puts it, to "really build at the end. ... It starts getting really foreboding and uneasy." This swelling of instruments is even more unsettling because it follows a chorus in which the only musical accompaniment is Trafton's melancholic keyboard and the hiss of Danny's high-hat. The sparse instrumentation makes it all the more eerie when bassist Eamonn Donnelly and second guitarist Jonny Ifergan join Billy for a triptych of soft and lonely harmonies.
How It's the Same
While The Kickback shrouds "Baltimore" in an extra layer of shadow, their rendition remains fundamentally the same as Newman's in terms of tempo and structure. Billy elaborates: "One reason we don't do a lot of covers is that my brother and I tend to try and recreate things as pristinely and as true to form as humanly possible. ... Bands who do great covers make them their own, and if I'm doing a Randy Newman song, the last thing I want to do is try to make it mine." That's not to say The Kickback hasn't ever put their own stamp on a cover. There are just some songs that seem perfect from the first listen, whether you're humming along on a crowded city bus or banging on keys in a quiet barn in South Dakota. "We've done covers where we have really taken liberties, but with that song, it was like, 'How can we not screw this up?'"
The Kickback play Township on Friday, October 11, at 9 p.m. with The Noise FM and Cowboy Indian Bear. They are currently recording their debut full-length album, Sorry All Over the Place, with Jim Eno of Spoon. It's slated to be released sometime in 2014.
Photo: Courtesy of The Kickback