GROUPON GUIDE TO WASHINGTON-DC
The Knuckle Ring Trend Demystified
BY: Kelly MacDowell |
Nov 8, 2013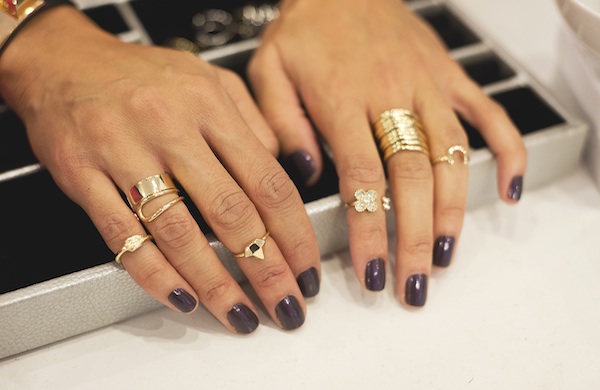 Most of us have grown accustomed to wearing rings as far down on the finger as they will go. But with the advent of knuckle rings—a smaller version of a traditional ring, meant to be worn between the nail and the knuckle—jewelry law is being rewritten.
Kara Mason, co-owner of Frill Accessory Boutique in Chicago, claims that wearing knuckle rings shouldn't be a cause for confusion. "Don't overthink it," she says. "It's mostly personal preference. Just find the right combination and you can wear them with anything." Even so, she had some advice on fully mastering this micro-bauble. Read on for her tips and photos that demonstrate how to experiment with the trend.
Don't pile them on...
"You can definitely over-accessorize," Kara says. She's quick to recall Coco Chanel's sage advice about always removing one accessory before leaving the house. "Four [rings] would be the max on one hand. If you must wear more, please gravitate toward your other hand...Just remember, the more you put on, the harder it is to keep up with them all when you're [doing things like] washing your hands."
...but do mix them with traditional rings.
Though knuckle rings look strange when gratuitously stacked on one another, Kara believes that they complement regular-size rings quite well. If you generally wear a statement ring, she says that sporting a knuckle ring or two on the opposite hand helps even things out.
Combine different textures...
"I always try to layer and create a little bit of texture and a little bit of depth," Kara says (she gestures toward the bracelets she's wearing: a collage of solid metal, leather, chain, beads, and jewels). So far, knuckle rings have largely been seen in metallics, so wearers should have fun contrasting them with regular-size rings and bracelets made from other materials.
...but not too many colors.
Mixing colors isn't ideal, according to Kara. "The rule of thumb is you wear silver on one hand, gold on the other." For example, when she encounters women who are wondering how to style around their wedding rings, she recommends keeping rose gold with the golds and platinum with the silvers. The only caveat comes when you have a piece that "cohesively brings it all together," like a Michael Kors–style watch with both gold and silver on it. In that case, mixing metallic hues on the same hand is okay.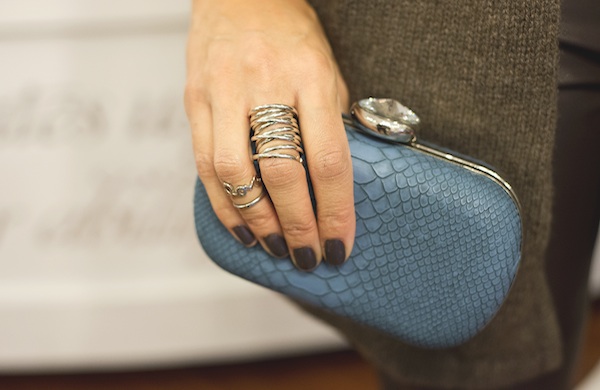 Don't invest in overly expensive pieces...
At Frill, the knuckle rings range in price from $12 to $16. "It's a trend, and trendy pieces should not be super expensive," Kara says. Look for costume-style pieces with adjustable sizing, and pass on those made with gold plating, sterling silver, or other higher-end metals. The rings should enhance your current jewelry collection, not replace it: "You shouldn't have to take off your favorite ring or your wedding ring or whatever because you want to wear something trendy."
...but be mindful of what looks best on you.
A lot of knuckle rings veer toward thinner, more delicate styles, which are universally flattering for various hand sizes. Though longer fingers can pull off any shape and size of ring, shorter fingers would look overwhelmed by thicker, chunkier ones.
In general, the knuckle-ring look is ideal for the late fall and winter season. The rings can dress up digits half-concealed by fingerless gloves, and look great on partygoers toting sparkly clutches—just be sure not to lose them when washing holiday cookie frosting off your hands.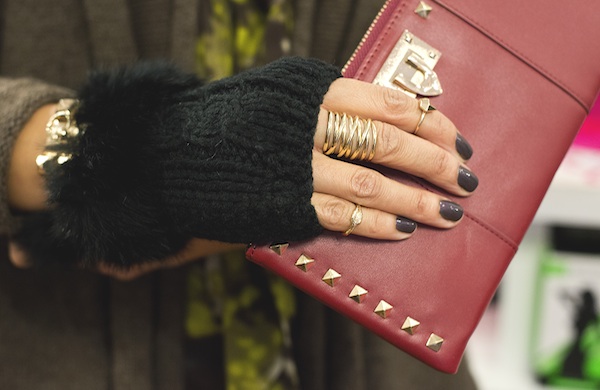 Photos by Timothy Burkhart, Groupon