The MLB's Strangest Walk-Up Songs
BY: Courtney Ryan |
Apr 29, 2014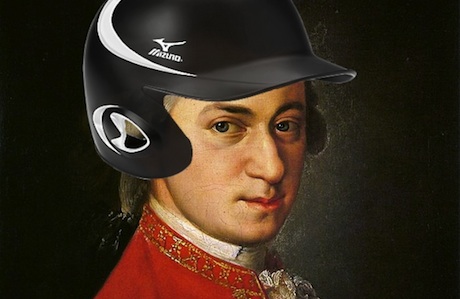 During the 2014 MLB season, hundreds of men will head up to bat to the sound of their own walk-up music. A peek at 750 or so of these self-selected anthems reveals some predictable trends: reggaeton star Daddy Yankee is popular, as are repurposed wrestling themes and tracks from world-famous mega-acts like Drake, Jay-Z, and Guns N' Roses. Yet for every player who plays it safe with a Pitbull banger or Metallica riff, there are some hitters who fly in the face of everything we know about walk-up songs. We salute their individuality with the following playlist of tunes you might be surprised to hear at the ballpark this season.
Tyson Ross, San Diego Padres
This future-tinged track from hip-hop supergroup Deltron 3030 seems like an atypical choice at first, until you remember that Ross was sent back in time from the year 3030 to prevent the Great Bunting Wars of 2019.
Ben Zobrist, Tampa Bay Rays
Until Rihanna marries a ballplayer––and you know she will at some point––Zobrist has the distinction of being the only player to walk up to the plate as a song by his wife rings in his ears.
AJ Burnett, Philadelphia Phillies
The Walking Dead
theme music might seem like a natural choice, but have you heard it? It's unvarying and not as intimidating as it should be. No wonder a pitcher chose it.
Garrett Jones, Miami Marlins
While choosing a popular wrestler's intro music isn't unusual, this one stands out. Jones selected The Ultimate Warrior's theme as a tribute to the Hall of Famer, who died of a heart attack on April 8.
Prince Fielder, Texas Rangers
Overly nuanced, deliberately lethargic, and sparsely climactic. Since when is Mozart a jock jam?
Since now
, that's when.
Trevor Cahill, Arizona Diamondbacks
Movie buff Cahill swaps out last year's
Mortal Kombat
theme for the music of 007 himself. Next year?
The intro song from Steel Magnolias
.
Matt Kemp, Los Angeles Dodgers
Matt Kemp
has a sense of humor
.
Ian Kennedy, San Diego Padres
We can't tell if Kennedy chose a Taylor Swift song because he genuinely enjoys it or because he secretly hopes she'll write one about
him
someday.
Mike Leake, Cincinnati Reds
Leake alternates between this and "Some Nights" by fun., making him the only current MLB player who was a college radio DJ in a past life.
Chris Getz, Toronto Blue Jays (currently on the Buffalo Bisons)
Even though Getz is currently spending his days in the minors with the Buffalo Bisons, we hope he'll bring this song back with him once he gets called up by Toronto. He debuted it last summer while playing for the Kansas City Royals, instantly becoming the favorite player of anyone whose formative baseball experience came while holding a Nintendo controller.
Take yourself out to the ballgame with baseball deals in your city.
Image courtesy of Namco