The New Printer's Row: CHI PRC Rewrites the Book on Self-Publishing
BY: Collin Brennan |
Aug 9, 2013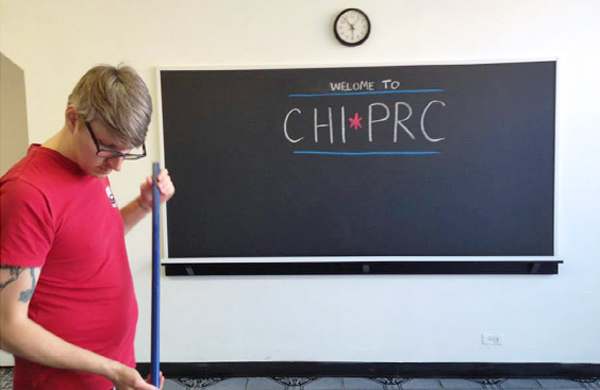 John Wawrzaszek is a busy man. The veteran self-publisher is better known in Chicago's bookstores and barrooms as Johnny Misfit, the host of celebrated monthly reading series
Two Cookie Minimum
. He's also an annual organizer of
Chicago Zine Fest
and the writer behind zines such as 
Field Manual: Human Body
and
The Muse, the News, and the Noose
. But all of these responsibilities pale in comparison to Wawrzaszek's latest project. Come September, he'll open the doors to the
Chicago Publishers Resource Center
at 858 North Ashland Avenue. CHI PRC is the first of its kind in Chicago—a not-for-profit space dedicated to helping self-publishers create new literary and visual works. I caught up with Johnny after a recent Two Cookie Minimum to talk about his vision for the space. Shouting to be heard over the white noise of Hungry Brain's jukebox, we also discussed some of the difficulties he's faced in making his vision a reality.
GROUPON: So we're sitting here at Hungry Brain, the bar where you host the monthly reading series Two Cookie Minimum. Talking to readers at Two Cookie over the years, did you get a sense that Chicago needed a space like CHI PRC?
JOHN WAWRZASZEK: Well, yeah. I had been doing Two Cookie for a while, and there's a lot of talent that comes through here. I always had questions like, "How did you do that?" or, "What are you working on?" I thought it'd be cool for people to share what they're working on in a space that's not dark and obnoxious and drunk. I've traveled across the country and seen collectives and different spaces that work, so it made sense to do something here.
G: So there were resource centers in other cities that inspired CHI PRC?
JW: Portland has a resource center [
IPRC
] that's amazing. I've gone there the last three years, and every time I thought, "Why doesn't Chicago have a place for people to just come and do work?" There are so many stories of zinesters going to Kinko's and scanning copies for hours. It's great to have that shared history, but what if instead of scanning copies you could discuss layout and collating or have the resources to create a cool cover? I'm not sure that's exactly what Portland was doing, but the idea of a space where people could come together and do that blew my mind.
G: It seems appropriate to talk about the word "resource," seeing as how it's in the name. What resources do self-publishers typically lack when trying to create a book or zine?
JW: A physical space, first off. I can't even count how many times I've sat on my floor folding, stapling, cutting, collating. It sucks. I didn't want to do that anymore. So I thought, "Ok, what if I had a big space where I could do that? And what if I could invite people to do it at the same time, so we could all help each other out?" For somebody who's doing this for the first time, I hope the resource center will be a space where they can learn.
G: Are there any formal ways you envision helping these first-timers learn (i.e. workshops or lectures), or will the space rely more on the community to make that happen?
JW: I've already hosted some workshops with titles like, "Putting Together a One-Page Zine," or even, "What is a Zine?" It's important to reach people who are totally new to the concept. That's going to be a big part of the space—offering workshops. And the second part is this: now that you know how to do it, come here and physically be able to do it.
G: So the space will be opening in September, and I notice your website already has a membership model in place. Will members have to complete an orientation before using the space and its equipment?
JW: There will definitely be orientations for specific equipment. As soon as I get a hydraulic paper cutter and other pieces of equipment that are fully functional, we'll host tutorials. The long-term plan is to set up orientations for people to get acclimated to the space, but I don't want to discourage people from just stopping in and using some of the equipment. If someone wants to print out 1,000 copies of a tri-fold pamphlet, I want them to be able to do that.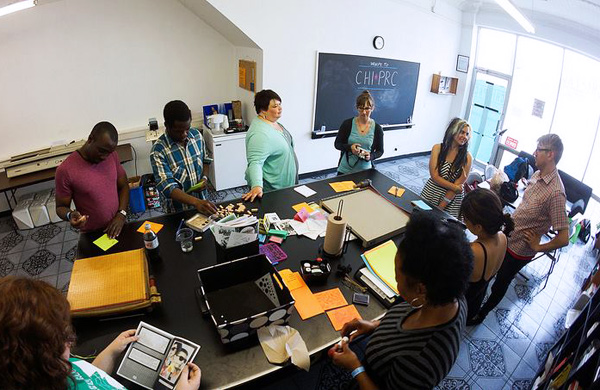 G: It seems like a big part of CHI PRC's mission is education. As far as that goes, do you have any plans to work with local schools or after-school programs?
JW: The great thing about the space is that it's close to a lot of schools, but finding ways to work with them is going to be the tough part. A lot will hinge on which age groups want to do which activities. Maybe a younger group will be more interested in a comics workshop, or an older group will be more receptive to a poetry workshop. So part of it is getting them to actually come into the space, and another part is figuring out what works best for each group. I don't want to reinvent the wheel. There are a lot of other spaces and organizations that are doing things like after-school tutoring. But what I do want to say to these kids is, "Hey, you've already written something—now create something with it. Make it into a zine, or a chapbook, or a comic book."
G: What about creative workshops for adults? Beyond the basic "how to use a stapler" tutorials, are you planning to host programs that bring Chicago's poets and novelists together?
JW: I'd like to do a monthly community workshop where people can share ideas. But to really get a writing workshop off the ground, you need to hold it weekly and you need to have consistency. Realistically, it's going to come down to people starting workshops themselves. It all depends on what the community wants.
G: I know that a lot of writers have taken to hosting workshops within their own homes, but it seems like having a storefront might lend an air of legitimacy to it.
JW: It's important to have a communal space like this, because certain writers and artists don't necessarily feel comfortable in the DIY scene. I might not want to go to your house because I don't know you, or whatever the reason. And writers from an academic background might feel like, "I'm not going to do this unless it seems legitimate. If it's at someone's house, it's not legitimate."
G: You've talked before about Two Cookie Minimum helping to bring zinesters and academic writers together. Do you envision CHI PRC as another place where these two communities can meet on even ground?
JW: Yeah, but the idea is that it's not just students and zinesters. It's also adult writers who might not be connected to either of those communities. There's so much learning capacity that's not shared, and a space like this should be able to connect the dots.
G: That all sounds great, but I'm also interested in the challenges you've faced in opening CHI PRC. This isn't a restaurant, or another type of business that already has a model in place. Do you think this can be sustainable?
JW: I started CHI PRC as a not-for-profit, because it's going to take a while to catch on. In the meantime, there are going to be a lot of out-of-pocket costs that I'm just going to have to eat. But I hope it will open the door for the kinds of grants and funding that a for-profit company wouldn't be able to get. I want to support people who don't have money, and grants will help me do that.
G: And as far as making it sustainable years from now? I imagine that'd require more people than just you.
JW: I see this as something I don't have to be a part of in the long term. If this place were to reach a 10-year anniversary, I'd think that was amazing. And maybe in that time, it will have changed into something completely different. If it gets to that point, maybe it will become a model for other communities or cities to look at.
See CHI PRC's calendar for upcoming events and announcements. The space will begin hosting open hours in September.
Photo: © CHI PRC
BY: Collin Brennan
Guide Staff Writer
Collin is a senior editor and a staff writer for Consequence of Sound. He self-publishes zines and moderates writing workshops for The Chicago Publishers Resource Center (CHI PRC).