The O'My's Graduate from Soul Imitation to Soul Innovation
BY: Dan Caffrey |
Feb 17, 2014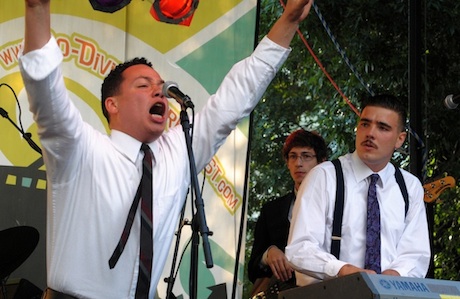 The O'My's were once Chicago's greatest James Brown tribute band. With a new LP and an upcoming show at the Metro, the boys are out to prove they're something more.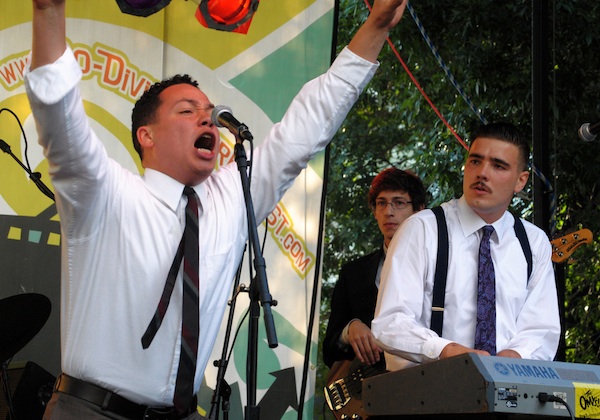 When I saw
The O'My's
open for fellow youngsters
Kids These Days
at a Lollapalooza pre-party in 2011, they struck me as a perfectly fine James Brown tribute band. Sure, their songs were all originals, but the horn-soaked instrumentation and over-emotive vocals of frontman Maceo Haymes channeled the Godfather of Soul at his funkiest. Something happened to the boys in the three years since that show: they forged their own identity, surpassing their cohorts in the tricky game of fusion. The now-defunct Kids These Days weren't afraid to dip their toes in the waters of hip-hop and jazz, but those overtures always felt a little ham-fisted. This latest version of The O'My's, on the other hand, successfully tinkers with everything from chopped and screwed hip-hop to Latin percussion on their full-length debut,
A Humble Masterpiece
. The key is subtlety. This is still soul music through and through, and the genre-hopping flourishes merely add texture rather than steamroll the album. The band also benefits from relying more heavily on keyboard virtuoso and co-frontman—I don't even remember them
having
a co-frontman—Nick Hennessey. Hennessey's falsetto bounces off Haymes's throatier voice to good effect, forming a double helix of soft and loud dynamics. So consider me a convert. The O'My's have only grown older, wiser, and bolder on record. Let's hope the same goes for the band's upcoming show at the
Metro
(3730 N. Clark St.), which features opening sets from
Mike Golden and Friends
,
Milo and Otis
, and Noname Gypsy. (Friday, February 21, at 9 p.m. $10;
buy tickets here
)
Listen to "Feeling Like a King" off the band's latest record,
A Humble Masterpiece.
Photo: Michael Bojda
BY: Dan Caffrey
Guide Staff Writer
Outside of Work, Dan is a playwright, Senior Staff Writer for Consequence of Sound, and contributor to The A.V. Club.