GROUPON GUIDE TO NEW YORK CITY
The Other Madison Avenue: Five Finds at Vintage Shops on the Upper East Side
BY: Kasia Mychajlowycz |
Jul 25, 2014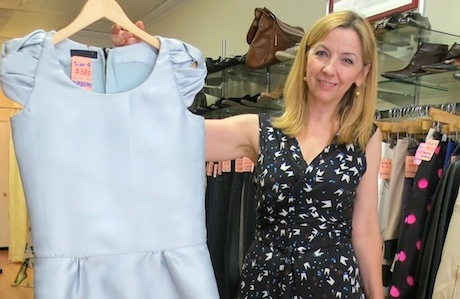 Though trendy Williamsburg is packed with secondhand stores and flea markets, the best vintage and used clothing deals in New York aren't found in Brooklyn. The New Yorker in the know goes to the Upper East Side, where designer resale and consignment shops nestle among the expensive supermarkets and hair salons. Within a dozen blocks, the stores with the most experience and best reputation for selling high-end, barely used clothing vie to sell the so-last-season wardrobes of Park Avenue residents to their thriftier neighbors and other visitors. Here's a run-down of five of the best such shops, featuring one item picked by the store's owner or employee that they think is a perfect fit for this summer's fashion.
Designer Resale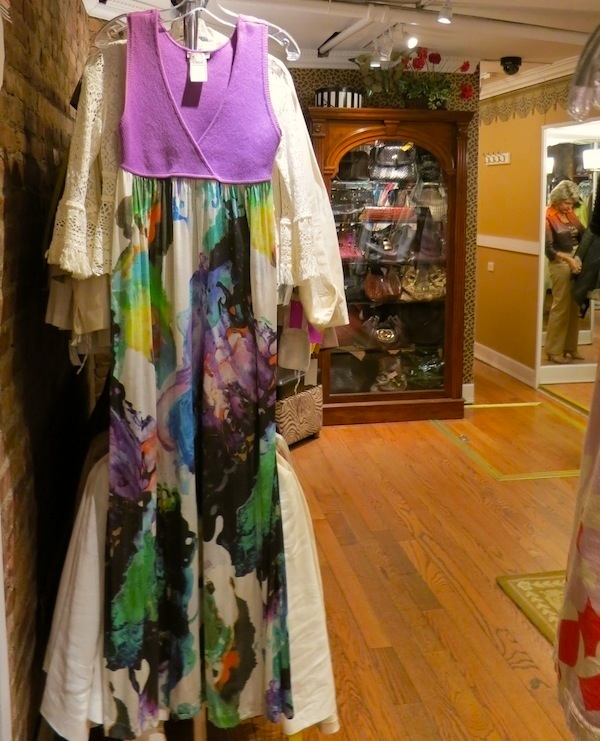 When I arrived at Designer Resale, president and founder Myrna Skoller was busy preparing for the store's annual sale, which started this Saturday and runs for two weeks. But she still found time to talk to me about her 24 years in the business. "People used to spend money more impulsively," Skoller said. "Years ago, people wouldn't want to be seen in the store; now people get excited about their buy." Even Catherine Zeta-Jones, apparently, whom Skoller says has visited the store more than once. To keep with the times, you'll find more Haute Hippie, Rag & Bone, and Theory bargains than other stores, at the best prices I've seen in my years of resale shopping. "Not everyone's looking for a Chanel," Skoller said sagely—but of course, she stocks that too. Skoller picked this Chloé maxi dress to reflect the craze for long, flowing dresses these last two summers—and because, marked down to $97.50, it's an absolute steal. Keep an eye out for colored tags, which mean more discounts at the register.
324 East 81st St., between 1st and 2nd Aves.
Matiell Designer and Consignment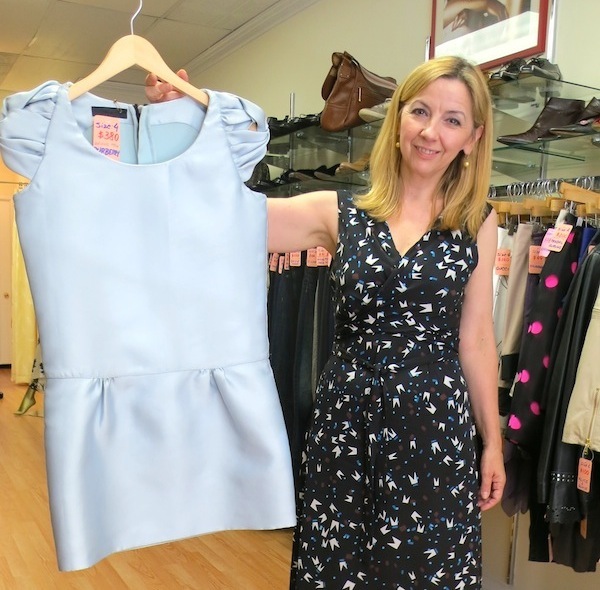 The new store in the neighborhood, Matiell moved from the East Village a few months ago to find a broader clientele. You won't find Matiell on Google Maps just yet, making now the perfect time to find a selection that hasn't been picked over. Owner Ewa Faris, herself wearing a classic yet trendy Diane von Furstenberg wrap dress that flowed to the floor, looked over her stock and picked a pale-blue Burberry drop-waist mini dress. "So young, and fresh—and look, the tag's still on it!" she said, showing me the jaw-dropping original price of $1,495, now marked down to a doable $380. I can't help but get excited with her, though the black Catherine Malandrino she passed up is more my thing.
163 East 87th St., between 3rd and Lexington Aves. Call 212-477-1123 for hours while they build their website.
Encore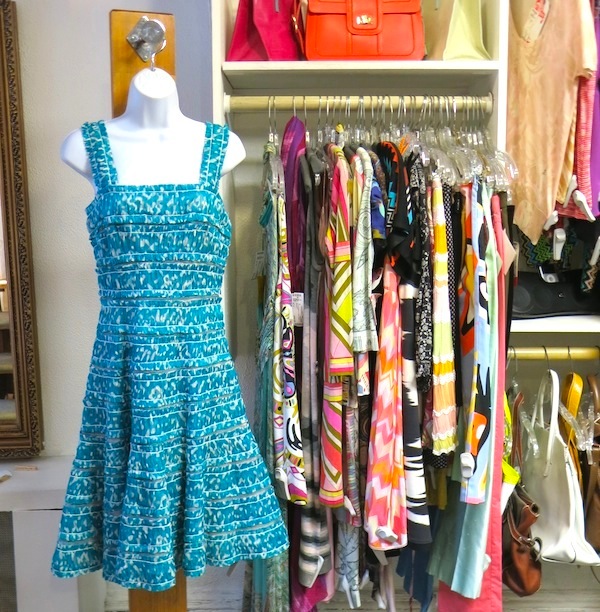 Encore is the original game in town. Catering to the highest-end consigners and bargain shoppers, the store still takes Chanel as the gold standard, and I saw many dresses for more than a grand (or at that price, do they become gowns?). Upstairs, however, I was tempted by a striped butter-soft Michael Kors tee for a more modest $80. Erin Lee, the store manager, and Becky, who runs their extensive
eBay online store
, contemplated a blue Cavalli gown and a gold Alaïa before settling on this blue Oscar de la Renta dress, which Becky guessed was from his 2009 Resort collection (correct) and retailed originally for "about five grand" (unconfirmed, but not at all unthinkable). The dress's simple shape hides that it's made of ribbons of folded blue-and-white cloth sewn onto a netting-material slip. A closer look does indeed make the price tag of $308 seem like a real bargain.
1132 Madison Ave., between 84th and 85th Sts.
A Second Chance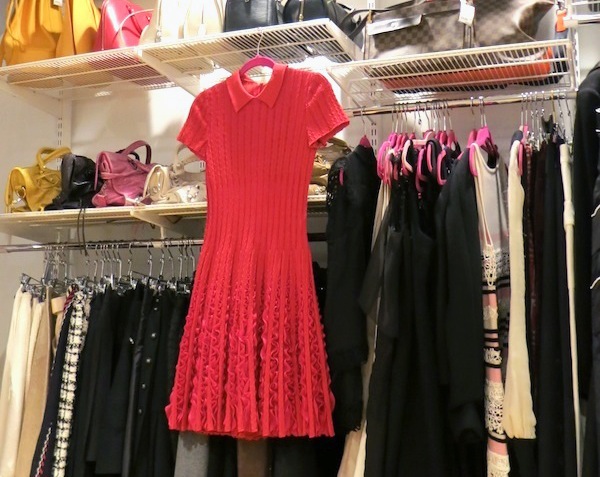 Though it's located on Lexington Avenue, A Second Chance, like Encore, is geared toward the Madison Avenue set. Their collection of designer handbags is impressive; Alexa Ridolfi, daughter of the owner, showed me a gray-and-tan Hermès Kelly Lakis bag (like the original Kelly bag, but with outside zippers), now discontinued and apparently hard to find, for $12,000. "Great colors, and it never goes out of style," Ridolfi explained, though I'm at a loss when it comes to that price. But the perfect red Alaïa dress Ridolfi picked out, I understand. "Alaïa is flattering on every woman's body," she says, and the way it hangs beautifully all by itself makes me forget the $2,000 price tag attached to this work of art.
1109 Lexington Ave., between between 77nd and 78th Sts.
Margoth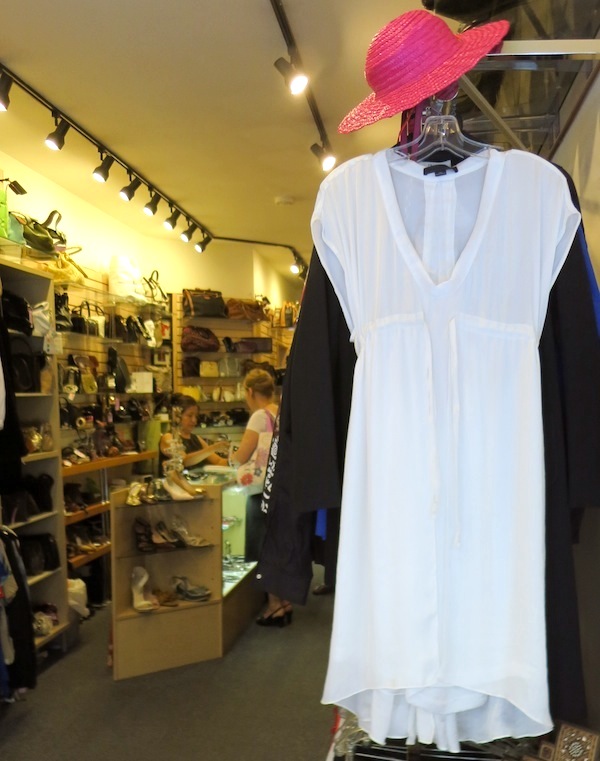 A tiny storefront that can get lost amidst the other consignment shops on 81st Street, Margoth, owned and run by Margoth Arroyo, harbors gems. Arroyo's taste skews vintage and bold in jewelry and handbags (I fell in love with a small purse shaped like an old rotary phone), but clean and modern in womenswear. After vacillating between a color-blocked Derek Lam silk shift ($450), and an Acne/Lanvin bright-white denim safari mini dress, Arroyo seemed most satisfied with her choice of a white silk Alexander Wang sleeveless drawstring dress for $385. "You can use it in so many different ways," she said, pointing out the layers of silk and how the drawstring tightens a loop on the back of the dress, creating slightly different silhouettes. "And the fabric—!"
218 East 81st St., between 2nd and 3rd Aves. Call for hours at (212) 988-7688.
Photos by Kasia Mychajlowycz. 
Check Groupon for deals on shopping in New York City.