The Pastries "Speak for Themselves" at Pan Hellenic, a Greektown Staple
BY: Alison Hamm |
May 10, 2013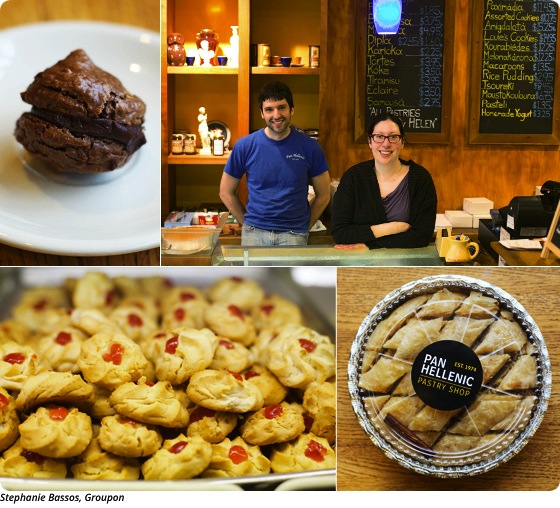 To try what might be the tastiest french macaron in the city, head to Greektown. Yes, to Greektown. It's called a Louie's Cookie, and after baklava, it's
Pan Hellenic Pastry Shop
's bestseller. Named for Louie Manolakos, who opened Pan Hellenic in 1974 with his wife, Helen, the cookie is Louie's take on the French-style macaron: two chocolate-and-walnut meringue cookies with a soft fudge middle. Louie and Helen were originally from Greece, where they first honed their pastry-making skills, but they came to Chicago via Quebec. This explains the macarons and other French pastries in the family's shop, which serves Greek specialties ranging from kourabiethes
(almond-butter cookies covered in powdered sugar) to savory spanakopita
(their famed spinach-and-feta pies). These days, the Manolakoses' grown children, James and Athena, make most of Pan Hellenic's sought-after pastries and other Greek specialties. Their mother still rules the kitchen and works in the back every day, but Louie passed away in December 2012. When I stopped in at the shop on a rainy spring afternoon, James explained that his father worked until he was in his 80s, bringing his "big personality and work ethic" with him every day, never cutting corners when it came to his business—or his pastries. James now handles his father's beloved chocolate cookies, but Athena took over the baklava. "My dad learned to make baklava from a guy that he worked for in Sparta when he was 13," she said. "According to my father, this guy was the pastry chef for the king of Greece back in the day." Then she laughed. "We don't know if that's true or not." Athena is an expert when it comes to baklava. She can tell immediately if the butter was put on afterward—a major no-no. "I've seen that and think, 'Don't do that,'" she said. Along with the traditional baklava, she also makes the shop's popular chocolate baklava, which she created in a moment she modestly refers to as "a happy coincidence." You won't catch her snacking on her baklava, though. She confessed she hasn't eaten a piece in nearly 15 years. That admission was barely out of her mouth before she hopped out of her chair and headed behind the counter to serve a new customer. I sat content with the coffee and the pastries they gave me: baklava, Louie's Cookies, and melomakarona—a spiced honey-walnut cookie with just a hint of lemon zest and cinnamon. James, who had left our conversation to talk business with a maintenance man in Greek, returned and took over her seat, barely skipping a beat: "Now, where were we?" This would be the routine for the next hour or so, as both Athena and James were friendly and forthcoming but always focused on their customers and business, jumping up as soon as someone came in. Probably 7 out of 10 customers are regulars, James said, and that was obvious from his ease with everyone who walked in the door. It's no wonder he's comfortable at the family business—he's been in and out of the shop since he was a teenager. "Greek daycare," he said with a laugh. Although James learned his work ethic and pastry-making skills from his dad ("My pastries speak for themselves," he said), there is one notable trait that did not span generations—Louie's love of
tavli,
or backgammon. Whenever Louie wasn't busy working, he could be found playing the game with his friends at Pan Hellenic. James, however, hates the game, explaining that the first time his dad tried to teach him, he almost threw the dice at his father. You won't see any regulars playing these days at Pan Hellenic, but not because of James' sentiment toward the game. Without Louie, James said, "it's been suspended indefinitely. That was the rule, anyway. No one was allowed to play unless he was playing." Though Louie might not have been the best backgammon instructor, he and Helen have passed on something far more valuable to their children: resilience. In February 2010, a
four-alarm fire destroyed Costas
, a popular Greek restaurant down the street. Pan Hellenic was on the tail end of the damage. "It burned our butts, so to speak," James said. The family had to shut down for five months. "It was the first time we'd ever closed for an extended period of time," he said. "It's hard to get people back in the door after that." But that's exactly what they did after reopening. And as the remaining family keeps making the Greek specialties that have kept them open for so many years, they're also thinking about the future of the business. "We are totally committed," James said. "We have a lot of room to grow."
BY: Alison Hamm
Guide Staff Writer
Alison would rather interview a chef or food blogger than actually cook. She never says no to a Hamm's Beer on special.