The Poetry Foundation Grooms Chicago's Next Generation of Wordsmiths
BY: Collin Brennan |
Nov 13, 2013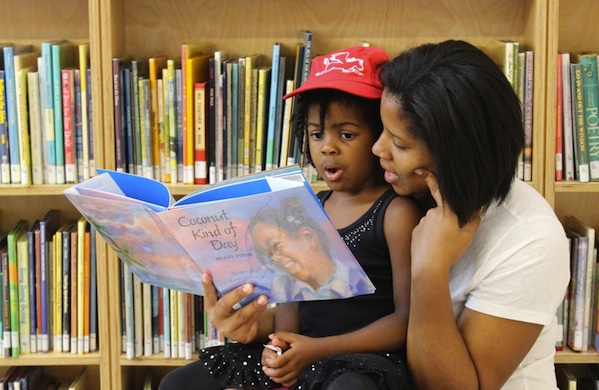 Poetry has a reputation for being stuffy, boring, and inaccessible. Just don't tell that to Mairead Case. Before she stepped into the role of Youth Services Coordinator at the
Poetry Foundation Library
(61 W. Superior St.), Case worked as a volunteer coordinator for Young Chicago Authors'
Louder Than a Bomb
youth poetry festival. There, she saw just how relevant poetry can be to Chicago's teenagers. "There are a couple poems that people wrote at YCA that really speak to life in Chicago," Case says. "Kevin Coval wrote one about
riding the Blue Line
, and José Olivarez wrote about how he always says his name differently depending on who he's talking to." Now that she's charged with introducing young children to the Poetry Foundation's massive library, Case often finds herself drawing on her experience with YCA. She constantly searches the library's
30,000 volumes
for books that similarly echo the real-life experience of a kid growing up in Chicago. The books that she does find are available for kids and their parents to peruse during the library's open hours (Monday–Friday from 11 a.m. to 4 p.m.). But for the library, availability has always been less of a problem than publicity. The Poetry Foundation houses one of the most expansive collections of poetry in the world, and many local parents and children don't realize that it's right in their backyard. Case and Katherine Litwin, the library's director, are out to change that.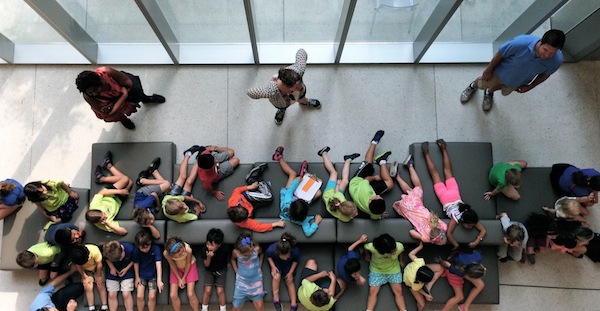 Learning to Play with Language
One of their surest tactics is to catch kids at a young age. I spoke with Litwin about some of the weekly events the library puts on to accomplish this—in particular, an event called "
Poemtime
" geared toward children aged 2–5. Held every Wednesday, the event often reveals something that both Case and Litwin have noticed in their time at the foundation: how naturally receptive young children are to poetry. "They're very open to playing with language," Litwin explains. "If you look at books for very small kids, they're almost all written in rhyme, which I think really has to do with the musicality of language. That's something that kids respond to innately." But the young kids aren't the only ones who react in exciting, unpredictable ways. "When we have a group that's a little bit older, we'll read them a poem and then let them play something like Mad Libs," Litwin explains. "They'll get the same poem, and they have to insert words into it." If they're feeling especially daring, Litwin and Case will try to introduce the concept of "found" poetry, which compiles and rearranges words from various different texts. "Once, we looked at two books that were written about Hurricane Katrina," Litwin recalls. "One of them was controversial because it used the words of Katrina survivors without getting permission from those people, so we asked the kids, 'Well, what do you think?'" They were met with a grab bag of reactions. One kid just shook his head and said, "This is a huge mess," remembers Case. Another's reaction: "Oh my God, this is incredible!" For her part, Litwin loves the debate. "There's not a right or wrong answer," she says. "Contemporary poets don't even agree on these issues." Case often finds humor—and a kind of refreshing honesty—in the way kids interpret the art in the Poetry Foundation's rotating exhibition room. "There was this
Joan Mitchell painting
in here for a while, and it was very fun to look at it with them. This one kid wrote a poem that said [the painting] reminds him of when his mom burns macaroni and cheese. And it was very funny, because it
did
look like that."
Rhyme and Relevance
"I think that here in Chicago, there are a lot of different ways that poetry has been taught," Case reflects, "and a lot of kids think it has nothing to do with their lives." But she thinks that the experience of living and commuting in a modern city like Chicago creates exciting opportunities to engage with the medium. These opportunities are hardly limited to annual festivals such as Louder Than a Bomb. In a city with nearly three million residents, it doesn't take long to find a teenager with something to say. Weekly events such as YCA's
#WordPlay
workshop and open mic exist to amplify their voices, but Case insists that there's also a joy in experiencing poetry on the page. "Poetry is something you can just hold in your hand. You can browse a book of poetry a lot more easily than you can browse a book of fiction," she says. Poetry may never take over the world, but that's not the point. So long as Chicago's kids know what's out there, there may come a day when they reach for a book of poems instead of a pair of headphones to pass the time between train stops.
The Poetry Foundation Library is open Monday–Friday from 11 a.m. to 4 p.m. Browse the foundation's website for children's poetry resources and a calendar of upcoming events.
BY: Collin Brennan
Guide Staff Writer
Collin is a senior editor and a staff writer for Consequence of Sound. He self-publishes zines and moderates writing workshops for The Chicago Publishers Resource Center (CHI PRC).