The Pubbelly Crawl - Ultimate Eating in Miami
BY: Kimberly Moore |
Oct 10, 2012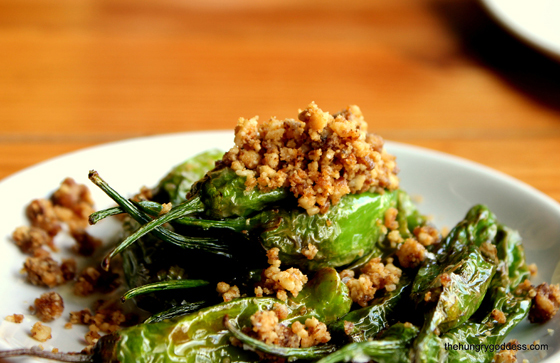 There are a lot of factors that go into making a successful restaurant - partners that share a vision, culinary talent and creativity, a diligent and knowledgeable front of house and a concept that will take off.  The Pubbelly group in Miami checks all of those boxes, plus has some of the most fun and exciting food that you want to eat over and over again. Pubbelly as a group comprises four restaurants:  Pubbelly Gastro Pub, Barceloneta, Pubbelly Sushi and, the newest, Macchialina.  All of the partners are Chefs and Hospitality Professionals and, most importantly, they are hands on every single day.  The vision and expertise (plus pure FUN!) of the partners make the Pubbelly restaurants a true culinary adventure. One of our goals has been to complete the Pubbelly Crawl - a tour of all four of the restaurants and to sample their signature and seasonal dishes.  We did it and our primary takeaway was - When can we go back?
Pubbelly Gastro Pub
There are no distractions from the menu at the Pubbelly Gastro Pub.  Brick walls, wood tables and a neighborhood feel allow you to be comfy while perusing an inspired menu full of imaginative, reasonably priced plates.  Our server was incredibly knowledgeable and enthusiastic about the menu and steered us in the most delicious directions. We oohed & aahed over the Dates avec Chorizo with goat cream and bacon and scooped forkfuls of the perfectly formed Housemade Gnudi with pumpkin and black lager jus.  The signature McBelly slider is a must-have with a crunchy and flavorful kimchee and delicious barbecue sauce. The wild plate that was surprisingly scrumptious was the Foie and Nutella.  I am all about Foie anything, but the Nutella even gave me pause.  Crispy toasts, melted Nutella and creamy, rich Foie mousse made this a mindblowing experience - the first bite is all about processing the rich ingredients.  The second bite is pure heaven. Pubbelly Gastro Pub has seasonal offerings as well as an occasionally changing menu - look for the Braised Berkshire Pork Cheeks with potato foam (I am addicted!), horseradish cream, and caviar jus.  It will complete your life.
Barceloneta
When you think Barceloneta, you should think Catalan Bistro; a lively atmosphere, always busy and an open kitchen that allows you to see the innovative Chef Juliana Gonazalez at work.  She never disappoints! Service at Barceloneta follows along the same stellar path as Pubbelly Gastro Pub - the servers are full of information and happy to guide you through the menu according to your preferences.  The Bistro Plates are my favorites.  Barceloneta allows me to eat how I love to eat - multiple plates to share with each bite introducing a new flavor experience. Dinner is a winding journey through dishes like the mandatory Barceloneta Pulpo a Feira - octopus, fingerling potato foam, pimento  and chorizo (the best I have ever had); and the exquisite head-on Gambas con Chocolate - langoustines, garlic, sherry, and chocolate picada. Don't overlook the signature shishito peppers with candied walnuts resting on a scoop of Valdeon cheese or the mouthwatering Ensalada de Alachofa - baby artichokes, frisse, arugula, wheat berries, Serrano ham, and Manchego cheese finished with a truffle vinaigrette.  Dessert is not meant to fill you up further, but rather sweep you away on clouds of salted caramel delight that are enhanced with chocolate crumbs and layers of raspberries.
Pubbelly Sushi
In a complete departure from the Gastro Pub and Barceloneta, Pubbelly Sushi opened in October 2011; however, the Pubbelly brand is completely present in the decor, neighborhood conviviality and stellar service.  The Pork Belly and Clams Sushi Roll could also be a giveaway (and a definite recommendation!). Pubbelly Sushi is not your traditional sushi but experiential eating with intriguing combos.  One of our favorite dishes is Tostones con Ceviche - hamachi ceviche served with fried plantains.  The tang of the ceviche combined with the just-perfect mild crunch of the tostones will get me back again and again. We stayed on the non-traditional path enjoying delights like the Maine Lobster New England Style roll (with Yuzu!) and the Southern Fried Soft Shell Crab with Kimchee, Mustard Slaw, and Shiso Ranch.  The unusual combos make it so much fun to choose different bites from the menu! Two of the must-try dishes (although there is not anything that we would not recommend so far!) are the Bigeye Tuna roll - spicy tuna, arroz Pegao, rocotto cream and sea salt and the Hamachi Jalapeno sashimi.  Both are flavor explosions and both have the same result - you want to request another order, hoard it from your friends and eat it immediately.
Macchialina
Since I am a Northeast transplant, Macchialina felt a bit like coming home.  It is the latest addition to the Pubbelly group and front of house and kitchen are under the deft Northeastern-influenced vision of owners Chef Michael Pirolo and General Manager Jennifer Chaefsky.  They have created a neighborhood haven with a generous daily Happy Hour with Pizza and Peroni for $10, a menu filled to the brim with rustic Italian plates and servers that present the menu famously. The motto on the menu is "Life is a combination of magic and pasta" (Federico Fellini) and the dish that brought the magic most particularly for me was the Beet Filled Mezzaluna - perfect al dente ravioli half moons filled with ricotta salata and topped with finely diced beets and brown butter and sprinkled with poppy seeds.  Sublime, magical and unforgettable. As I was waxing poetic on beets and mezzaluna, the Creamy Polenta with sausage ragu and cipollini arrived to distract and delight.  Mounds of Broccolini al Cesare is compulsory - the toasted garlic and pile of deliciously dressed greens will change how you think about Caesar anything.  Cavatelli Macchialina with baby meatballs was satisfying and only lacking in that I wanted about 20 more of the meatballs. To round off dinner, you must have the Tiramisu.  The espresso granita and chocolate crumble is paired with a mascarpone pudding that can make you weep. As with all of the Pubbelly restaurants, picking favorites is hard to do and I won't even attempt.   Each restaurant has something so unique to offer but always with the consistent Pubbelly stellar quality present. Just when you think you have experienced something completely amazing, there is another plate, another dish, another experience. Ambiance, a distinctive vision, neighborhood comfort, and pocketbook friendly prices are all part of the adventure on the Pubbelly Crawl.  I'm ready to do it again!
BY: Kimberly Moore
I am Hungry.  I am a passionate person and I translate that passion into life … and food … and experiences … and travel!  I will always take the road less traveled and since I am always hungry, I always stop to eat. Food is a central experience in my life – I love to eat it, tweet it, write about it, experience it and discover new foods or recipes.  I have several Food sites – Foodies Unite and The Hungry Goddessand Fennel Friday.  I am the Co-Founder of the #HGEATS twitter chat (every Wednesday at 12noon eastern) and I am the Creator ofFennel Friday (#FennelFriday) which is a joint project with Pollen Ranch and Foodies Unite.