The Remount of "Hit the Wall" Revisits the Stonewall Riots Onstage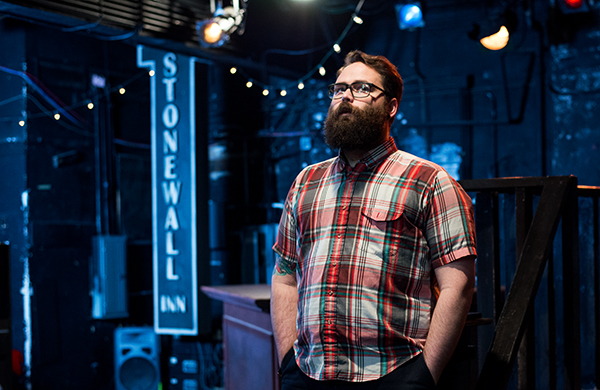 "Happy Ishtar," said Eric Hoff as he sat down to talk about his production of
Hit the Wall
, now back in Chicago for a third electrifying run. "The festival of fertility and sex." It's a fitting way to begin a conversation about
Hit the Wall
—a raw, riveting piece of theater now back in Chicago for a third time since its world premiere at the Steppenwolf Garage in 2012. Written by Ike Holter and directed by Hoff, the play tells the story of the first night of the Stonewall Riots in New York City, considered by many to be the beginning of the modern gay rights movement. Holter and Hoff's visceral creation, complete with an onstage bar and a wall-rattling rock band, reveres that legacy. In anticipation of the
Chicago Commercial Collective
's remount at the
Greenhouse Theater
, we spoke with Hoff about the importance of the riots (and of Pride Weekend), and what work still needs to be done.
GROUPON: Has anyone who was involved with the riots seen the show?
ERIC HOFF: In New York, Martin Boyce and Danny Garvin, both of whom are what I'd call Stonewall veterans…they both attended the opening night, and were also really helpful as consultants on the project. Danny worked with my movement coordinator in New York on specific dances they used to do [at Stonewall, including] The Spider, which looks not unlike the Electric Slide.
G: Do you feel like the conversation around the play has changed since the original production?
EH: I think the biggest change—or not "change," but the
evolution
—in the conversation is primarily related to…trans folk. [The character of] Carson goes by "drag queen" in the play, because back in 1969 "transgender" or "trans woman" wasn't a commonly used expression or phrase. So for biologically male people who identified as female, "drag queen" was really the term available to them.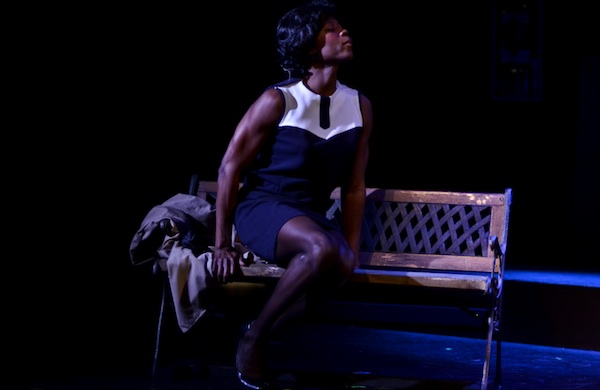 And [the character] Peg, who is the "Stone Butch"…that was an entire subculture within the queer community that doesn't exist in the same way that it did back then. So I think it's really important to note that Ike [Holter] has done a really amazing job of featuring people who live outside of gender norms [as] the torchbearers of this play.
G: Is there a moment in the play that's of particular personal resonance to you?
EH: There's a scene between sisters…[that] is full of content that a lot of us queer folk have heard from our family members. [A character] says things like, "Mom doesn't want you anymore" and "If you could just hold it in…" For many people who grew up and had to come out, we've been there, and we've heard those things, and we've heard family members say things like, "If you could just
not
do what you do." That's an exact line from the play. "Don't be you, just conform, just do what we want you to do and everything will be fine."
G: Do you think the play has changed the minds of people with that kind of viewpoint?
EH: A lot of people leave and ask, "Are the Stonewall Riots a real thing? Was it really that bad, or was that just for dramatic purposes?" So I think one of the really big things that the play does is, from a historical perspective, [lift] the veil for a lot of people. Most people don't know that Pride is celebrated on the fourth weekend of June because of the Stonewall Riots. What the riots did [was] galvanize and coalesce a group of people who, prior to that moment, weren't really a group
per se
, in part because…The whole point was to
not
draw attention to yourself.
G: Do you think people forget about the historical significance of Pride as they celebrate it?
EH: Yes, absolutely. A lot of people think of Pride as a big drunken celebration, and it is, and there's a good reason for that. I don't want to disparage people who come to Chicago for Pride, who need an outlet, because that's a crucial thing—especially if you have to return the next day to a place where you don't feel like you can be yourself. [However,] it's important that we remember
why
we celebrate.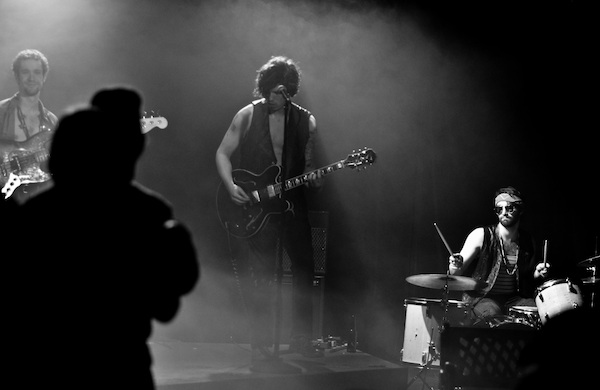 G: When you were growing up, did you have a safe space?
EH: As a queer person? Not at all. I was a church kid. Then I went to a religious college. I was the only out gay person on my campus for four years. I had good friends on campus who were my people, but even those friends…it took some of [them] a long time to come to terms with me being gay. My family (now) is phenomenal, and everyone is a big ally, a big supporter. But it took awhile.
G: Have they seen Hit the Wall?
EH: They have. They were all there on opening night. It was kind of insane. At the end of the night, after the curtain call and everything, there's my entire family. My sisters and my mother…were all in black heels, black tights, black skirts, black sweaters, and they looked like a coven. They were all bawling. And my dad couldn't speak to me, he was so verklempt—he couldn't get words out. So it was a pretty powerful thing.
G: If people are moved to take action by Hit the Wall, what would you suggest they do?
EH: Well, we've got a real issue in Chicago with providing safe spaces for our queer youth, primarily for those who don't come from neighborhoods or homes where they feel comfortable expressing themselves or being who they are. Queerness extends to the poor, queerness extends to people of all different gender expressions and realities, and I think that if people are moved to take action, they should think about…what we as a community need to continue to build. We need to build centers for homeless queer youth in Chicago. We need to find ways to provide education and job resources. [laughs] I feel like I'm getting on my soapbox here, but there are thousands of ways to get involved.
For ways to get involved in LGBTQ advocacy, particularly in serving the needs of at-risk and homeless youth, Hoff recommends these organizations: Broadway Youth Center and Center on Halsted (Chicago); Ali Forney Center (New York City); The Trevor Project (national).
The remount of
Hit the Wall
runs at the Greenhouse Theater (2257 N. Lincoln Ave.) through June 29. Click here for tickets ($45–$55) and showtimes. 
Eric Hoff portrait: Andrew Nawrocki. Hit the Wall photos by Ryan Borque.