The Reverend Peyton's Big Damn Band Plays Blue-Collar Blues for a New Generation
BY: Reuben Westmaas |
Mar 5, 2014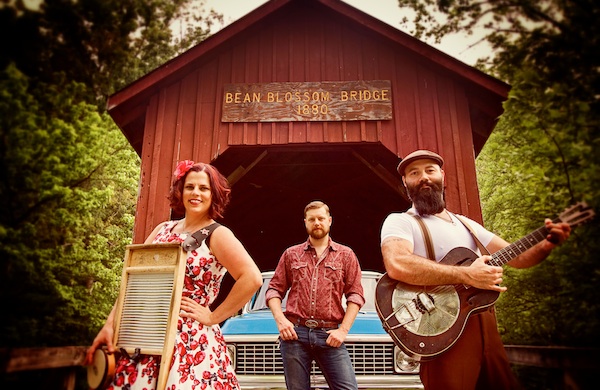 "Reverend" Josh Peyton's big damn three-piece breathes new life into country blues with fringe politics and a DIY aesthetic. 
They're not that big and not at all religious. But when they play, their name finally starts to make sense. At the proverbial pulpit is Rev, whose 1930 National guitar would probably catch fire if it weren't made of rusty steel. Next to him, his wife, Breezy, scrapes her washboard so hard, they often sell pieces of it at the merch table. Their drummer, Ben "Bird Dog" Russell, holds it all together, getting so much sound out of a 5-gallon bucket that there must be a miniature version of himself hiding underneath it. Musically,
The Reverend Peyton's Big Damn Band
would be at home a century ago in their native Indiana foothills. But their antiquated arrangements contrast with plenty of modern references in their lyrics, some of which have gotten the trio into trouble. "Walmart Killed the Country Store," for instance, kept 2008's
The Whole Fam Damnily
out of the nation's largest CD retailer. But that still didn't prevent it from debuting at No. 4 on the blues charts. This new-meets-old approach continues in the band's
video
for "Something for Nothing" from 2012's
Between the Ditches
, which features a cameo appearance by feline celebrity
Lil Bub
. You could ask what she's doing there between shots of blue-collar America, or you could just accept that log splitters, chicken farmers, and Internet cats all have a place in the modern workforce.
The Reverend Peyton's Big Damn Band plays Reggie's Rock Club (2105 S. State St.) on Friday, March 14, at 8 p.m. Tickets are $15–$20 and can be purchased here.
Photo credit: Birch Miller
BY: Reuben Westmaas
Reuben writes about whiskey at work and drinks it at home. He also writes and edits the arts magazine Sixty Inches From Center.