GROUPON GUIDE TO WASHINGTON-DC
Two Perfectly Cromulent "Simpsons" Dinner Party Ideas
BY: Amelia Buzzell |
Aug 13, 2014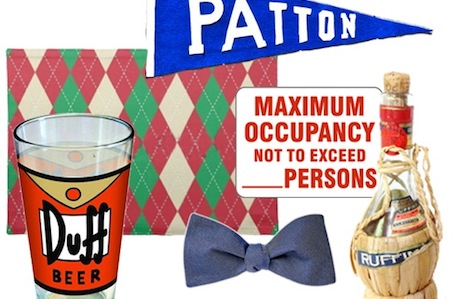 After a soft launch at San Diego Comic-Con, MAC will officially release its line of Marge Simpson-inspired makeup online on August 28. (Prefer to shop in person? Wait until September 4. Prefer to use a
makeup gun
? Don't.) But why let your makeup bag have all the fun? You can tip your hat to TV's reigning cartoon family by decorating your dining-room table with objects inspired by two distinct
Simpsons
settings: the Simpsons' home and Moe's Tavern.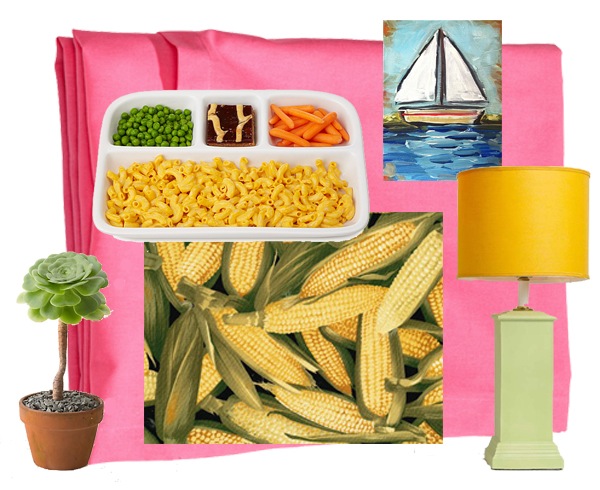 The Simpson House
Marge would never dream of parting with her signature corn-printed kitchen curtains; mimic the look with homemade placemats cut from a similar fabric. Lean a tiny painting of a sailboat on every place setting to evoke the painting above the family's couch, and conjure the rest of the living room with a cartoonish houseplant and color-blocked lamp. If you can't bring the TV into the dining room, create a TV dinner instead by serving food on a segmented plate. Arrange everything on top of a hot-pink tablecloth, which closely resembles the color of the living-room and dining-room walls at good old 742 Evergreen Terrace. 1.
Corn on the cob print fabric
; Field's Fabrics ($12.49 per yard) 2.
Sailboat painting
; Recycled Wood Art on Etsy ($38) 3.
Green hybrid aeonium
; Terrain ($30) 4.
Stoneware TV dinner tray
; Uncommon Goods ($24) 5.
Green colorblock lamp with orange drum shade
; Rosenberry Rooms ($148) 6.
Organic cotton tablecloth
; H&M ($12.95)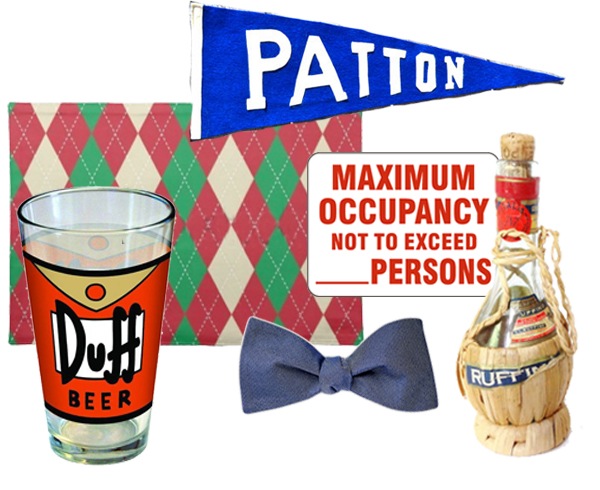 Moe's Tavern
Whether you're serving up a Flaming Moe, a bathtub mint julep, or just your favorite beer, it'll taste just a little bit better in a Duff-approved pint glass. Red-and-green argyle placemats evoke the tavern's signature stained-glass windows, and the rest of the bar comes to life with a pennant hung on the wall and empty hooch bottles repurposed as flower vases. Of course, the look doesn't have to be pure blue-collar: a blue bow tie pays homage to Moe's daily uniform and makes a cute wrap for napkins and silverware. And if you need an excuse to keep the party going indefinitely, simply declare it the "Feast of Maximum Occupancy" and point unbelievers to the telltale sign on the wall. 1.
Argyle placemat
; Zazzle ($21.95) 2.
Vintage Italian-made straw-wrapped wine bottle
; North Starr Vintage on Etsy ($10) 3.
Duff Beer pint glass
;
Atomic Books
($8.99) 4.
Vintage blue felt pennant
;
Krispyfringe Vintage
($13) 5.
Memphis Riverwalk solid bow tie
; The Tie Bar ($25) 6.
Maximum Occupancy sign
; SafetySign.com ($27.50 and up)