The South End's Best Shops
BY: Natalie Chassaigne Kurtzman |
Oct 21, 2013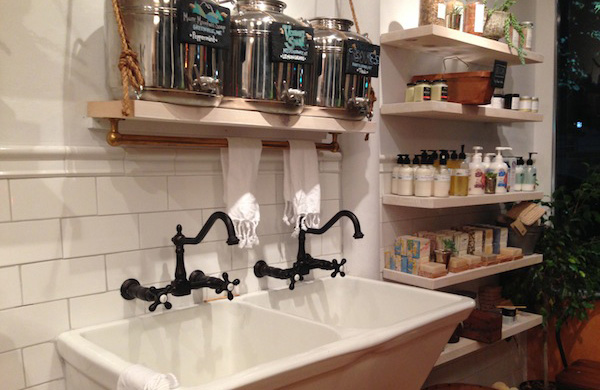 There are many reasons to love the South End, from the ornate stoops to the incredible restaurant scene to the abundant dog parks. My personal favorite reason to visit this bustling neighborhood is to peruse the boutiques that line Shawmut Avenue, Tremont Street, and the area in between. Many shops in the neighborhood offer local goods, ranging from homemade t-shirts to local beauty products. Here are a few of my favorite shops in the South End.
Follain
A recent addition to the South End, Follain is home to a curated collection of natural beauty products, many of which are not found elsewhere in the Boston area. On the corner of Dartmouth Street, Follain is reminiscent of a bookstore or coffee shop - a place that you want to settle in and spend some time. Take a seat at the marble bar while you try on a new blush, viewing the succulents and leafy green plants that surround the shop. Owner Tara Foley is passionate about sharing her commitment to natural skincare and beauty with an individually tailored approach. Tara is invested in her customers and takes the time to get to know their needs so that she can make the best recommendation. My favorite products include the liquid hand and body soap - scents ranging from rosemary citrus to peppermint, and the locally produced Shamanuti charcoal products.
Sault
One of the most inviting shops along Tremont Street is Sault. The bicycle perched out front beckons you inside to explore the perfectly appointed shelves and tables. An ode to a classic men's shop, Sault is home to vintage and new clothing, as well as soaps, stationery and neat gifts, like wooden iPhone speakers, terrariums, and colorful bottle openers from Smith and Plank. There's a strong New England inspiration, from the Pendleton blankets to vintage L.L. Bean apparel. This time of year, we're especially eager to grab a warm wool sweater at Sault, just in time for a weekend getaway to the country.
Flock
Mother-daughter duo, Dani McDonald and Lisa Kupsc, are the fashionable team behind Shawmut Avenue's Flock. Inspired by nature and a bohemian lifestyle, the decor at Flock includes an abundance of feathers and colorful birds. The styles are unique, yet classic ranging from velvet jackets and oversized sweaters to vintage-inspired jewelry and hobo bags. The difficult part is leaving empty-handed. Along with old favorites, there are always new shops popping up around the South End. The unique and colorful boutiques are a perfect way to spend an afternoon, whether you are a local or a visitor to Boston
BY: Natalie Chassaigne Kurtzman
Natalie highlights events, boutiques, and people that make Boston such a great place to live on The Boston Day Book. Born and raised in Boston, Natalie adores every corner of this city, from the cobblestoned streets of Beacon Hill to practicing her chopstick skills in Chinatown. She can often be found snapping photos around the city or taking sunrise walks with her husband and Portuguese Water Dog, Weber.