The Summer in Children's Theater
BY: Reuben Westmaas |
Jun 28, 2013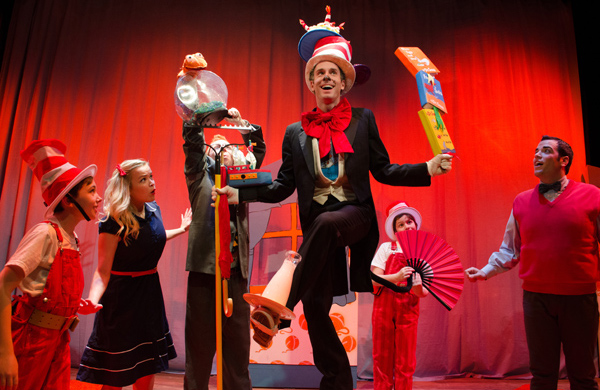 School might be out for the summer, but kids still need thought-provoking stimuli they can't always get from TV, movies, or video games. That's why there's children's theater. Bereft of animation and the luxury of multiple takes, stage plays are able to transcend flashier forms of entertainment by demanding more imagination from the audience. Take a look at some of the many highlights in children's theater taking place in Chicago this summer:
Dr. Seuss's The Cat in the Hat
When:
Through September 1
Where:
Broadway Playhouse at Water Tower Place
Cost:
$15–$22
Tip:
Shows run at 10 a.m. most Saturdays and Sundays, and at 10:30 a.m. on select weekdays. View the calendar
here
.
Suitable for ages 3+
"The sun did not shine. It was too wet to play. So we sat in the house all that cold, cold wet day." So bemoans the narrator and his sister Sally as the curtain opens on The Cat in the Hat. But when a stovepipe-sporting feline waltzes in the front door, the two children are left wishing all they had to deal with was boredom. From piling their mother's fine china to unleashing the uncontrollable Things One and Two in the house, the Cat in the Hat wreaks a hundred kinds of havoc without a care for the mess. Adapted for the stage by English director Katie Mitchell, the play brings Dr. Seuss's whimsical illustrations to life with simple yet creative production touches, such as a forced-perspective set and a puppet to portray the children's worrisome fish. Furthermore, not a word has been changed from Seuss's 1957 classic, making this rhyming ruckus as familiar to adults as it is to youngsters.
Storytown
When:
Every Saturday at 10:30 a.m.
Where:
Stage 773
Cost:
$10
Tip:
Brainstorm story ideas with your kids before or after these creativity-boosting plays.
Suitable for all ages
When the curtain rises each Saturday morning, nobody knows what story the actors will tell—not even the actors themselves. The pint-size audience offers up suggestions for the show, and the players adapt to whatever the kids' fertile imaginations come up with. While the adventures of the superhero, fairy princess, or alien overlord play out on stage, a pianist improvises a score and a team of graphic artists madly construct whatever props, backdrops, and costumes are needed. The kids themselves can also help create the production elements.
Storytown
does more than just send little ones reeling with laughter; it teaches them to do the same for others.
The Jungle Book
When:
June 21 through August 4
Where:
Goodman Theatre
Cost:
$33.50–$97
Tip:
After seeing the play, encourage your children to read Rudyard Kipling's novels to see what stayed the same and what changed.
Suitable for ages 6+
Tony-winning director and playwright
Mary Zimmerman
brings Rudyard Kipling's
The Jungle Book
to life in a vibrant new musical featuring a cast of stage veterans. But the show's true star is only 10 years old.
Akash Chopra
stars as Mowgli, the man-cub raised by the animal residents of the Indian jungle. Though less complicated than the world of men, the environment of the play is a dangerous place populated by greedy orangutans, hypnotizing pythons, and Shere Khan, a tiger with a grudge. Luckily, Mowgli has some powerful friends in his corner.
Usman Ally
(
Oklahoma!
at the Lyric Opera of Chicago,
The Arabian Nights
at Lookingglass Theatre) plays his level-headed panther mentor, Bagheera, and
Kevin Carolan
(
Boardwalk Empire
, touring company of
Chicago
) portrays the more carefree character of Baloo the bear. Together, they usher Mowgli into adulthood and help him face his adversaries, all to a score that combines the American swing songs from Disney's beloved animated film with traditional Indian instrumentation and brand-new showtunes.
Second City Summer Camps
When:
Two-week camps beginning July 8, July 22, August 5, and August 19
Where:
Second City Training Center
at 1608 N. Wells in Piper's Alley
Cost:
$750
Tip:
For an additional $150, parents can sign their children up for age-specific post-camp workshops: Clowning Around (ages 11–12), Digital Shorts (ages 13–14) and Standup (ages 15–18).
Suitable for ages 11–18
Middle- and high-schoolers train with seasoned improvisers in these day camps, which run Monday through Friday from 10 a.m. to 3:30 p.m. The morning is spent on the fundamentals of improvisation, during which kids practice their creative thinking, brainstorming, and communication skills. This portion of the program is also designed to help students develop self-confidence and empathy. The afternoon focuses on the basics of sketch comedy through studying classic Second City segments, and gives everyone the chance to improvise scenes and create original sketches. At the end of the two-week period, kids put on a show for their family and friends on one of Second City's stages.
BY: Reuben Westmaas
Reuben writes about whiskey at work and drinks it at home. He also writes and edits the arts magazine Sixty Inches From Center.