The Supersuckers Unplug, But the Party Doesn't Stop
BY: Reuben Westmaas |
Apr 4, 2014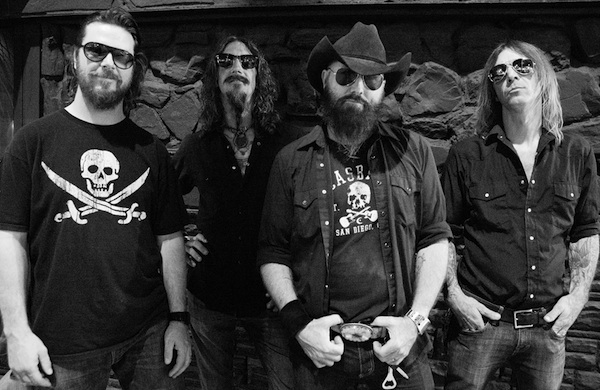 They're known for their heavy-hitting, metalesque punk, but the Supersuckers are well-suited for an acoustic set with their background in outlaw country.
Sex, drugs, and rock 'n' roll. Also: booze, swearing, and more drugs. And a little bit of country music. That's the basic formula for the Supersuckers' sonic party, which has been steadily raging since 1988. The band is a sure bet to play harder and longer than anyone else—even if they pull out all the plugs. That's exactly what they'll do on Saturday, April 12, when hirsute singer Eddie Spaghetti and guitarist "Metal" Marty Chandler put on a free acoustic show at Reggies'
Record Breakers
. This time, it's a party with a purpose; the band recently released a new album,
Get the Hell
, and they're anxious to share some of the material with fans. Blending massive riffs, punk-rock tempos, and a Tucson twang—think Rocket from the Crypt with a side of country gravy—the Supersuckers have always revelled in excess. But it took a departure from their usual style to elevate their sound to something more distinctive. It started with 1997's
Must've Been High
, which signaled a new era from the opening notes played on a lonely harmonica. The rest of the album proved to be straight-up country of the outlaw variety, complete with a cameo by Willie Nelson. Even today, Eddie Spaghetti still wears his cowboy hat proudly, and the band still tours with 500 head of cattle in tow. Though the Supersuckers have explored other sonic territories since, they're still known to break out their country tunes on tour. It's likely the audience will hear that side of the band at their acoustic show. But "country" doesn't mean sappy love songs about trucks and blue jeans. No, the Supersuckers have always been more interested in singing about stuff like overbearing record producers ("The Captain") and innovative timekeeping methods ("One Cigarette Away"). The whole band will be playing the Metro after Eddie and Marty hit up Record Breakers, but this free afternoon show offers a more intimate look at the Supersuckers. Just remember: if you want to keep your teeth, don't look Eddie in the eye.
Eddie Spaghetti and "Metal" Marty Chandler of the Supersuckers play Record Breakers on Saturday, April 12, at 4 p.m. This is a free show, and hot dogs and pop will be provided. Read more here.
Check out Eddie Spaghetti strumming an acoustic version of "Mean Eyed Cat" at the Underground in Hamilton, Ontario:
Photo courtesy of the artist.
BY: Reuben Westmaas
Reuben writes about whiskey at work and drinks it at home. He also writes and edits the arts magazine Sixty Inches From Center.