GROUPON GUIDE TO SAN FRANCISCO
The Sweet Chill: The Best Ice Cream Shops in San Francisco
BY: Anita Chu |
Dec 4, 2013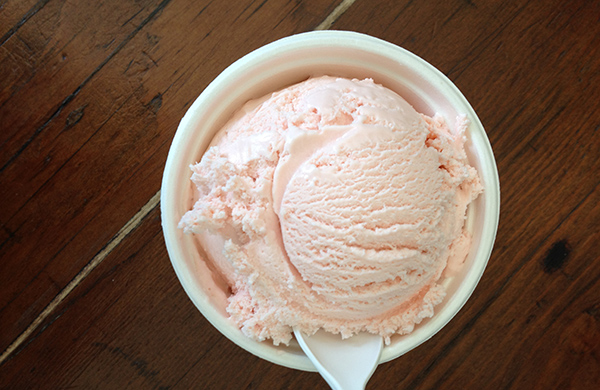 Unlike other places where ice cream is a summer treat, San Francisco is an it's-always-ice-cream-weather town. San Francisco residents aren't eating ice cream to cool down, but because there's some seriously delicious artisan ice cream being made locally in little shops all around the city. Here are my picks:
Mr. and Mrs. Miscellaneous
(622 22nd St) The name is a bit of a tongue-twister but it's not difficult to rave about this little gem hidden away in Potrero Hill. The titular Mr. and Mrs. Miscellaneous, pastry chefs Ian Flores and Annabelle Topacio, serve up beautifully smooth and creamy ice creams that taste amazingly fresh. The flavors are offbeat but appealing, like Pink Squirrel (almond and cocoa liqueurs) and candied violet.  They also make their own cookies, brittles, and other sweets, displayed for sale in mason jars by the counter. The sleek wood tables in the clean, light-filled store make the perfect spot to enjoy a perfect scoop.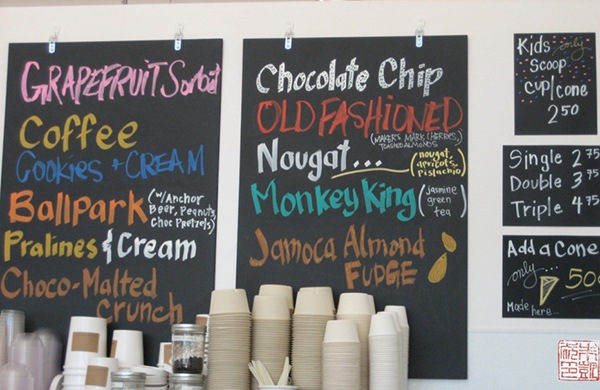 Bi-Rite Creamery
(3692 18th St) Bi-Rite Creamery began as an offshoot of Bi-Rite Market, a specialty grocery just across the street. However, as word spread of their addictive salted caramel ice cream, the creamery achieved a fame of its own. Long lines snaking down the block are not an uncommon sight outside the store, but the lush, flavorful ice cream is worth it.  Although the salted caramel is a must-try, the honey lavender and malted vanilla with peanut brittle are stealth favorites. Their fruit popsicles are also delightful on the rare hot San Francisco day.
Humphry Slocombe
(2790A Harrison St) The ribbon for most unusual ice cream and ice cream store name goes to Humphry Slocombe. Tucked away in a little corner of the Mission district, this shop is quite unassuming except for the near-constant lines out the door and under the trim blue awnings. Humphry Slocombe's claim to fame is its Secret Breakfast, a vanilla ice cream laced with bourbon and cornflakes that is truly the breakfast of champions. For the slightly less adventurous, the Blue Bottle Vietnamese coffee is the next best thing to a wake-me-up cup of espresso.
The Ice Cream Bar
(815 Cole St) While many of the newest ice cream shops in San Francisco are showcasing modern, offbeat flavors, The Ice Cream Bar aims to recreate the classic soda fountain of the 1930s. Although they also make and offer their own ice cream, the star of the shop is the soda fountain bar at the rear of the retro-styled shop. Soda jerks will mix up lactarts, phosphates, malts, and milkshakes with a chemist's library of ingredients. The New Orleans Hangover seems cult favorite-worthy: chicory coffee syrup, golden eagle tincture, sweet cream ice cream, and soda. Sit down on the classic fountain bar stools and visit the past.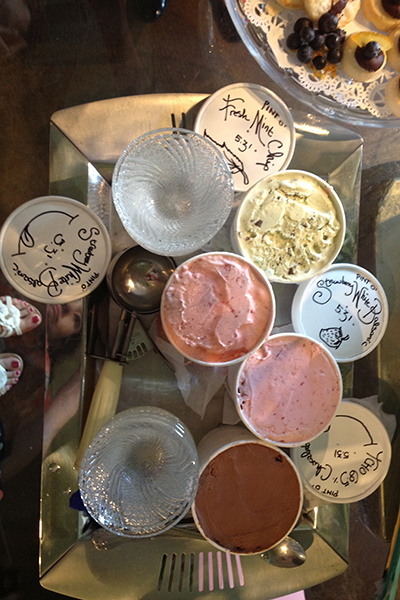 Smitten
(‪432 Octavia Street) Smitten offers one of the most entertaining desserts in the city: ice cream made to order and flash-frozen with liquid nitrogen to preserve its creamy, ice crystal-free texture.  Every scoop is made fresh, so you can watch your ice cream solidify in front of your eyes in a cloud of liquid nitrogen. Flavors are usually limited to three rotating choices: the TCHO chocolate shows off the locally made chocolate perfectly. The location is more of a popup than a full sit-down shop, but the adjacent park and nearby Hayes Street shopping boulevard make for a lovely venue to enjoy your custom made ice cream.