The Teres Major and Other Lesser-Known Cuts of Beef
BY: Nathalie Lagerfeld |
Feb 13, 2014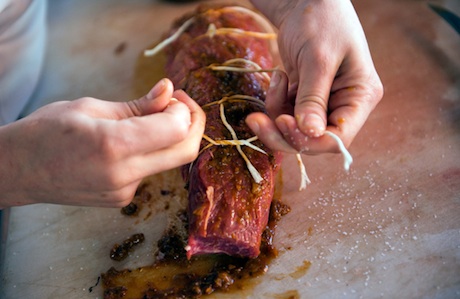 A Publican Quality Meats butcher recommends lesser-known cuts of beef that won't break the bank.
Missy Corey knows her meats. The former
Chopped winner
cut her teeth on whole-animal butchery during a six-year stint in the restaurant scene in Portland, Maine. Now she's a sous chef and butcher at
Publican Quality Meats
(825 W. Fulton Market St.). The butcher's shop there handles about 90% of the meat production for
The Publican
(837 W. Fulton Market St.) across the street.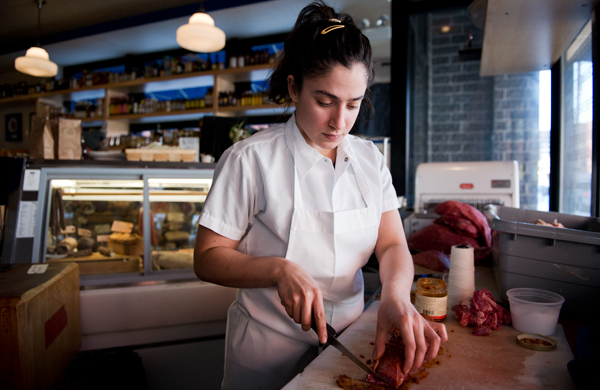 When we talked, Corey was skinning a wagyu beef tongue that was going to be grilled yakitori-style for a salad at The Publican. The roughly inch-wide squares of meat were striated with delicious-looking ribbons of fat. "Tongue is a particularly fatty cut of beef in general, so it's always a lot more marbled than some of the other cuts," she said. The tongue was just one example of how the quality of the overall animal can be reflected in more obscure cuts of meat. If you want quality meat but can't afford a rib eye, go for these less pricey cuts recommended by Corey. Your stomach won't regret it.
BEEF CHEEKS
This "super-tender" cut can be eaten on its own: braise and baste the cheeks as you would a short rib. But home cooks also shouldn't be afraid to get creative. Corey has also put seared cheeks in a pot pie for The Publican, and said they "would be really great stewed for a pasta" or stuffed in ravioli, too.
FLATIRON, AKA top blade
This flavorful cut comes from the forearm of the steer. Similar to a flank steak, but slightly smoother in texture, it's great for grilling or searing in a cast-iron pan, Corey said.
MOCK TENDER, AKA teres major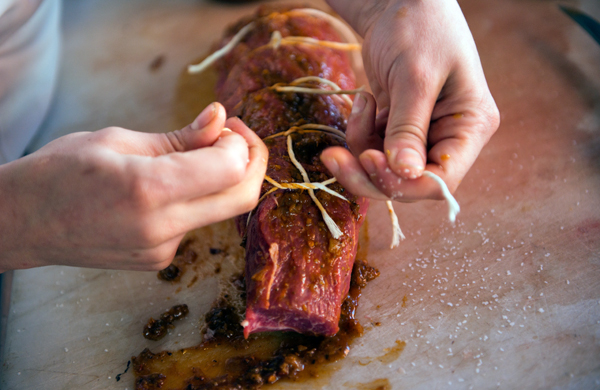 Long and lean like its namesake tenderloin, this cut is "tender, but not as tender as a filet," Corey said. She recommends cutting it open and coating it with a marinade inside and out. "Roast the outside, cook it to medium, and then [cut it into] slices—like a roulade," she said. You'll end up with a dish as tasty as a tenderloin for about half the price.
THE "COPPA"
If you ask for beef coppa at most butchers, you'd get a weird look. "It's really the term you'd use for pork, but we extend it to beef because it is the same muscle," Corey explained. That muscle is a little bit fattier than the surrounding tissue, known as the chuck. Often used in slow-cooked dishes like pot roast, the chuck is "one of the cheapest options if you're looking to get really high-grade beef," Corey said. By going with the tenderest, most marbled part, you get even more bang for your buck.
Photo credit: Andrew Nawrocki, Groupon
BY: Nathalie Lagerfeld
Guide Staff Writer
Nathalie is a writer and editor on the Guide's food team. Originally from Virginia, she now lives in Chicago, where she regularly indulges her love of tortas, bibimbap, and Cheez-Its. Follow her on Twitter @maviswillsaveus.