The Thirsty Reporter's Notebook: Grapes, Rice & Wrath at Billy Sunday in Logan Square
BY: Lisa Ladehoff |
Aug 15, 2013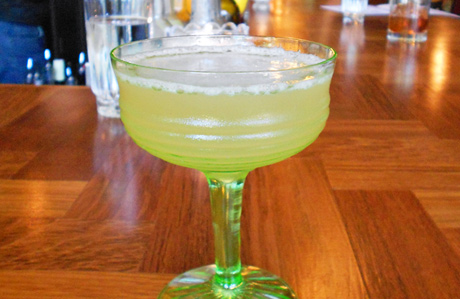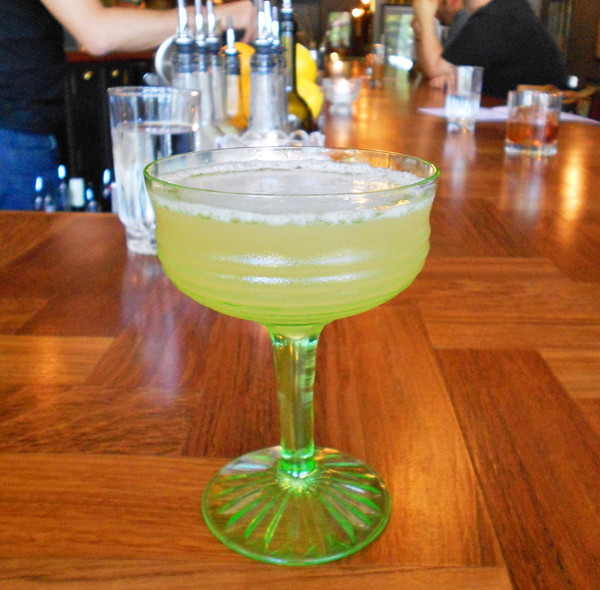 It has taken me five visits to
Billy Sunday
(3143 W. Logan Blvd.) to fully appreciate its concept. Though the amount of praise it's received moved me to eye-rolls, the runaway hype train chugged along, full speed ahead. (Before it even opened, it was lauded as one of the
best bars in America
, and it has already
been named as such again
.) At first glance, it seems as if there's little to distinguish this bar from the many others on Chicago's robust craft-cocktail scene. And while chef John Vermiglio's menu of small, rustic, and totally beautiful plates (and things in jars) are inventive, they are by no means earth-shattering.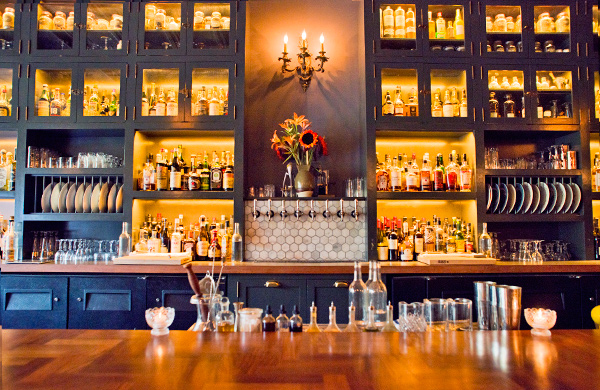 The interior of Billy Sunday is lovely. Pressed tin lines the ceiling, and a jumble of light fixtures range in visual attitudes from Medieval Times to Marie Antoinette. Ancient black-and-white portraits live behind the panes of old window frames that hang along the dark gray walls. At just past 6 p.m., the front doors that look out onto the Logan Square monument are propped open, and the interior spills out onto a sunny patio. There, herbs spring out over the sides of blackboard boxes—each of their names and uses scrawled in chalk beneath. But I'm not here to admire the ambiance, I'm here for a drink.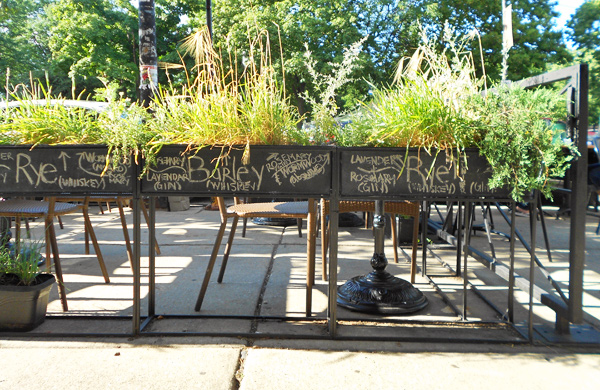 With its enormous, block-lettered font and small descriptions penned beneath, the
cocktail list
can be, well, intimidating. For starters, strange ingredients, housemade bitters, and obscure spirits compose almost all of the libations. After scanning the 11 cocktails currently offered, I order the Grapes, Rice & Wrath, because its components sound the strangest: pisco acholado, Nama Genshu reduction,
Ransom
vermouth, lime, and spiced kola nut. Shaken vigorously and poured straight up into a beautiful vintage green coupe glass—selected from one of the many vintage glasses housed behind the bar—it arrives a little frothy and very cold. At first sip, it's tart. The vastness of the Ransom vermouth lingers toward the middle of the tongue, while the kola nut's spicy bitterness persists. The pisco (
grape
brandy) and lime merge seamlessly. The Nama Genshu (sake;
rice
) reduction has a nearly invisible but very tender flavor; maybe it's just there for the name's sake. After a second sip, it tastes smoky, and I beckon the bartender over to ask about the kola nut. He grabs a small jar, labeled
KOLA
on a jagged piece of blue masking tape, and pulls the dropper out. Dribbling two drops into his palm, he rubs his hands together and puts them to his face before inhaling deeply. He then turns his cupped hands to me, and I lean in for a whiff. It's earthy and spicy and sort of dull, how I would imagine a blunt edge smells. And it's made in the kitchen downstairs. So maybe this is what has garnered all the praise and eye-rolls: these mysterious (and largely unlabeled) jars, taps, and bottles, filled with strange, exotic ingredients—all of which are made in house, of course. Not that I needed any persuading at this point, or even an explanation. I drink the rest quickly, while it's still cold, and pry the menu open for a second perusal. My next task is to determine whether round two will kick off with a tonic from one of the unmarked taps, a very old Fernet from the big, black Good Book, or one of the unlabeled, house-bottled "booze sodas." Suppress your eye-rolls: I'd been won over.
Top and bottom photo: © Lisa Ladehoff, Groupon; Middle photo: © Timothy Burkhart, Groupon
BY: Lisa Ladehoff
Guide Staff Writer
A native of the city of big shoulders, Lisa is a small-shouldered books and booze enthusiast living on Chicago's Northwest side with a large cat, a tiny bar, and a medium-sized library.