The Top Juice Bars in Chicago
BY: Kate Swem and Monica Kumar |
Dec 4, 2014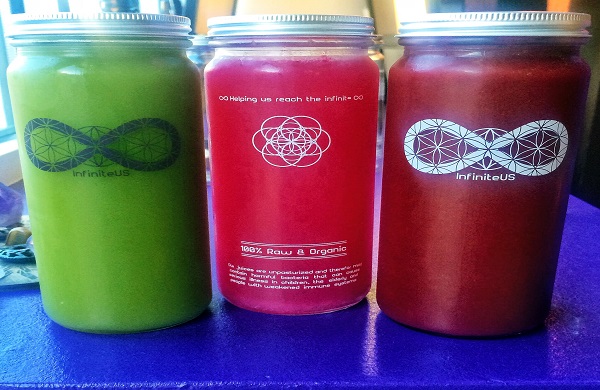 Raise your hand if you sat at your desk the whole week after Halloween eating Reese's peanut butter cups (the pumpkin shaped ones)! Ok, maybe that's just us but dang, we are in need of a fall detox. Chicago is a town of Italian sausages, deep dish pizza and...well lots of chunky monkey foods but as we are a town of contradiction, we got juice bars popping up left and right.
So here's a Chiorganicgirls list of our top spots to get juiced (in no particular order)!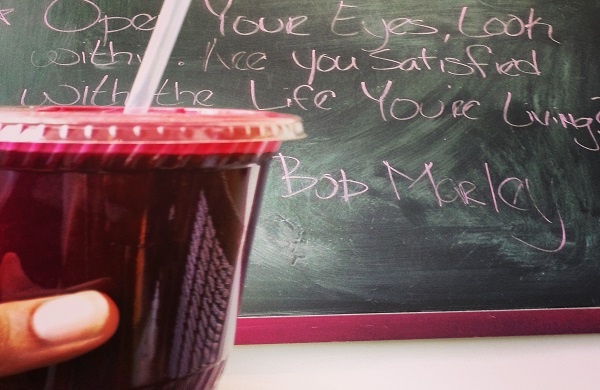 Harvest Juicery
This unassuming little shop, tucked beside a barbershop, hides near the green line Morgan stop. The inside decor is minimalistic with rich wood floors and metal signage.
This juice joint specializes in cold pressed, raw unpasteurized juices and fruits and veggies are locally sourced to reduce HJ's carbon footprint. Unique concoctions include a brussel sprout juice with caraway seeds (hmmm) to grapefruit juice with Himalayan sea salt, mint and coconut water. Fancy a cleanse? A 3 day package is available. Sweet and savory fans will love the touches of spice in almost every drink. HJ also offers nut milks and smoothies for a more filling snack.
Beatrix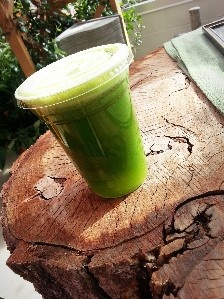 Beatrix is better known for its swank location and awesome pastry bar but 2 tasty juices await you...so step away from the cinnamon rolls.
The Power Greens does the Green Scene right with a balance of mint, kale, pineapple and celery. Our winner, however, was the never imitated Blue Boost with the clean finish of blueberry juice and white grape accentuated with basil.
Did we mention you can order these juices as cocktails too? Ahh but that's beside the healthy point...
Peeled Juice Bar
Ok errybody in the club mentions Peeled when it comes to the juice bar game because its the "OG" of juices (or shall we say OJ..ha ha ha). Peeled offers a multitude of cleanse options including the 3 day cleanse, often available on Groupon for a significant discount, which is good for those trying to dip their toes in the cleansing routine. The 3 day cleanse includes the Green Lantern (our pick for its touch of sweetness mixed with not too overpowering greens), the Maroon 5 (with beets off the chain) and the Haute Lemonade (for your spicy side) in addition to a few others depending on season.
Not quite ready to plunge? Head over to the Evanston or Lincoln Park juice bar and sample several juices including the Rapper's Delight with mango, kale, almond butter, coconut milk, camu camu (a wacky Peruvian shrub that can improve infections), agave and cinnamon.
The Juice Joint
For you suburbanites, or us Chicagoans making a west trip, The Juice Joint, located in River Forest, right off the Eisenhower Expressway, has a great selection of juices and smoothies. A current seasonal juice called Lady in Red includes sweet potato, Fuji apples, beets and more. Our favorite blends are the Forever Young and Addicted to Love. While waiting for your fresh cold pressed juice, you can get your holiday shopping done at the adjoining greenhouse to snag a beauteous plant to give for the holidays.
Owen and Alchemy
Specializing in sustainability and eco-fair practices, Owen and Alchemy, although relatively new, is making a way to stand out with their lab style reminiscent bottling, minimalist juice titles, and touches of spice to each juice. Take the Seasonal S1, for example, with mulling spices and autumn heirloom pear. Other categories include Nut and Seed, Fermented, Root, Fruit, Citrus, Savory and Green, each with sub numbered juices. *Whew* that's a periodic table full of options.
Bonus!
New to the scene, Infiniteus Rocks and Juice in Wicker Park just reopened with a line up of healthy juicy options and a focus on local as possible organic produce, purified alkaline water filtration system (that also means fluoride free), a bottle recycle-exchange program, and a composting system delivered to local farms and gardens for fertilizer. We're looking forward to sipping the Pachamama with carrot, apple, beet, ginger, and burdock.
BY: Kate Swem and Monica Kumar
We are always looking for unique and engaging experiences and Chicago has plenty to offer.  We came up with Chi Organic Girls as our friends were constantly stalking us for advice on events in the city as well as health/wellness tips. We do not claim to be experts but more, our novice opinions can help people just starting out to navigate the world of health and wellness. Follow us on twitter, instagram or Facebook @chiorganicgirls!