The Twelve Plays of Christmas
BY: Dan Caffrey |
Nov 27, 2013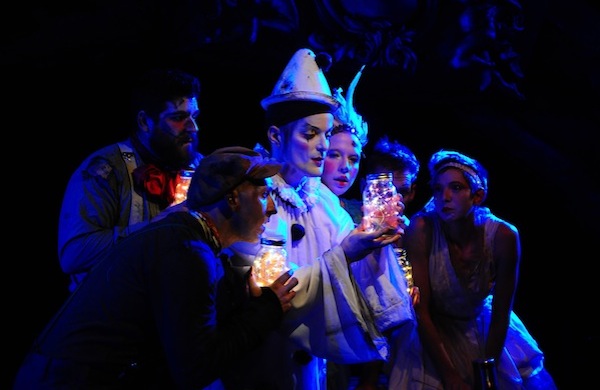 No disrespect to Charles Dickens, but we've seen
A Christmas Carol
more than enough times. This year alone, more than a dozen versions of Scrooge and Tiny Tim will grace stages throughout the Chicagoland area. In the spirit of the old Christmas song, here are 12 days' worth of alternatives—some of which, we admit, owe a bit of their plot lines to the Dickens classic.
"The Revenge of Radio Goggles"
Presented by Oracle Productions 
The scripts in the
Radio Goggles
series were once only
heard
by audiences. Oracle Productions expands the shows' initial presentation by fully staging them with shadow puppetry, projections, and actors who lip sync along to the original recordings. The Christmas edition features three yuletide-themed playlets, including a wintertime Sherlock Holmes mystery and a caper where Mephisto and a dead Emperor Nero (voiced by Orson Welles) attempt to overthrow Santa Claus. (
3809 N. Broadway. Now running through December 14. Tickets: free.
)
"The Nutcracker" Presented by The House Theatre of Chicago
The Nutcracker
is arguably as familiar as
A Christmas Carol
. Unless it's being performed by The House. For one, there's no Tchaikovsky. Instead, the music in this modernized adaptation comes courtesy of local composer wunderkind and frequent House collaborator
Kevin O'Donnell
. With lyrics by Jake Minton, the songs remain both ethereal and playful as Clara receives the play's eponymous toy, which soon comes to life. Together, Clara and the Nutcracker explore a winter wonderland and square off against an army of rats brought to life by giant-headed puppets. (
Chopin Theatre, 1543 W. Division Street. Now running through December 29. Tickets: $30.
)
"The Santaland Diaries" Presented by Theater Wit
Adapted from David Sedaris's wickedly humorous essay,
The Santaland Diaries
recounts the writer's time as a department-store elf named Crumpet. The 70-minute monologue deals with Crumpet's holiday disenchantment and various misadventures, from sending kids to a "vomit corner" to dealing with racist parents. (
1229 W. Belmont Avenue. Now running through December 29. Tickets: $30–$35.
)
"If Scrooge Was a Brother" Presented by eta Creative Arts Foundation 
We know. We said we were tired of
A Christmas Carol
. But this script puts a fresh spin on its source material by updating the setting and recasting the titular miser as a black slumlord. The final result—although packed with funny moments—is more serious than its title suggests, getting the audience into the holiday spirit while asking them serious questions about race and poverty. (
7558 S. Chicago Avenue. Now running through December 29. Tickets: $30.
)
"It's A Wonderful Life: A Live Radio Play" Presented by American Blues Theater
Performed by eight actors with live foley effects, music, and old-timey commercials, American Blues' annual holiday production whisks audiences back to a 1940s radio broadcast of Frank Capra's beloved film. After the show, everyone gets to join the cast for milk and cookies in the theater. (
Greenhouse Theater Center, 1909 W. Byron Street.  Now running through December 29. Tickets: $19–$49.
)
"A Christmas Memory" and "The Thanksgiving Visitor" Presented by Provision Theater Company 
Truman Capote wrote both of these largely autobiographical short stories, which center on a young boy named Buddy, and his bond with his much older and eccentric cousin. Over the holidays, they enjoy the countryside, and Buddy learns several lessons about loss, family, and friendship. (
1001 W. Roosevelt Road. Now running through December 29. Tickets: $10–$32.
)
"Burning Bluebeard" Presented by The Ruffians
On December 30, 1903, a fire raged inside Chicago's Iroquois Theatre, killing 600 people.
Burning Bluebeard
—remounted by the same actors and directors of 2011's smash
Neo-Futurists production
—servers as a eulogy to this Christmas tragedy while also putting a redemptive spin on it. As the audience settles into their seats, six clowns rise from the ashes in hopes of completing their holiday pantomime that was cut too short. (
Theater Wit, 1229 W. Belmont Avenue. Now running through January 5. Tickets: $25–$30.
)
"Hellcab" Presented by Profiles Theatre 
The premise is simple: One car. 34 passengers.
Hellcab
centers on a cabbie's long shift during a frigid Christmas Eve in Chicago. While the driver remains the same, a rogues' gallery of drug addicts, lawyers, drunks, couples, and drunk couples cycle in and out of his vehicle, showing him both the joy and misery of urban life during the holidays. (
The Profiles Main Stage, 4139 N. Broadway. Now running through January 12. Tickets:  $35–$40.
)
"We Three Lizas" Presented by About Face Theatre
Many Christmas stories depict a down-and-out character receiving a visit from a spiritual guide.
It's A Wonderful Life
has a guardian angel,
A Christmas Carol
has three ghosts.
We Three Lizas
, on the other hand, has a trio of Liza Minnellis. When a washed-up box maker needs a Christmas miracle to reclaim his family, friends, and artistry, three incarnations of the Broadway diva magically appear at his door, kicking off a queer musical extravaganza about love and redemption. (
Stage 773, 1225 W. Belmont Avenue. November 27–January 5. Tickets: $10–$20 for preview performances; $20–$45 for regular performances.
)
"A Christmas Carol – a black and white silent play" Presented by Silent Theatre Company
Although
A Christmas Carol
is praised for Dickens's evocative dialogue, you won't hear a single word of it at Silent Theatre Company's latest production. Instead, the ensemble tells the story using the tools of silent cinema. A live musician provides the score, exaggerated movement conveys the story, and the costumes and makeup come in only two colors: black and white. (
Prop Thtr, 3504 N. Elston Avenue. November 30–December 29. Tickets: $15.
)
"A Klingon Christmas Carol"
Presented by Commedia Beauregard
Like Silent Theatre Company, Commedia Beauregard's take on
A Christmas Carol
also experiments with language, replacing Dickens's colorful Victorian dialogue with guttural Klingon. Despite the vernacular shift and the play taking place in an entirely different galaxy, the themes of the original story remain the same, only with a lot more bat'leth duels. The production also has English supertitles for any non-Trekkies in the audience. (
Raven Theatre, 6157 N. Clark Street. November 30–December 29. Tickets: $20–$30.
)
"Silent Night of the Living Dead"
Presented by New Millennium Theatre Company
It may be the zombie apocalypse, but Barbara Cooper vows not to let it ruin her holiday. In spite of the carnage outside and half of her family now craving brains instead of Christmas turkey, Barbara attempts to keep the yuletide spirit alive. What ensues is a schlocky winter spin on George A. Romero's classic zombie film, splattered with plenty of guts, tinsel, and dark humor. (
Studio BE, 3110 N. Sheffield Avenue. December 6–29. Tickets: $15.
)
Photo: Evan Hanover (Burning Bluebeard)
BY: Dan Caffrey
Guide Staff Writer
Outside of Work, Dan is a playwright, Senior Staff Writer for Consequence of Sound, and contributor to The A.V. Club.