The Upside to Endless Winter? Marni's Dyed Furs Are Still in Season
BY: Michelle Schuman |
Mar 5, 2014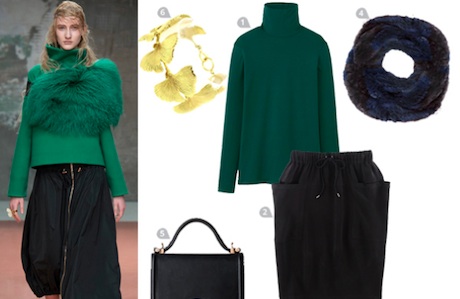 Twenty years after her brand's debut, designer Consuelo Castiglioni showed her signature stoles at Milan Fashion Week. We replicated the look with more affordable pieces.
In the world of high fashion, it can be near impossible to win everyone over. While many designers have drawn ire for overly sexualized designs, Italian design house Marni has been blasted for being sexless. Contentious rocker Courtney Love once called the brand "anti-sex," saying "I am against Marni [because of it]." Designer Consuelo Castiglioni has never commented, but seems to put little stock in public perception. "My designs are about being yourself without impositions," she said. "Wear each piece as you wish." And many have wished to wear Castiglioni's clothes since she debuted Marni in 1994 (this year marks the brand's 20th anniversary) with a collection of modern fur coats. Loyal fans include Maggie Gyllenhaal, Jenna Lyons, and the editors of
Vogue
. Today, dyed fur remains a powerful piece of Castiglioni's fashion canon, along with quirky prints and silhouettes that shy away from revealing too much of a woman's body. These elements came together again for her show at this year's Milan Fashion Week, where her avant-garde perspective got a sporty twist. We picked one of our favorite looks from the show and recreated it as a transitional spring outfit with pieces that are available now.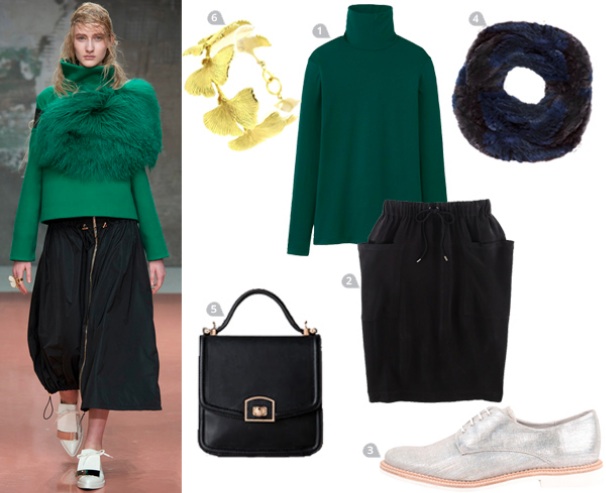 The Look
Like the Marni look that inspired it, this ensemble is built around a dyed-fur stole. The silver oxfords are a nod to the metallic detailing on Marni's loafers, and this shorter, more universally flattering skirt mimics the loose silhouette and gathered waist seen on the runway. Swap the model's butterfly ring for a butterfly bracelet, and on colder days, keep legs warm with sheer black tights. 1.
Emerald turtleneck
; Uniqlo ($14.90) 2.
Gathered skirt
; Rebecca Minkoff ($88) 3.
Silver oxfords
; Lori's Shoes ($174.95) 4.
Long fur infinity scarf
; Shopbop ($168) 5.
Cross-body bag
; Francesca's ($38) 6.
Butterfly bracelet
; Boticca ($128.50)
Photo courtesy of Style.com
BY: Michelle Schuman
Michelle is a freelance fashion designer and dancer from Detroit. She has traveled the US extensively (and loves it!), but her biggest goal is to travel abroad.