The "Vintage" Store That's Gobbling Up Local Artisans' New Designs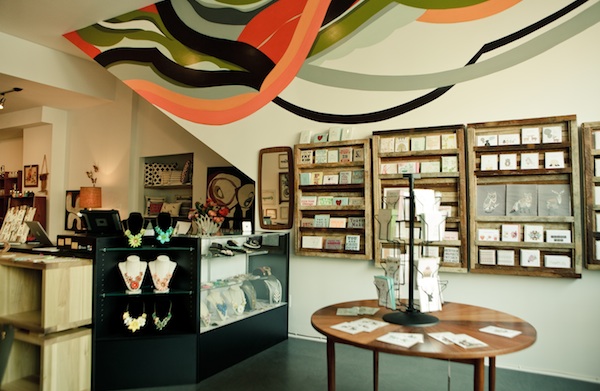 Though
Modern Cooperative
 (1215 W 18th St) counts itself among Pilsen's many vintage shops, even at first glance it's apparent the store is something special. Its impeccable collection of midcentury-modern furniture and housewares includes sleek, minimalist chairs and sideboards from Charles and Ray Eames and stylish, artistic glassware by Georges Briard. Peppered throughout the shop, however, is what co-owners Tiffany Paige and Mike Biersma think truly separates their boutique from the rest of the pack: handmade goods by 40 Chicago artisans and designers. At the store, which was voted
Best New Home Shop
by
Time Out Chicago
in 2012, you might find a hand-screenprinted pillow on a 1960s couch, or etched glasses made from discarded wine bottles gleaming in a credenza from the '50s. The vibe of the shop is best summed up in its tag line, "Where vintage modern meets handmade." But to Tiffany, the connection between the two is more than a clever phrase—Modern Cooperative was born out of necessity in 2012, as Tiffany was out of work and needed a creative outlet. In fact, it was her own struggles that made her realize there was a connection between handmade and midcentury-modern design, one she hoped others would relate to as much as she did.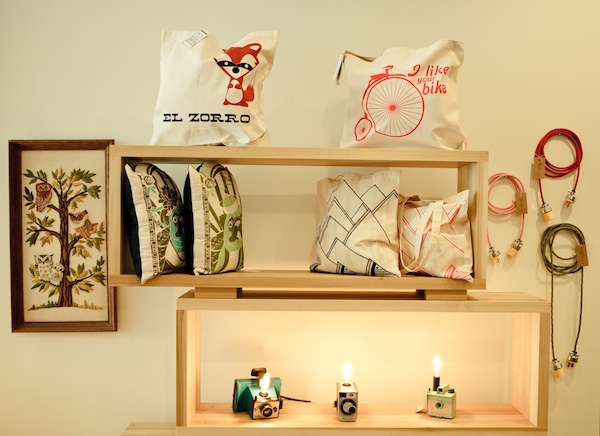 EVERY PIECE TELLS A STORY
Tiffany has been collecting vintage items and antiques since she was a child. Guided by her mother and grandmother, she scoured flea markets and antique shops for previously owned clothes and trinkets. "I've always had a passion for vintage and things that are older because they have a story to tell," she said. "There's a little bit of a mystery, too. Who owned it? Where did it come from?" This curiosity is most evident in her fascination with vintage cameras, which are thoughtfully scattered throughout the shop. "[The cameras] went on vacations and photographed birthdays, weddings, and happy times—it holds all this history that you'll never know," she said. But she also collects the vintage furniture and housewares to connect to her own past. "I didn't grow up in a midcentury-modern home," she said. "But my grandparents had a lot of [that style of furniture], and it makes me remember my past and where I came from."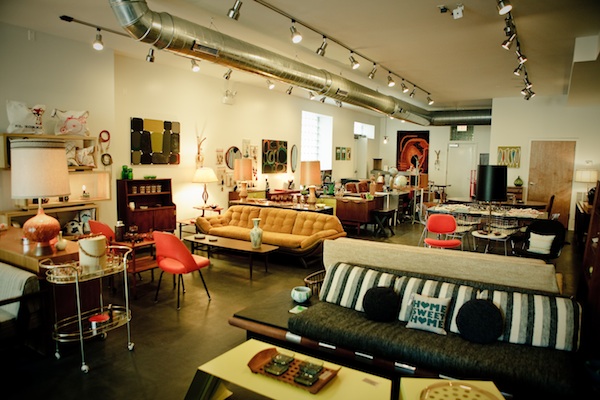 STYLE OUT OF NECESSITY
Tiffany thinks the iconic midcentury-modern style—which championed clean lines, simplicity, and functionality—emerged as a response to the difficult times people faced in the 1930s–'60s. "We just came out of a world war, and I think that when resources are limited and jobs are hard to find, people become more creative and innovative out of necessity," she said. "People had to look within themselves, and that's translated into timeless design." Similarly, she believes that today's handmade movement has been spurred by the recent economic recession, which has motivated jobless people to become creative in earning a living.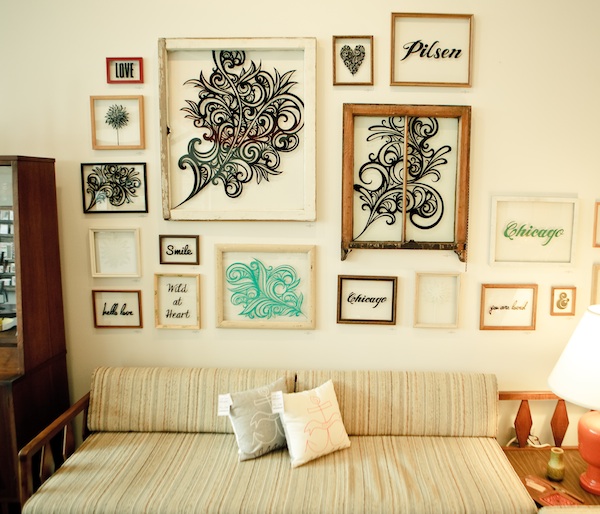 WHEN VINTAGE AND HANDMADE DESIGN INTERSECT
Many of the handmade designers featured at Modern Cooperative work with recycled and reused materials, and even upcycle midcentury-modern elements into their designs. For instance,
Newfound Studio
incorporates reclaimed hairpin legs into its furniture, and
Emmy Star Brown
handpaints bold motifs onto found windows. Tiffany strives to connect with each designer to find out where their materials have come from. For Pilsen-based artist
Jeff Munie
, his line of totes and backpacks has close ties to the neighborhood—the canvas he uses was found in a barn at Saint Procopius Abbey in Lisle, and that abbey's church stands in the heart of Pilsen. "Everything that we carry in the store, whether it's vintage or handmade, has a really great story behind it," Tiffany said.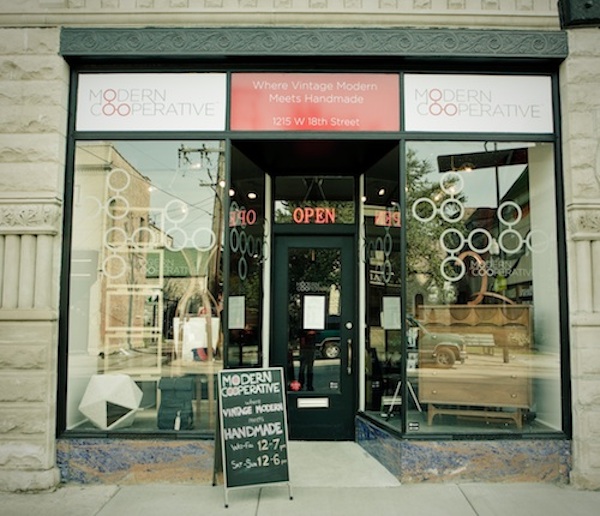 AT HOME IN PILSEN
Furthering the shop's historical ties is its location inside the landmarked Thalia Hall, which was built in 1893 to serve as a social and political center for Pilsen's Bohemian population. It was later used to host meetings for those working to create Czechoslovakia after WWI. Tiffany said, "[Moving into Thalia] made so much sense; it allows us to be part of [Pilsen's] history and revitalization." Of course, as proponents of local arts and culture, Tiffany and Mike felt that Modern Cooperative should leave its own signature on the space. Inspired by the many vibrant murals that breathe life into Pilsen's cityscape, Tiffany commissioned Chicago muralist Ruben Aguirre to paint a '70s-style mural on one of their walls. "We're a hybrid store ourselves," she said. "So we thought it would be cool to take an important piece of our neighborhood and blend it with the 1970s color palette as a nod to the 1970s interior wall murals."
Photo: fadeout foto