The Woggles Come Roaring Out of Georgia on a Diesel-Powered Surfboard
BY: Reuben Westmaas |
Mar 21, 2014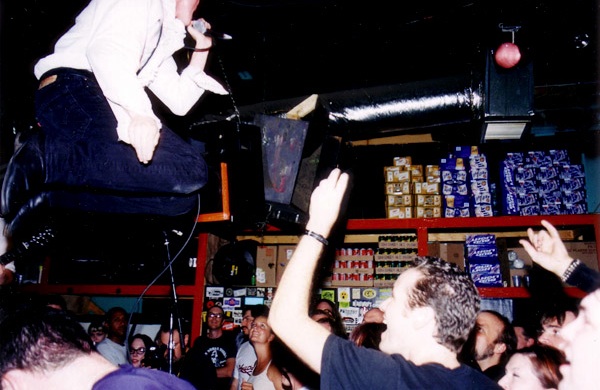 Give Dick Dale's guitar to Ray Davies and back him up with a Trans-Am smashing through an amplifier, and you might have something like the Woggles.
The Woggles are ostensibly from Athens, Georgia, but they sound like a freakish experiment created in the laboratory beneath the Rock and Roll Hall of Fame. Take a lock of Ray Davies's hair. Add a dash of surf wax and a gob of Dick Dale's favorite pomade. Let sit for the length of a Ray Manzarek organ solo, then pour cheap whiskey over the whole thing. Got that? Then you've basically got
the Woggles
, a rollicking Southern foursome with an uncommon mastery of '60s garage rock. Individually, they're impressive; together, they're unstoppable. There's Buzz Hagstrom, whose bass can start an earthquake. There's Flesh Hammer, a three-chord genius known for his blistering solos and collection of "Best Nickname" trophies. On the drums there's Dan Elektro, who cut his teeth in his father's band when he was only 10. And leading them all is a wailing madman, Professor Mighty Manfred, who sings and bangs the tambourine as if his life depends on it. Now on their third decade storming the country from their Southern headquarters, the Woggles have been hailed as "the soundtrack for the best biker flick you've never seen" by
Spin
magazine. That sounds pretty enticing, but maybe Meredith Ochs from NPR's
All Songs Considered
put it best: "Go see a Woggles show. It will change your life."
The Woggles play Reggies' Music Joint on Friday, March 28, at 7:30 p.m. Tickets are $10–$12 and can be purchased here.
Check out the color-aged video for "It's Not About What I Want":
Photo: Josh Lewis
BY: Reuben Westmaas
Reuben writes about whiskey at work and drinks it at home. He also writes and edits the arts magazine Sixty Inches From Center.