There's More to Earth Day Than Whale Songs (For Example, These Service Projects)
BY: Stephanie McDaniel |
Apr 1, 2014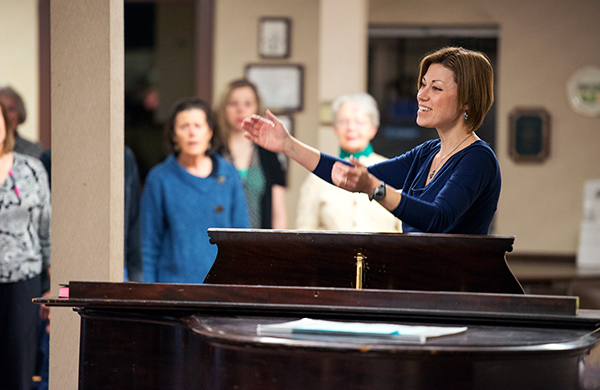 The director of the North Shore Choral Society talks about how you can get involved in local environmental projects following the choir's Earth Day concert.
Some people celebrate Earth Day by planting a tree or picking up trash along the highway. This year, the
North Shore Choral Society
is getting a little more creative. The 140-person choir intends to mark the occasion with song. Whale song, to be exact. No, this isn't an attempt to communicate with the world's largest mammals. What it is, however, is a classical concert like no other before it.
Missa Gaia
, which opens Sunday, April 6, at the
Unitarian Church of Evanston
(1330 Ridge Ave., Evanston), is about celebrating the whole earth—whales included. The musicians draw on styles from across the globe, from African drum beats to Gregorian chants. Among the non-human contributions are the howls of Arctic wolves, the barking of harp seals, and, yes, the singsong melodies of humpback whales. The choir's director,
Julia Davids
, said that this environmental liturgy has the power to "energize people to appreciate the planet." One section, for example, starts out with seal calls that gradually make way for the choir's ethereal harmonies. To Julia, this merging of human and animal voices emphasizes the importance of every creature and the "gentleness of nature and our planet." Artists from across the Midwest seem to agree, and many will be joining forces to complement the choir. Among the scheduled performers are the
Evanston Children's Choir
, gospel soloist
Felicia Patton
, and dancer and choreographer
Enid Smith
. Offstage, sculptor
Sharon Gilmore
will exhibit artworks made from mud, driftwood, and found materials. But
Missa Gaia
—and Earth Day in general—is more than just a call for artists to, well, make art. Choir members have also planned a number of ecological outreach events with local nonprofits on Saturday, April 5. If, like them, you want to celebrate Earth Day with music and action, here are five choir-approved ways you can help:
Soles4Souls
During rehearsals for their upcoming concert, the choir competed among themselves and donated a total of 1,233 shoes to Soles4Souls. Audience members are also encouraged to contribute their footwear; the donated shoes generate income for small businesses in underserved communities across the world.
North Branch Restoration Project
This group conserves native prairie along the North Branch of the Chicago River and in local forest preserves. They accomplish this goal with the help of volunteers, who cut away invasive plant species to reduce competition and scatter the seeds of native grasses and flowers.
Evanston ReBuilding Warehouse | 2101 Dempster St., Evanston
The Evanston ReBuilding Warehouse aims to reduce the region's landfill waste by reusing materials from deconstructed buildings. These materials include such gems as 19th-century and contemporary architectural pieces, which the group sells at a reduced rate to architects, homeowners, and crafters.
Evanston Ecology Center | 2024 N. McCormick Blvd., Evanston
Getting down in the dirt, choir members will be removing invasive plants on the Ecology Center grounds and restoring the dunes at the Evanston Lighthouse. To get involved with the EEC, check out its
calendar of events
, which includes seedling plants, evening ecology talks, and nature walks.
The Talking Farm | 3701 Howard St., Skokie
Choir members will plant, weed, and water new beds with a local farmer in Skokie. But anyone can
volunteer
with The Talking Farm, tending crops that will become lunches at local schools and food pantries.
The choir will participate in the above volunteer projects on Saturday, April 5 (click here for more information), though members of the public are encouraged to help whenever they can. Get inspired to volunteer by seeing
Missa Gaia
on Sunday, April 6, at 3 p.m. at the Unitarian Church of Evanston. Tickets are $12–$22 online and can be purchased here. In the spirit of Earth Day, bins will be available at the concert to recycle ink cartridges, batteries, CFL bulbs, and hosiery.
BY: Stephanie McDaniel
Stephanie McDaniel is a political theorist-turned-novelist from South Carolina. On the rare occasion she's not writing, she spends her time folk dancing, singing, and adding sea salt to Lake Michigan.