GROUPON GUIDE TO WASHINGTON-DC
These 10 Crazy Minor-League Baseball Promotions Are Real. We Promise.
BY: Collin Brennan |
Mar 28, 2014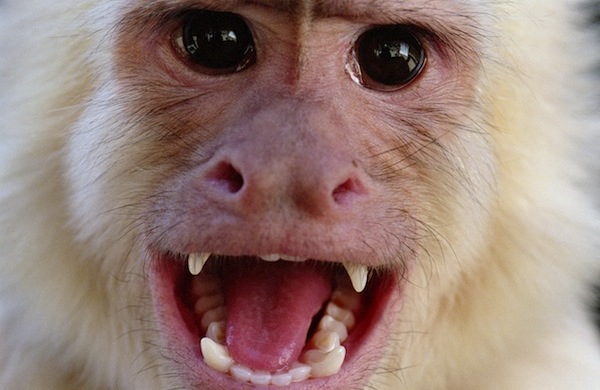 Monkey cowboys,
Ghostbusters
jerseys, and a video game you can pee on. These minor-league baseball promotions are as real as they are crazy, and they're just the tip of the iceberg for 2014.
The LeHigh Valley IronPigs Put Gaming Systems in the Urinals
A carryover from last year, the
IronPigs' urinals
use complex sensors that allow the player to control the game by aiming in different directions. The game might not help keep fans in their seats, but it is a brilliant ploy to get them to drink more soda.
They Also Will Put Bacon On Everything
In red-blooded Allentown, Pennsylvania—the IronPigs' turf—even the metal is named after
meat
. It makes sense, then, that many of their promos would have delicious
bacon
at their core. The team is upping the pork-ante at the concessions stands, with free bacon crumbles on everything from hot dogs to ice cream. And then, of course, there's the commemorative T-shirt that
actually smells like bacon
. In case that's not enough to make you hungry-slash-confused, here's a video of bacon sizzling in slow motion:
The Reading Fightin' Phils Will Put Monkeys to Work…as Cowboys
When he was just a young man on the rodeo circuit, Tim Lepard had a dream. He envisioned a world in which white-throated capuchin monkeys could ride border collies like they were horses—as the collies herded bighorn sheep. Today, Tim Lepard considers himself the luckiest man in the world because this improbable dream (of monkeys-riding-dogs-herding-sheep) is the reality of
Team Ghost Riders
. Fans of the Reading Fightin' Phils can see the whole crew in action on
June 18
. Here's a little taste of what to expect:
The West Michigan Whitecaps Will Sponsor the World's Largest Dog Wash
There are two things the West Michigan Whitecaps won't tolerate: unearned runs and unwashed dogs. The team will do its part to rectify the latter on Sunday, August 3, when they sponsor the World's Largest Dog Wash at Fifth Third Ballpark in Comstock Park. Come before the game to give your pooch a wash and let him do his business in the visitors' dugout.
The Toledo Mud Hens Will Don Ghostbusters Uniforms
Harold Ramis passed away recently, but he will live on through his body of work, which includes the hit 1984 comedy
Ghostbusters
. To celebrate Ramis's life and the film's 30-year anniversary, the Toledo Mud Hens will trot out
Ghostbusters-themed uniforms
—complete with ectoplasm stains—on Friday, May 30. Of course, baseball is no stranger to the supernatural. The Mud Hens warn fans to have their proton guns ready in case
the ghost of Shoeless Joe Jackson
appears and tries to nail them with a low ball.
The Richmond Flying Squirrels Will Build a Scale Model of Their Field out of Cheese
The Northern flying squirrel (
Glaucomys sabrinus
) primarily subsists on a diet of fruits, nuts, and bird eggs. But the Richmond Flying Squirrels won't let this zoological detail curb their own dietary need for cheese—enough of it to construct a replica of
The Diamond
. The model stadium will be unveiled on Thursday, May 15, and subsequently devoured in manner of a Roman bacchanalia.
Sic transit gloria caseum
—thus passes the glory of cheese.
The Wisconsin Timber Rattlers Will Present a Stirring Salute to Paper
Appleton's own Timber Rattlers salute that most underappreciated of office supplies on Wednesday, June 11. It would appear that a past season's
Salute to Toilet Paper
was a little
too
specific for some fans' taste, so maybe this year they'll incorporate construction paper, butcher paper, college-rule, newsprint, origami… The possibilities are figuratively endless.
The Omaha Storm Chasers Will Ponder the Multiverse on "What If?" Night
You can't patch things up with your middle-school boyfriend, and you can't unsee
this picture of Burt Reynolds
. Just don't tell that to the Omaha Storm Chasers, who celebrate "What If?" Night on Saturday, June 7, by slipping into an alternate reality. Three years ago, the team chose Storm Chasers as a nickname over several other finalists. One of these finalists—and another fan favorite—was
The Commanders
. Well, the team will play at least one game as The Commanders this year, complete with a
new look
for the special occasion.
The Durham Bulls Will Be the Droids You're Looking For
Thanks to the rise of analytics, baseball is now home to an increasing number of stat geeks. The Durham Bulls are showing off their solidarity with those geeks on
Star Wars
Night, when the team will trot out uniforms inspired by R2-D2. Yeah, this is happening. It's just too bad lightsabers don't meet the standard for regulation bats. Well, too bad for everyone but the umpires.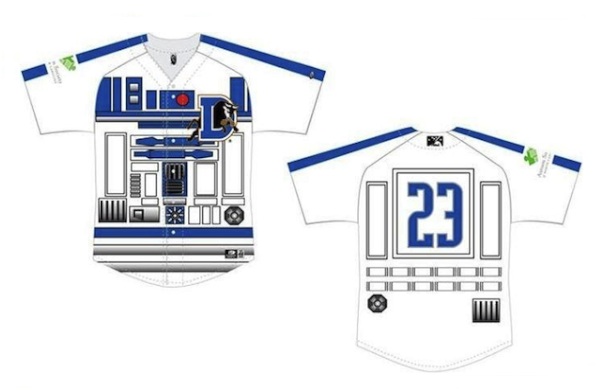 The Indianapolis Indians Will Play God
Indianapolis is located smack-dab in the middle of Indiana, AKA God's Country. But it seems like the city's team might be pushing its luck by trying to play God. They've offered up a
"60 Degree Weather Guarantee"
for Opening Day, promising all fans that if the thermostat drops to 59, they can choose a free ticket to another game in April. With the way this winter has been going, you might as well pick your freebie now.
Look for deals on upcoming baseball games by typing "baseball" in the Groupon search bar. Have nightmares for 10 weeks by typing "anthropomorphized bone-in ham mascot" into Google.